By Charles Kaplan
Yield hungry investors might find the combination of old-line Weyerhaeuser (NYSE:WY) and Plum Creek Timber (NYSE:PCL) an attractive alternative to the troubled MLPs they are rummaging through for yield. When the dust settles in the oil patch I doubt if many MLPs will be yielding more than 3%. However, let's save that topic for our next article in "Seeking Alpha." The yield action is taking place not in the oil patch but in the normally stodgy forest products sector. The space was recently shaken by the sound of timber as the two giants in the industry surprised the sector with the announcement that they planned to merge. In what can only be categorized as a seismic event that finally answers the proverbial question with a resounding "yes" If a tree falls in the forest does anyone hear it?
The announced merger between Weyerhaeuser and Plum Creek Timber creates the largest forest products company in North America. Together they control 12.9 million acres of trees across the United States as well as long-term licenses on 13.9 million acres in Canada. In addition, they also own 323,000 acres of timber in Uruguay. Any way you cut it the combined companies will dominate this space as long as stick built houses are constructed.
Terms of this all stock exchange: each Plum Creek Timber share will be converted into 1.6 shares of Weyerhaeuser with Weyerhaeuser the surviving entity. As a result WY shareholders will own 65% of the combined entity's shares with the remainder owned by Plum Creek shareholders. The merger is expected to close in late first quarter or early second quarter of 2016 with shareholder ratification required before closing. I feel there are many positive factors that make this combination very attractive to both WY and PCL shareholders.
Management estimates that the merger will result in $100 million in synergies through consolidations and better resources planning and utilization generating accretion in funds available for distribution in the first full year. After the merger is consummated, WY management is planning a $2.5 billion share repurchase. As REITs, both companies pay out the lion's share of earnings in the form of capital distributions at lower tax rates than ordinary dividends. Going forward, WY expects to maintain its $1.24 per common share annual dividend. Representing a 13% increase to PCL shareholders. Company intends to maintain its investment grade rating. From an earnings perspective the combined entities should realize EBITDA earnings of $2.2 billion.
Two overlooked positive features of both companies worthy of a little elaboration is their REIT structure and its impact on your taxes. Nobody, myself included likes to pay full taxes on "ordinary dividends" at their marginal tax rate classified as ordinary income. Also remember dividends for shares held long-term (qualified vs. ordinary) get preferential tax treatment at lower rates. But the tax benefit comes in the form of having to pay taxes on your dividends at long-term capital gains rates. Dividends are classified as long-term capital distributions taxed at 15% - 20% depending on your tax bracket. Also, no pesky schedule K-1's that complicate your tax headaches and give your accountant an excuse to charge exorbitant fees to prepare your taxes, "you can afford my outrageous fees because you have a schedule K-1's and therefore you must be quite wealthy." Also, REIT's must pay out the majority of their earnings- cash flow after expenses about 90% - 95% to the shareholders.
Getting back to basics, the combined entity will cover a diverse range of timber producing regions including the Southern region, Pacific Northwest and Northern region. Trees harvested include Douglas fir and Yellow Pine as well as a mix of hardwoods and fast-growing eucalyptus and pine in South America. All producing an abundant supply of sawlogs, pulpwood, dimensional timber and finished products such as plywood, flake board. My interest in WY as a long-term investment is based on several factors:
Company is focused on growing its dividend.
Attractive yield is enhanced by its characterization as a capital gain.
REIT status boosts payout to shareholders.
A recovery in housing starts could help boost timber prices and corporate profits.
Selling or spinning off of its cellulose fibers operation should maximize shareholder return.
Bargain priced: company is selling near is yearly low after having sold for approximately $35 during the last 12 months.
Favorable tax treatment of dividends.
Valuable land holdings for home, community building and recreational uses.
A final word of caution, despite the company's attractive dividend, it is still exposed to the effects of rising interest rates and a slowdown in economic activity that would hurt lumber prices. Lower lumber prices resulting from an economic downturn or recession might reduce the FAD (funds available for distribution) to shareholders. Also, the company is not immune to market volatility and changing market conditions and the housing industry is inherently cyclical responding to economic conditions. However, this is one company that could perform well if conditions in the housing industry continue to improve. Hopefully, the housing market could remain robust for a number of years, supported by the conversion of higher savings rates into new home purchases by millennials and first time buyers. Also, the merger must be voted on by both shareholders of WY and PCL and agreement cannot be guaranteed. It must receive anti-trust approval as well.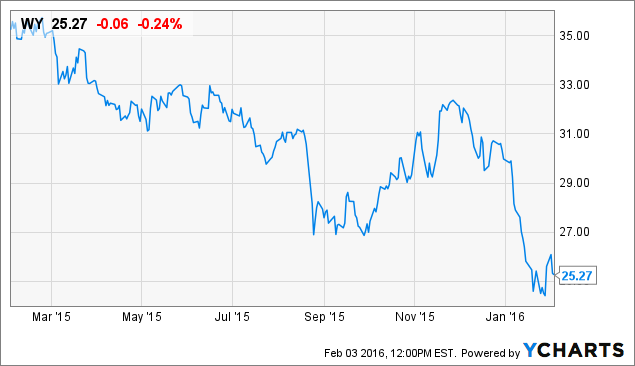 WY data by YCharts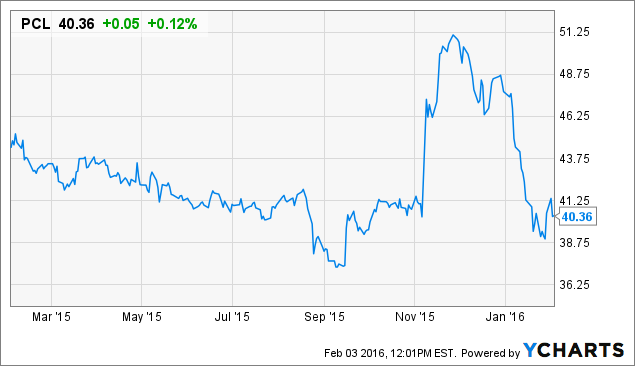 PCL data by YCharts
Disclosure: I/we have no positions in any stocks mentioned, and no plans to initiate any positions within the next 72 hours.
I wrote this article myself, and it expresses my own opinions. I am not receiving compensation for it (other than from Seeking Alpha). I have no business relationship with any company whose stock is mentioned in this article.