The past year has been a difficult one for Qualcomm (NASDAQ:QCOM). Shares of the chipmaker are down 32% in the past year. The company has been hit by several headwinds, including slowing growth in its core China market, issues with licensees there under-reporting sales, and the strengthening U.S. dollar.
It's easy for investors to get frustrated with the stock and sell, but often the best time to buy a stock is when nobody else wants to. Qualcomm continues to be a free cash flow machine, and thanks to the declining stock price, the dividend yields 4.3%, which is an unheard of yield for this stock. Qualcomm's dividend hasn't yielded 4.3% at any point in the past 10 years.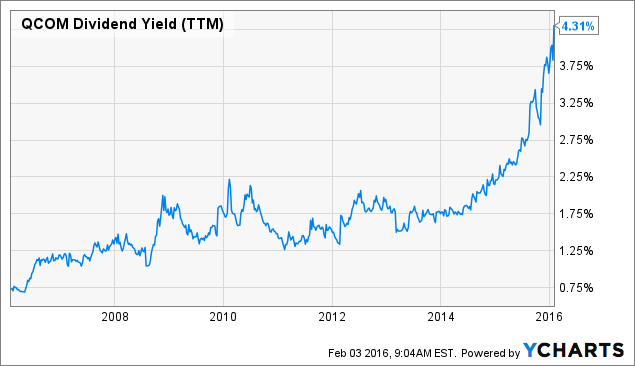 Qualcomm generates more than enough free cash flow to continue paying its dividend and buy back large amounts of stock. As long as the company continues to grow free cash flow, I'm not at all concerned about the stock price. In fact, I'm happy to add to my position at such low prices, which is why I bought more Qualcomm shares Tuesday at $44 per share.
Negative Headlines Cast a Shadow
Qualcomm was hit yet again when it released fiscal first quarter earnings, even though the results themselves beat expectations. The company earned $0.97 per share adjusted for one-time items, which exceeded expectations of $0.90 per share. Qualcomm beat on revenue as well, with $5.77 billion of sales last quarter, which beat analysts' expectations of $5.69 billion.
That didn't stop the stock from falling 8% after reporting, and it has continued to trend lower since, mostly because of its disappointing outlook. Qualcomm expects current quarter adjusted profit of $0.90 per share-$1.00 per share and revenue of $4.9 billion-$5.7 billion for the second quarter. Analysts on average were expecting earnings of $1.01 per share and revenue of $5.68 billion
Because of its forecast coming in slightly below expectations, analysts are almost universally bearish on the stock, despite the fact that the company is making progress in its turnaround. It has come to agreements with several licensees in China. Qualcomm's product lineup is very impressive and should provide long-term growth. At a very basic level, the thesis for Qualcomm is growth of the smartphone industry, which I don't see going away any time soon. Qualcomm saw another year-over-year increase in total device sales in dollar amounts, as well as growth in 3G and 4G device shipments. Average selling prices dipped only 1%, implying Qualcomm still enjoys pricing power.
Free Cash Flow, Cash Returns Are Catalysts
Once again, I'm reiterating investors keep their focus on free cash flow, which is what drives dividends, stock buybacks, and Qualcomm's massive cash hoard. In the first quarter, the company generated $2.6 billion of free cash flow. That was actually 23% growth from the same quarter last year. Free cash flow represented 45% of revenue for the quarter, which is an extremely high level and speaks to Qualcomm's excellent cash flow generating abilities.
This matters because Qualcomm can do a lot with that free cash flow. Its 4.4% dividend costs the company just $717 million last quarter, so it's clear the dividend is sufficiently covered by a wide margin. The company also bought back $2 billion of its stock last quarter. Qualcomm's diluted share count was reduced to 1.5 billion last quarter, down from 1.68 billion shares at the same point last year, a 10% decrease. Such large buybacks will continue to support earnings.
Qualcomm generates much more free cash flow than it needs to sustain the business, and the excess cash is piling up. The company now has $16.5 billion in cash and short-term investments, and another $14 billion in long-term marketable securities. That's more than $30 billion in marketable investments, compared to $20 billion in total debt. That means Qualcomm could pay off all its debt, and have $10 billion left over which it could use to buy 15% of its current market capitalization. Or, it could invest that money in its strategic growth and/or a meaningful acquisition. The point is that while Qualcomm's headline revenue declines get all the attention, the company continues to be an excellent generator of cash flow.
I'm Happy To Buy When Everyone Else is Selling
I've bought Qualcomm three times in the past year, at $61, $57, and now at $44. Including reinvested dividends, I'm down 19%, which is disappointing, but hardly cause for panic, and it demonstrates the benefits of averaging into a position. I view my initial purchases of Qualcomm as simply too early. My timing was premature, but I don't concern myself with whether I bought a little too soon. As long as the thesis remains intact, which is that Qualcomm remains a leader in its industry with a strong product lineup, an excellent balance sheet, and prodigious free cash flow, then I'm not worried that I might not buy at the exact bottom.
Disclaimer: This article represents the opinion of the author, who is not a licensed financial advisor. This article is intended for informational and educational purposes only, and should not be construed as investment advice to any particular individual. Readers should perform their own due diligence before making any investment decisions.
Disclosure: I am/we are long QCOM.
I wrote this article myself, and it expresses my own opinions. I am not receiving compensation for it (other than from Seeking Alpha). I have no business relationship with any company whose stock is mentioned in this article.