Apple (NASDAQ:AAPL) is secretly building a team to kick start its VR (virtual reality) initiative, reported The Financial Times. The iPhone already contains gyroscope and accelerometer for position sensing and tracking head movements. Apple's recent acquisitions may help the company place additional sensors inside the iPhone for making the device capable of providing a 360 degree immersive experience.
However, Apple remains tight-lipped on its VR initiative, leaving the analyst community in uncertainty about how it would use VR in its upcoming products. Ben Wood, an analyst at CCS Insight, said:
I'd wager that there is a substantial team within Apple figuring out how the company will play a role in this technology. It certainly can't let rivals such as Facebook, Google and Samsung run away with the market, particularly given the groundswell of momentum building around smartphone-based virtual reality.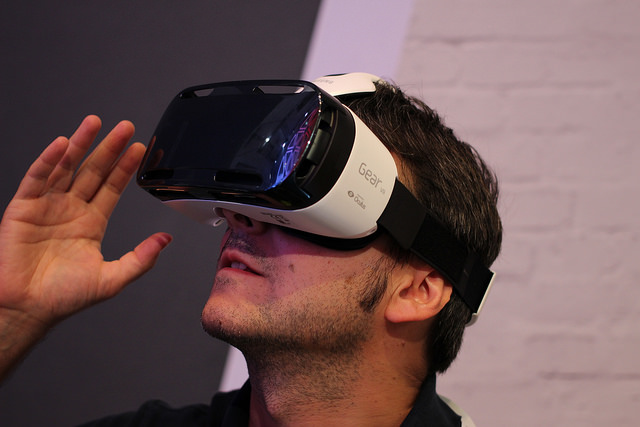 Image Credit: Flickr
VR Going Mainstream, Apple Getting Left Behind?
The upcoming VR headsets, such as Facebook's (NASDAQ:FB) Oculus Rift, Sony's (NYSE:SNE) PlayStation VR and HTC Vive, are all set to take VR mainstream this year. In the initial phase VR will target the gaming industry. Mark Zuckerberg said:
But this is just the start. After games, we're going to make Oculus a platform for many other experiences. Imagine enjoying a court side seat at a game, studying in a classroom of students and teachers all over the world or consulting with a doctor face-to-face - just by putting on goggles in your home.
Amid such an exciting environment, why is Apple refusing to comment on VR? Does this silence mean Apple has gotten left behind or progressed ahead of competitors? Well, evidence suggests that the latter is more likely.
Apple Could Have Progressed Ahead of Competitors
As an investor, I carefully observed what Apple and its competitors have done in the past one year to commercialize VR. Samsung (OTC:SSNLF), Apple's nearest competitor in smartphones, has embraced smartphones to enter the VR world, unlike Oculus, HTC and Sony. Samsung's Gear VR, which is already commercially available, uses Oculus Rift as headset and its own Galaxy smartphone as display.
Oculus Rift, HTC Vive and PlayStation VR will offer users hand-tracking input devices, such as a touch controller or a joystick/mouse, to interact with their systems. However, hand-tracking is a drawback for a complete immersive experience and eye-tracking is what we need. Milpitas, California-based startup Eyefluence has created patented hardware and eye-tracking algorithms that utilize lights and tiny sensors to track a user's eye movement. The company has developed its patented iUi (intuitive user interface) to enable HMD (head mounted display) wearers to control a device using their eyes. Eyefluence is aiming at offering its technology to VR headset-makers, which the headset-makers I just mentioned will incorporate in the subsequent versions of their devices.
A year ago, Apple was granted a patent for a device that is similar to Samsung's Gear VR. Subsequently it made two acquisitions - Faceshift and Emotient - startups that are developing technologies that can capture emotional facial expressions. Finally, Apple hired Doug Bowman, who served as the director of the Center for Human-Computer Interaction at Virginia Tech. Bowman is one of the top VR researchers in the US.
These observations made me believe that Apple has already progressed well ahead of competitors in VR with its iPhone. The emerging technologies developed by Emotient and Faceshift could be more powerful than the eye-interaction technology, because I believe facial expression-based inputs would be more reliable compared to an input in which only the eyes are involved.
Why iPhone-Based VR Is a More Viable Option for Apple?
I believe an iPhone-based VR system is a more viable option for Apple. However, in addition to a VR-supported iPhone, I expect that Apple will launch a VR headset, very much like Samsung's Gear VR. A smartphone-based VR system is more viable for both Apple and Samsung because both the companies have a loyal user-base and their users use the smartphones for various purposes, such as watching streaming videos and availing healthcare and fitness services. For people to whom gaming isn't the first priority, a smartphone-based VR system would be more appealing, instead of a VR system that Sony and HTC are going to launch.
Conclusion
Zeiss launched its VR One headset that can use any iPhone between 4.7 and 5.2 inches as the display unit. Using the VR One headset, an iPhone user can enjoy VR immediately. However, since the headset doesn't have the necessary VR-supporting sensors, users won't be able to enjoy complete immersion into the virtual world. Nevertheless, this is an encouraging development and a right step into the future.
Disclosure: I am/we are long AAPL.
I wrote this article myself, and it expresses my own opinions. I am not receiving compensation for it (other than from Seeking Alpha). I have no business relationship with any company whose stock is mentioned in this article.
Editor's Note: This article discusses one or more securities that do not trade on a major U.S. exchange. Please be aware of the risks associated with these stocks.