Welcome to the Ex-#1 issue of M&A Daily
Apple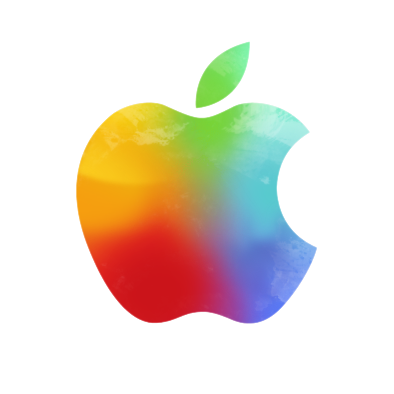 Apple (NASDAQ:AAPL) temporarily lost its title as most valuable company in the world to Google (GOOG/GOOGL). Apple guided that iPhone sales this quarter will decline for the first time ever. Shares trade at about 10x forward PE and about 5x EV/EBITDA. They have a huge cash balance of about $150 billion in net cash. Almost all of their sell side analysts love it. It is as well covered as it gets and 85% having buy ratings.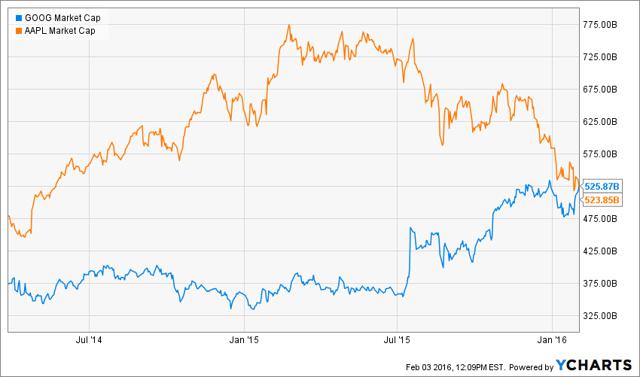 Click to enlarge
What's the history of investing in extremely large tech companies at value prices? Not good. IBM (NYSE:IBM), HP (NYSE:HPQ), Dell and others did extremely poorly when they got very big, even when they appeared to be cheap. When technology companies trade at a big discounts, it is normally because earnings are about to fall off the cliff and the market has efficiently adjusted.
History of investing in the largest company in the world does not inspire confidence either. This is typically followed by mean reversion. In the case of Apple, it is basically a consumer electronics product company, not a technology company. Over half of revenue is from iPhones; revenue numbers probably understate the case since a lot of service revenue is from the iPhone too.
The all in price they charge for iPhones has held steady at about $700 since 2011. Over that time, Android has dropped from $400 to $200. Apple cannot hold its price level much longer. The history of consumer electronics is consistent with big price cuts. As that price comes down, Apple revenue, profit margins, and profit are likely to drop.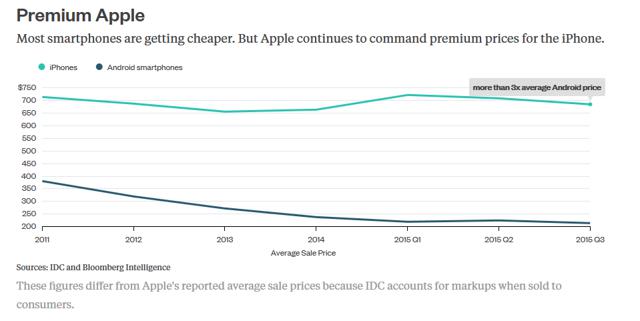 Click to enlarge
When you buy at a low multiple, you know what price you are paying. The question is if the earnings will hold up. As iPhone price goes so will the company.
A lot of people argue that Apple can buy anything they want since they have $150 billion in cash. They could buy Tesla (NASDAQ:TSLA) or Netflix (NASDAQ:NFLX). However, neither acquisition would necessarily create value at the price that Apple would have to pay. Neither would solve the problem of a risky consumer electronics company with undiversified and precarious earnings growth.
Syngenta
China National Chemical agreed to acquire Syngenta (NYSE:SYT) in a cash deal valued at $46 billion. Syngenta holders get $465 per share in addition to a special dividend of CHF 5 per share. China National Chemical also proposed an ordinary dividend of CHR 11. The $20.24 net arbitrage spread offers a 28% annual return if the deal closes by yearend.
Baker Hughes
The EU submitted a filing stating that it has extended its review of he Halliburton (NYSE:HAL) acquisition of Baker Hughes (NYSE:BHI) by twenty business days to June 23. The delay will allow for further discussion on remedies. Halliburton is cooperating with the EC. This $10.34 net arbitrage spread offers a 78% annual return if the deal closes by July.
Affymetrix
The preliminary proxy has been filed for the Thermo Fisher (NYSE:TMO) acquisition of Affymetrix (NASDAQ:AFFX).
Fairchild
The tender offer is set to expire at midnight ET tonight for the ON (NASDAQ:ON) acquisition of Fairchild (NYSE:FCS). However, FCS will accept the higher, unsolicited bid.
Marvell
Starboard submitted a 13D filing disclosing a 7% stake in Marvell (NASDAQ:MRVL).
Angie's List
InterActiveCorp (NASDAQ:IAC) plans to bid for Angie's List (NASDAQ:ANGI) again later this month.
Terex
Konecranes (OTCPK:KNCRY) management believes its acquisition of Terex (NYSE:TEX) is being undervalued by the stock market.
Yahoo!
Yahoo! (NASDAQ:YHOO) announced a strategic plan to pursue a reverse spin and fire 15% of employees.
Office Depot
Staples (NASDAQ:SPLS) and Office Depot (NYSE:ODP) announced the completion of financing and the extension of their merger agreement from February 4th to May 16th due to the ongoing antitrust litigation with the FTC. More to come in future editions of M&A Daily…
Done deal.
The acquisition of the Pep Boys (NYSE:PBY) was successfully completed.
Elsewhere on Seeking Alpha
Disclosure: I am/we are long SYT, BHI, YHOO, BHI.
I wrote this article myself, and it expresses my own opinions. I am not receiving compensation for it (other than from Seeking Alpha). I have no business relationship with any company whose stock is mentioned in this article.
Additional disclosure: Chris DeMuth Jr and Andrew Walker are portfolio managers at Rangeley Capital. Rangeley invests with a margin of safety by buying securities at deep discounts to their intrinsic value and unlocking that value through corporate events. In order to maximize total returns for our investors, we reserve the right to make investment decisions regarding any security without further notification except where such notification is required by law.
Editor's Note: This article covers one or more stocks trading at less than $1 per share and/or with less than a $100 million market cap. Please be aware of the risks associated with these stocks.