Click to enlarge
The Reserve Bank of Australia meets in sunny Sydney every first Tuesday of the month, other than in January, to decide on that all important cash rate. This Tuesday, the Reserve Bank's board met and decided to keep rates on hold for another month as was widely accepted by the financial markets. There were no Bank of Japan-esque out of the blue moves made after all.
In a carefully worded statement, as always, following the board's decision, Governor Glenn Stevens left the door to further easing open saying in the vitally important final paragraph that:
"Over the period ahead, new information should allow the Board to judge whether the recent improvement in labour market conditions is continuing and whether the recent financial turbulence portends weaker global and domestic demand. Continued low inflation may provide scope for easier policy, should that be appropriate to lend support to demand."
This for us is a sign that a cut to the cash rate will occur if certain conditions arise and force its hand. Following the meeting, the probability of a rate cut in March increased to 19 percent as the table below indicates.

Click to enlarge
Sourced from the ASX
This table highlights how market expectations of an interest rate decrease at the next Reserve Bank of Australia meeting has evolved in the previous days. At 19 percent, the probability is still in favour of no rate cuts, but we think this could yet change.
The alternative reserve bank's expectations
Every first Monday of the month, a day earlier than the RBA meeting, at the Centre for Applied Macroeconomic Analysis, the RBA Shadow board meets to discuss its views on the cash rate. This team of nine voting members and single non-voting chair, are all distinguished macroeconomists. At the end of their meeting, they then offer their own policy recommendation a day ahead of the official RBA decision.
This month, the Shadow board voted in favor of rates being kept on hold as you will see in the graph below.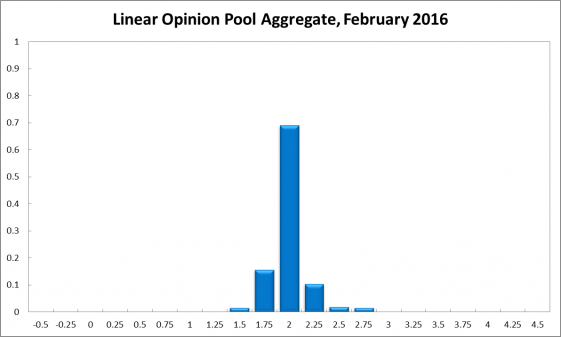 Sourced from CAMA
However, shadow board member Jeffrey Sheen believes that because the Australian labor market has been strengthening marginally, yet wage and price inflation has remained low, the Reserve Bank faces a dilemma with its monetary policy. He went on to say that:
"…an even more accommodating monetary policy will become necessary if business and household sentiment do not improve."
We concur with the view of Mr. Sheen and, considering the consumer and producer sentiment indices are trending downwards, we feel rate cuts could be on the horizon.
The only thing we see stopping rate cuts is inflation. The Governor of the time and the Treasurer agreed on 2-3 percent inflation as an appropriate target for monetary policy in Australia in the early 1990s. At present, inflation is lower than the target, principally down due to low energy prices and the fall in oil in particular. Using the core inflation indicator, which excludes volatile items such as energy and food, is actually just within the target range coming in at 2.1%. Using this indicator would mean that rate cuts are not necessary at present, as the economy is just scraping through.
Inflation doesn't look likely to rise
We don't see inflation rising any time soon; in fact, we think it may drop. The main driver of the inflation comes from tradables, which are products that have their prices determined not by Australia, but by world markets. Tobacco was a big driver, seeing a 7.4 percent increase in the last quarter. This was brought about by a 12.5 percent annual increase in tobacco excise by the Australian Labour government. This is not true inflation in our view and can be construed as misleading. We believe next year will be the final time that this excise increase is applied, meaning eventually we will see a tobacco contributing significantly less. The non-tradables are the items we view as being more important. These are your rents, health care costs, electricity and so forth; the prices of which are determined locally, not by international markets. In the December quarter, non-tradables grew by just 0.4 percent, which is very worrisome and indicates the need for a rate cut.
The Reserve Bank may continue to hide behind the low energy costs and buy time as it waits to see what other central banks do, but with inflation at this low level, the economy growing at a below-trend pace, and global risks pointing to the downside, the Reserve Bank will have to cut rates in 2016. For a long time now, we have had our eyes on a March rate cut, but accept that it could be pushed back to April. When it does come, we are almost certain it will be a 25 basis points cut.
Long U.S. dollar, short Aussie
We continue to favour the U.S. dollar (NYSEARCA:UUP) against the Australian dollar (NYSEARCA:FXA). The pair has gone sideways recently, but the overwhelming trend is downwards. As shown on the chart below, we have a position with a 1:3 risk/reward ratio with a 70.234 U.S. cents entry price. The stop loss instruction is at 71.495 U.S. cents, and the take profit instruction is at 66.452 U.S. cents.

Click to enlarge
AUD/USD Sourced from CMC Markets Trading Platform
As we have said previously, we recommend trading with a 1:3 risk/reward ratio. This means you only have to be correct once in three attempts to break-even. Ideally, with deeply thought through and educated trades, you will be correct every time, but we all know that is more of a dream than a reality.
Key dates on the horizon for the AUD are:
Tuesday, February 16, 2016 - The RBA Meeting's Minutes.
Thursday, February 18, 2016 - January Unemployment Rate
Tuesday, March 01, 2016 - RBA Interest Rate Decision
Of the plentiful United States data coming out, it is worth keeping an eye on Non-Farm Payrolls this Friday and core inflation on February 19. Strong results there could be a signal to the Fed to raise its rates in the near future, causing the USD to strengthen further.
Good luck with your trades. As always, we will keep you posted with any changes to our views and our successes or (hopefully not) failures.
Disclosure: I/we have no positions in any stocks mentioned, and no plans to initiate any positions within the next 72 hours.
I wrote this article myself, and it expresses my own opinions. I am not receiving compensation for it (other than from Seeking Alpha). I have no business relationship with any company whose stock is mentioned in this article.
Additional disclosure: We are long USD versus AUD.