I was looking for income replacement having sold Kinder Morgan (NYSE:KMI) and trimming Conoco Phillips (NYSE:COP), both high yield dividend paying stocks. The sweet REIT sector and its higher yields called to me, as they can also offer nice dividend growth. I have also been wanting to add to my Healthcare sector, so this seemed like the right place to look.
National Health Investors (NYSE:NHI) called first. It is a 13-year dividend contender and on the C-C-C list produced by David Fish. More later on NHI. I already own significant positions in Omega (NYSE:OHI), Ventas (NYSE:VTR), HCP (NYSE:HCP), and a smaller position in Care Capital (NYSE:CCP), the spin-off from VTR. They are all in the healthcare equity REIT sector. Therefore, I was looking for something new. I did also add to OHI as it had become a great bargain recently @ $30.99 and I have trouble resisting bargains in stocks that I like and already own.
I would also like to mention, I have owned many single entity drug companies in the past and was disappointed with the poor dividend growth and sometimes frozen dividends. Those included, Merck (NYSE:MRK), Lilly (NYSE:LLY), Pfizer (NYSE:PFE) and Bristol-Myers (NYSE:BMY). BMY has now become a growth stock and I sold it for nice capital gains. I am also considering medical supplier Becton Dickinson (NYSE:BDX), but have not decided as yet if I will purchase it.
As my portfolio is down from 74 stocks to 73 now, even after these 2 new purchases, I want to keep to my 2016 goal of not increasing my holdings.
My NEW Purchases
National Health Investors:
Healthcare eREIT operating in 31 states and owning 188 properties, 62% is senior housing and discretionary, 34% medical and includes 18500 medical beds. No S&P credit rating, but 49% Debt/cap with 7% 5year DGR. It currently is @ $60.50 and 5.6% yield. Note: REITs are measured by AFFO/ Adjusted Funds From Operations and not P/E. P/AFFO is 14.5 and 5 year = 16, 10 yr 14.8. AFFO growth rate ~8%. All information is from FAST graphs; I have shown the 10-year.
Brad Thomas wrote this very informative article in November 2015, and it got my attention. He called it a blue light special, selling @ $59.10 and 5.8% yield. It fell to this nice price level, having been somewhat over valued for about the last 3 years with a yield in the 4% range. I started a rather small position since the credit rating is not established. It still is trading at an attractive price and 5.6% yield. It is on the Dividend Contender list with 13 years of increased payments, however, here it looks like a pause in 2008-9.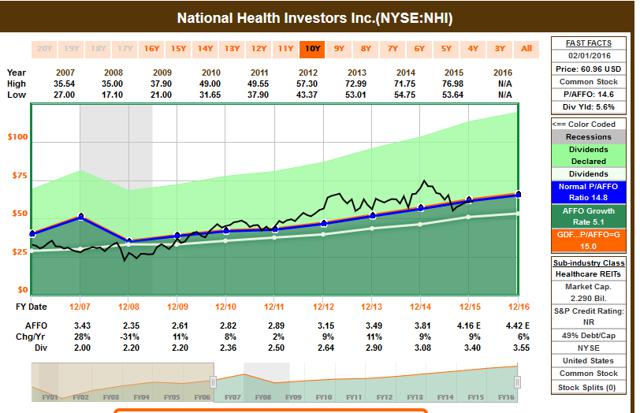 Click to enlarge
Welltower (NYSE:HCN):
Healthcare eREIT owning 1414 facilities in the US, Canada and the UK. S&P credit rating of BBB.
It recently raised the dividend by 4.2% and has ~4% 5-year DGR. Current A/AFFO is 16.1 compared to a 5-year normal of 17.6. It has a price of $62.22 and a yield of 5.2% at the old dividend rate. The new quarterly dividend of $0.86 is to be paid February 22nd to those stock holders on record as of February 9th, it will then offer a yield of 5.5%. It gets high marks in this article from Brad. It was selling @ $67.77 at that time and is even a better SWAN price. It did freeze the dividend in 2008-9, but has never decreased it.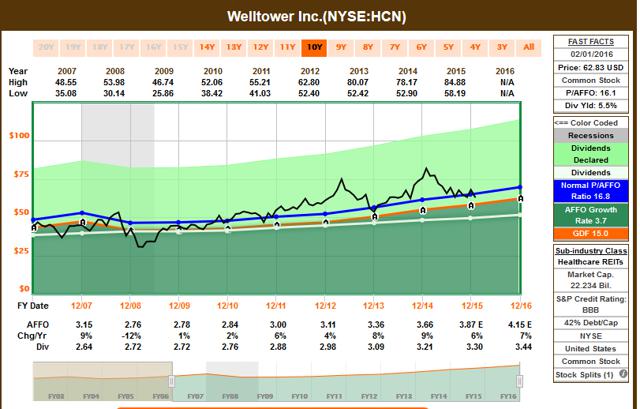 Click to enlarge
If you are looking for some income with an interesting and relatively stable dividend history, these are worthwhile candidates for your due diligence. I believe HCN will be the next challenger for the Fish list.
Happy Investing.
Disclosure: I am/we are long NHI AND HCN.
I wrote this article myself, and it expresses my own opinions. I am not receiving compensation for it (other than from Seeking Alpha). I have no business relationship with any company whose stock is mentioned in this article.