On Tuesday, we received fourth quarter results from Yahoo (NASDAQ:YHOO). While the quarter wasn't as bad as originally feared, maybe as a result of management sandbagging guidance a few months ago, 2016 will be another down year for the company. Management unveiled a big turnaround plan that hopes to return Yahoo to growth over the next couple of years, one that I hope does not include current CEO Marissa Mayer.
You can read all about the strategic initiatives here, but I'd also suggest investors read through all of the earnings slides as well. The slides contain most of the important numbers, including the following yearly guidance for 2016 seen below: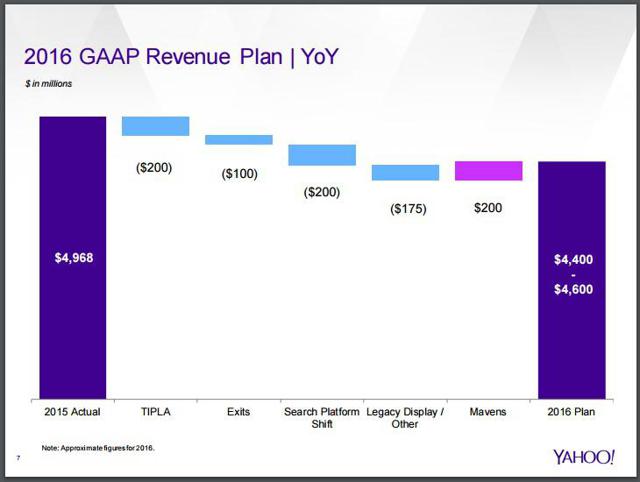 Click to enlarge
To show you how fast Yahoo has fallen, Facebook (NASDAQ:FB) reported $5.8 billion in revenues for Q4 2015. Yahoo only expects to be around $4.5 billion for all of 2016. Analysts were looking for about $4.8 billion, so this guidance is a big disappointment. Don't forget, these are revenues on a GAAP basis, which make the situation appear much better than it actually is. During 2015, analysts started focusing on Yahoo's GAAP revenues instead of the non-GAAP ones that subtract out traffic acquisition costs. On a non-GAAP basis, Yahoo is guiding to just $3.4 billion to $3.6 billion in 2016 revenues, compared to $4.09 billion in 2015.
The company also guided to substantially lower adjusted EBITDA and non-GAAP operating income in 2016. After $1.57 in non-GAAP EPS during 2014, Yahoo reported just $0.59 in 2015. That number will fall further towards the flat line, meaning analysts will soon be quickly reducing their $0.56 average. Perhaps Yahoo could help its EPS number by starting to repurchase shares again, since the company did not buy back any stock during the last 9 months of 2015. Yahoo finished the year with almost $7 billion in cash.
Marissa Mayer took over Yahoo in July 2012. That year, Yahoo did nearly $4.5 billion in non-GAAP revenues. This year, the company is expected to do $1 billion less than that. Even considering the bump shares have gotten from the Alibaba (NYSE:BABA) holding since she took over, you would have gained about twice as much if you were invested in Google (NASDAQ:GOOGL) (NASDAQ:GOOG). Google recently became the largest market cap company because its revenues (GAAP and non-GAAP) are soaring, while Yahoo's are falling off a cliff.
Yahoo is streamlining its operations in an effort to return to revenue growth. However, the company is in a much worse position now than it was when Marissa Mayer took over, with annual non-GAAP revenues about $1 billion lower. Mayer failed to grow revenues and earnings, and has botched the Alibaba holding spinoff. Shares Wednesday hit a new 52-week low, about 50% off their November 2014 highs. With another bad year of results coming, this turnaround plan seems to be a little too late. As Yahoo looks to start this new era of its history, it is time for a new leader to guide the company during this period.
Disclosure: I/we have no positions in any stocks mentioned, and no plans to initiate any positions within the next 72 hours.
I wrote this article myself, and it expresses my own opinions. I am not receiving compensation for it (other than from Seeking Alpha). I have no business relationship with any company whose stock is mentioned in this article.
Additional disclosure: Investors are always reminded that before making any investment, you should do your own proper due diligence on any name directly or indirectly mentioned in this article. Investors should also consider seeking advice from a broker or financial adviser before making any investment decisions. Any material in this article should be considered general information, and not relied on as a formal investment recommendation.