Despite eight straight quarters of record profits, American Airlines Group (NASDAQ:AAL) has found rallying very difficult. The recent solid Q4 earnings and huge stock buybacks provided no relief for the stock.
The stock trades at levels originally reached two years ago in early 2014. The price of oil has slumped in those two years helping elevate the bottom line while providing no benefit to the stock.
Airlines Need Higher Fuel Prices
The argument can easily be made now that airline stocks such as American Airlines need higher oil prices. Based on the chart below, the inverse relationship that existed prior to 2015 disappeared in the last six months. American Airlines has started trading down with oil in the last few months.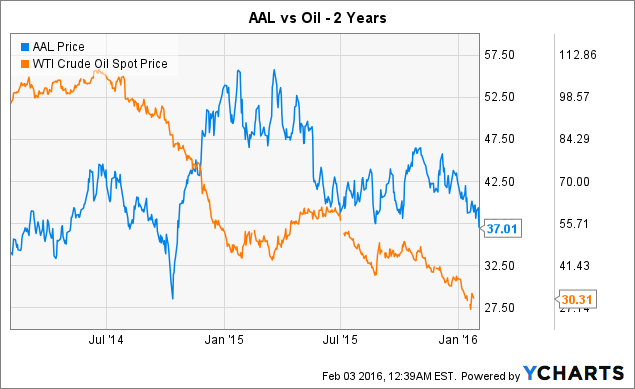 AAL data by YCharts
The amazing part is that American Airlines forecast a $2 billion benefit from lower fuel costs in 2016. This benefit is on the top of the reductions in 2015 that included a large 41% drop in fuel expenses during Q4.
The amazing part is that American Airlines paid $1.83 per gallon in Q1 last year and only forecasts up to $1.20 per gallon this quarter. Even the busy flying season during Q2 and Q3 will see large drops according to this guidance for 2016.

Click to enlarge
Source: American Airlines IR Update
With the market focus squarely on the declines in PRASM (passenger revenue per available seat mile), the President made a clear statement on the earnings call of the relation to oil prices.
- if oil prices go up that you will see airfares go up as well. But we are focused on maximizing earnings as opposed to trying to artificially manage to some retention rate.
In essence, the negative PRASM is mostly a function of lower oil prices domestically and foreign currency impacts internationally. The market wrongly sees the issue as related to competition.
Yield Benefits
While the stock price is frustratingly low despite the record profits and cash flows, the airline is taking advantage of this fragmented scenario. Due to record profits and an improved balance sheet, American Airlines returned an incredible $3.9 billion to shareholders in 2015.
The stock is only worth $23.8 billion so the capital returns amount to a 16.4% net payout yield. The net payout yield is the combination of the stock buyback yield and dividend yield. The below chart highlights the accelerated spending on capital returns over the last few quarters.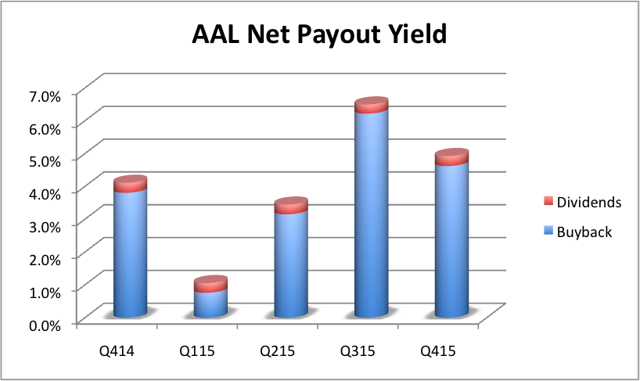 Click to enlarge
For the last month, American Airlines offered one of the highest net payout yields in the market that are historically predictive of future market beating returns.
Takeaway
The data suggests that the market needs higher oil prices for stability before one considers loading up on airlines. The weak oil prices have clearly become detrimental to the stock price of American Airlines despite the immense financial benefit.
Ultimately though, American Airlines is correctly utilizing the stock weakness and large cash flows to repurchase shares. For these reasons, the stock remains one to own in a low or even slightly elevated oil price scenario.
Disclosure: I am/we are long AAL.
I wrote this article myself, and it expresses my own opinions. I am not receiving compensation for it (other than from Seeking Alpha). I have no business relationship with any company whose stock is mentioned in this article.
Additional disclosure: The information contained herein is for informational purposes only. Nothing in this article should be taken as a solicitation to purchase or sell securities. Before buying or selling any stock you should do your own research and reach your own conclusion or consult a financial advisor. Investing includes risks, including loss of principal.