Any company with a supply chain tie to Apple (NASDAQ:AAPL) has had a bumpy ride for the last two months. Ever since reports surfaced that Apple was planning on reducing output for the iPhone 6s and 6s Plus by up to 30% for the current quarter, suppliers of components to AAPL have seen their stocks drop in sympathy. After the news, companies like Qorvo (NASDAQ:QRVO) and Skyworks (NASDAQ:SWKS) came under pressure.
Cirrus Logic (NASDAQ:CRUS) has been the exception. While its stock fell early this year, it is actually up slightly since the beginning of December compared to Apple's 20% drop. Cirrus Logic dropped initially because of its ties to Apple, but, ironically, shot back up in the second half of January, thanks to its ties to AAPL.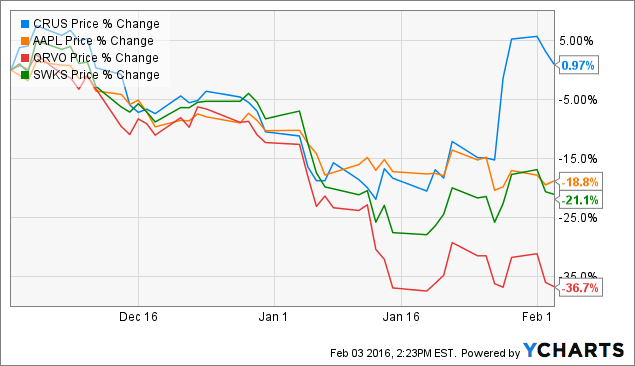 CRUS data by YCharts
Cirrus Logic's portable audio products like its noise-canceling earbuds and codecs are the big money makers, providing around 85% of net sales through the first three quarters of 2015. Apple represented 76% of sales in the third quarter. Once traders began moving past the impact that iPhone 6's slowing growth had on that 76% of sales, it began focusing on the potential that the iPhone 7 could bring the company.

Click to enlarge
The smartphone market is rapidly saturating as evidenced by the iPhone sales trends. It feels like Apple is now under pressure to deliver a new sales driver with the upcoming iPhone 7, and Cirrus's earbud and headphone products could be it.
If the rumor is to be believed, the iPhone 7 might not be coming with a traditional headphone jack, instead relying on the phone's Lightning port or other adapter. This could signal a broader move by Apple toward wireless earbuds. In a recent research note, Pac Crest said that component manufacturers noted that digital connectors allowed for improved sound quality and gave them the ability to embed a smart codec circuit into the headphone itself - exactly the type of technology that Cirrus Logic can provide to Apple.
Fundamentally, the stock is attractively valued to boot. The stock currently trades at a forward P/E of under 12 based on fiscal-year 2016 estimates. The company also is expected to deliver 27% revenue growth in 2016. While 2017 revenue growth estimates are currently for 14%, CRUS's management said on its recent earnings call that it could end up being north of 15%.
Conclusion
These rumors that surface regarding the latest and greatest technological developments with each new iteration of the iPhone generally tend to come true. If Apple is developing the iPhone 7 with an increased focus on wireless, high-quality or noise-reducing headphone technology, Cirrus could end up being a big beneficiary.
If Apple does indeed plan on ditching the old headphone jack for the Lightning port, which seems likely at this point, and chooses to leverage Cirrus to upgrade its headphone sound quality and wireless capabilities, which also seems likely at this point, it could end up being a big boost to CRUS's bottom line. Demand for an improved iPhone 7 to offset sales stagnation for the iPhone 6 will be key. However, a Cirrus-supplied design change aimed at reigniting excitement for the next iPhone could be just what both companies need.
Disclosure: I/we have no positions in any stocks mentioned, and no plans to initiate any positions within the next 72 hours.
I wrote this article myself, and it expresses my own opinions. I am not receiving compensation for it (other than from Seeking Alpha). I have no business relationship with any company whose stock is mentioned in this article.