It is an understandable concern for many investors wary from years of relentless monetary policy intervention into capital markets by the U.S. Federal Reserve. Many look around and see a global economic backdrop that is shaky at best, corporate earnings that are in steady decline and valuations that remain rich by historical standards. But they also have been conditioned over the past several years to expect whenever the market enters into any sustained period of volatility that the Fed will come rushing back in with more stimulus. This leads to the following conflict for some investors, which is that they may be inclined to lighten up on their stock allocation but are reluctant to do so amid the worry that the Fed will begin talking up a new stimulus program that will propel stocks to new heights. Two key points may be helpful in working to overcome this dilemma.
The Nature Of Fed Stimulus
The first point revolves around the exact nature of Fed stimulus. Wide differentiations exist in the long-term impact associated with the various Fed stimulus programs over time. These include lower interest rates, operation twist which involved lengthening the duration of the Fed's Treasury book, periodic outright asset purchases (QE) of mortgage backed securities and daily outright asset purchases (QE) of U.S. Treasuries.
A look back over time shows a dramatic differentiation in the market impact associated with these various stimulus programs over time.
To highlight this point, we will focus on cumulative market returns during three distinct periods since January 2001.
The first will be on periods when the U.S. Federal Reserve was engaged in any of the following forms of monetary easing or stimulus: lowering interest rates, operation twist, QE programs that involved purchases of anything other than the daily U.S. Treasury purchases and keeping rates unchanged after lowering interest rates. In short, these are all various forms of monetary stimulus that the U.S. Federal Reserve has implemented over the last 15 years. And of the 3,795 trading days since January 2001, the market has been operating under any of these forms of stimulus on 2,072 trading days, or 55% of the time. These include the Fed rate cuts from January 2001 to June 2003, sustained low interest rates through June 2004, the Fed rate cuts from September 2007 into late 2008 and then various phases during the crisis and post crisis period when the Fed was doing anything other than daily U.S. Treasury purchases as part of a QE stimulus program.
So how did the stock market as measured by the S&P 500 Index (NYSEARCA:SPY) fare during these periods when the Fed was accommodating in these various ways? The following chart speaks for itself.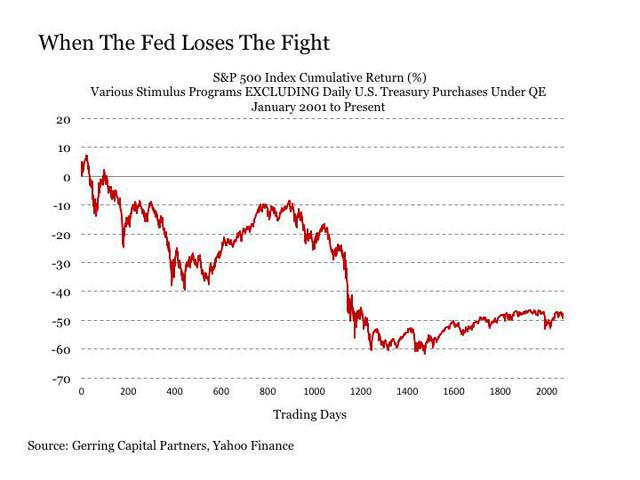 Click to enlarge
In short, the stock market has on a cumulative returns basis lost roughly one half of its value during these periods when the Fed was engaged in various forms of aggressively easy monetary policy.
Let's continue to the second set by focusing on the specific form of Fed stimulus that came about during the post crisis period in the form of daily U.S. Treasury purchases as part of a QE program. The market has operated under this specific stimulus for 883 trading days over three specific time periods in the post crisis period. The first was from mid-March 2009 to the end of March 2010. The second was from mid-November 2010 to the end of June 2011. And the third and arguably most dramatic was from the start of January 2013 to the end of October 2014.
Exactly why have we carved out this specific form of stimulus from the Fed? The following chart shows why.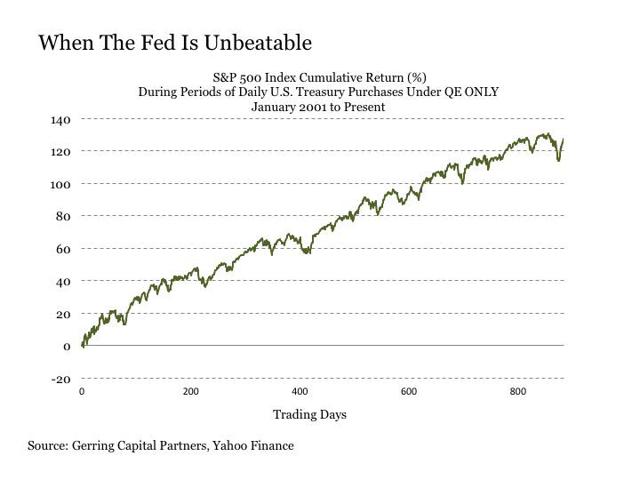 Click to enlarge
Put simply, when the Fed is coming to the market daily with a big bag full of billions of dollars each and every trading day, the stock market not only responds well to it, but it does so in a near state of comatose bliss in more than doubling in value over this relatively short period of time.
What about the third case? This is when the Fed has actually been engaged in either tightening monetary policy through raising interest rates or keeping rates steady after having raised them for an extended period. The market has operated under such a backdrop in a mere 840 trading days since January 2001, or just 22% of the time. This includes the period from June 2004 to September 2007 and then since mid December 2015 to the present.
So how has the market performed under these supposedly more challenging conditions of higher interest rates? Not to shabby.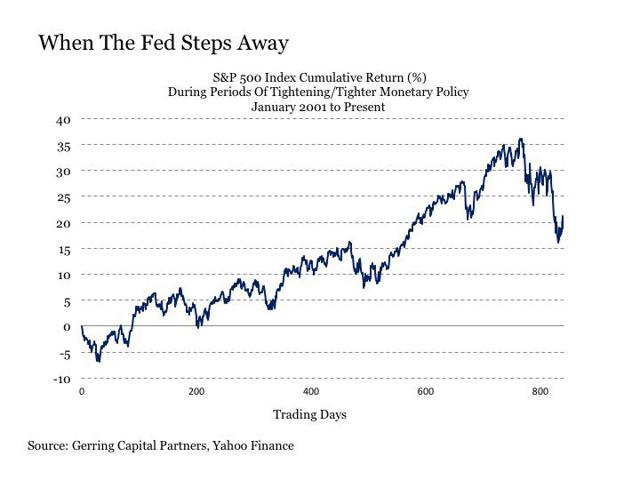 Click to enlarge
Overall, stocks showed the ability to gain during the extended periods of monetary tightening that largely took place from June 2004 to September 2007. Although stocks were slow getting out of the gates in 2004 just as they have been today since mid December 2015 (for very different reasons, of course), they eventually showed the ability to recover back during the 2004 to 2007 behind the strength of the U.S. economy and its booming housing market. Whether such sustained growth will take hold this time around today remains to be seen, but I am less than optimistic.
Instead, I am more of the opinion that the Fed will likely soon be forced to stand down from any further rate increases and may eventually be induced to return to its easier policy ways.
Into The Great Wide Open
This leads to my second point. Perhaps you are of the opinion that the Fed will stop tightening and eventually will return to easing policy and applying more monetary stimulus. Knowing that the only stimulus that has sustainably elevated the stock market over the last 15 years has been daily U.S. Treasury purchases as part of a QE program, these are the key words to monitor for from the Fed. Not negative interest rates or anything else, as they have also proven equally ineffective in sustainably raising asset prices as demonstrated by stock performance in Europe and Japan in recent months. It is specifically daily U.S. Treasury purchases. And if the Fed is not actually in the process of implementing daily U.S. Treasury purchases, we are unlikely to see anything other than some periodic short-term pops higher on Fed jawboning or eventual action.
Another important point to consider is the path that the Fed must now walk to even begin considering more QE that includes daily U.S. Treasury purchases. In the past, it was much easier for the Fed to push daily U.S. Treasury purchases back out into the market because they had either just finished implementing a previous program or still maintained its use in its arsenal if needed. But today, the Fed has not only departed from any form of QE, they have traveled so far as to have actually raised rates. As a result, the first thing that would have to happen would be the Fed lowering interest rates back to zero. And then the policy debate could proceed about whether more QE or negative interest rates or some other form of stimulus was warranted. But unlike past episodes, the one additional thing that is working against the Fed implementing QE4 that includes daily Treasury purchases is the fact that they not only have a heavily bloated balance sheet from past programs but also the increasing notion among policy makers that such QE stimulus may have caused more harm than good at the end of the day.
So what is an investor to do that wishes to allocate to stocks in such an environment? A reasonable approach is to focus on those areas of the market that had previously struggled under the expectation that the Fed was going to raise interest rates. For example, market segments such as utilities stocks (NYSEARCA:XLU), REITs (NYSEARCA:VNQ) and long-term U.S. Treasuries (NYSEARCA:TLT) all endured a challenging 2015 amid expectations that the Fed would be raising interest rates as many as four times in 2016. But now that these expectations are increasingly fading due to the weakening global growth environment, these segments have been recovering and performing quite well despite the weakness across the broader stocks market. And even if the Fed never arrives at the point of implementing more daily U.S. Treasury purchases as part of a QE4 stimulus program, these market segments stand to benefit as the Fed walks all the way back from its recent policy tightening stance.
Bottom Line
Unless the U.S. Federal Reserve is ready to roll out another QE program that includes daily U.S. Treasury purchases, any Fed related rallies on word of new stimulus are likely to be fleeting at best. Market volatility is likely to remain elevated, but if the Fed does need to walk back from its current tightening stance, one of the best ways to navigate is to own those segments of the market that had been hurt by the belief that the Fed would be sustainably raising interest rates in the first place, as they stand to benefit as policy talk shifts toward easing once again.
Disclosure: This article is for information purposes only. There are risks involved with investing including loss of principal. Gerring Capital Partners makes no explicit or implicit guarantee with respect to performance or the outcome of any investment or projections made. There is no guarantee that the goals of the strategies discussed by Gerring Capital Partners will be met.
Disclosure: I am/we are long TLT.
I wrote this article myself, and it expresses my own opinions. I am not receiving compensation for it (other than from Seeking Alpha). I have no business relationship with any company whose stock is mentioned in this article.
Additional disclosure: I own a number of individual utilities and REITs