Biogen (NASDAQ:BIIB), a global biopharmaceutical company, is launching its R&D, manufacturing and marketing activities of biosimilars in Europe in collaboration with Samsung Bioepis.
Biogen Inc., formerly Biogen Idec, Inc., is a global biopharmaceutical company focused on discovering, developing, manufacturing and delivering therapies for neurological, autoimmune and hematologic disorders. Biogen's specialty-market-focused drug portfolio and R&D pipeline create a wide competitive advantage - moat - and dominance in the MS market while expanding in other markets.
Not surprisingly, BIIB has established a large number of collaborations and acquisitions to advance its portfolio of products and to acquire a different know-how. Just to name a few: Regulus Therapeutics (NASDAQ:RGLS), Ionis Pharmaceuticals (NASDAQ:IONS), Convergence Pharmaceuticals, Eisai (OTCPK:ESALY), Stromedix, Biomotiv and AGTC (NASDAQ:AGTC). There is an ongoing change in the company's scope to med tech R&D and digital health with an eye at data analytics and wearable devices. This strategy can be executed in the presence of a large inflow of capital, and the company has capitalized on revenue from its profitable blockbusters.
Further, Biogen has recently signed an agreement with Samsung Bioepis, a South Korean company that develops biosimilars. Biogen and Samsung Bioepis have formed a joint venture to develop, manufacture and market biosimilars. The two partners are developing three new biosimilars (SB4, SB2 in Phase III, and SB5 in Phase I) with anti-TNF activity in rheumatoid arthritis, psoriatic arthritis, Crohn's disease, ankylosing spondylitis, and plaque psoriasis in adults. SB4 is similar to Amgen (NASDAQ:AMGN)/Pfizer's (NYSE:PFE) Etanercept, SB2 is similar to Janssen Biotech's (NYSE:JNJ) Infliximab and SB5 is similar to AbbVie (NYSE:ABBV)'s Adalimumab.
Within the same biosimilar market, Biogen will have to compete with Amgen, Novartis (NYSE:NVS) and Merck (NYSE:MRK) to commercialize all the three anti-TNF compounds. For Biogen, the European regulatory pathway offered the greatest target market opportunity, because it is more established than the U.S. pathway. European patents of the three targeted biologics (Adalimumab, Etanercept and Rituximab) will expire in 2018 or expired in 2015 and 2013, giving freedom to not infringe proprietary uses of drugs. Biogen will be the first company to be scrutinized by the FDA in few months.
Most interestingly, Copaxone (glatiramer acetate) is marketed by Teva (NASDAQ:TEVA) to treat MS. On June 19, 2015, Sandoz-Novartis launched a biosimilar (Glatopa) of Copaxone in the U.S. Though the entry of Glatopa has impacted Copaxone's market share, it might also affect the share of other MS drugs including Biogen's.
As stated, BIIB should consider the current development of SB4, SB2 and SB5 as a diversification of its portfolio of uses and users. Entry into the biosimilar market for MS would be a very profitable opportunity for Biogen to exploit its leading position either to prevent losses or capture competitors' revenues through market penetration strategy. Biogen could gain market penetration by developing a candidate similar to other competitors' biologics prescribed in the MS through a growth strategy.
Biogen and Samsung Bioepis have secured a joint venture with four long-term investments. First, Samsung Biologics (and Samsung Bioepis) owns 90% of this joint venture while Biogen owns the remaining 10% with $45 million upfront investment and the agreement to receive upfront payments from Merck and any product supply income and additional payments associated with clinical and regulatory milestones. The terms of the contract: ownership reduced from 15% to 10% in 2014 with the possibility to increase its ownership up to 49.9% and upfront R&D expenses to $85 million. The company will receive 50% profit share for any marketed drug.
Second, BIIB granted Samsung Bioepis an exclusive license to use, develop, manufacture, and commercialize biosimilar products created by Samsung Bioepis using Biogen's product-specific technology. At the end of December 2014, BIIB reported a loss on its investment of $15.1 million mostly in upfront cash for R&D expenses at Samsung Bioepis, though in the same year, revenue from its services in this JV has been $58.5 million, with a net profit of $43.4 million.
Third, Samsung Bioepis is expected to become a public company by June 2016. It is currently filing an IPO led by Citi and Goldman Sachs to be listed in NASDAQ, and its current value is $1 billion and expected to rise to at least $7 billion after listing its shares.
Fourth, Samsung Bioepis has six biosimilar projects in advanced stage. Biogen will provide manufacturing and commercialization for all its three products. SB4, SB2, and SB5 will be produced at Biogen's advanced biologics manufacturing plant in Hillerød, Denmark.
These four paths to increase the ROI will create profits for Biogen that will be added to the sales of any biosimilars (if approved) in the EU, the U.S. and Japan.
Amgen's Enbrel sales, which is marketed by Pfizer, were $2.5 billion in 2014 (1,166,850 units/year sold in EU only). The strategy on marketing Enbrel-biosimilar SB2 is to meet insurers' hope that biosimilars will be priced 50 percent less than the original brands. Calculating $250 million of R&D expenses and $50 million in the following years, cost of manufacturing the biologic $45, advertising costs and general and administrative expense (G&A) $2.23 million. NPV of the cash flow will be $237.6 million if SB2 will dent 20% of the Enbrel market. Fixed asset turnover ratio (FATR) is an indicator of how many sales are generated for each dollar of investment. With increasing expenses for new assets, FATR will decline from 9.72 to 0.72 in year five along with the expansion of the manufacturing plant in Hillerød, Denmark. Return on Assets (ROA) will be exceptionally high in all the studied five years.
No doubts Biogen is looking forward to dig further in the biosimilar market to launch discounted but still profitable drugs.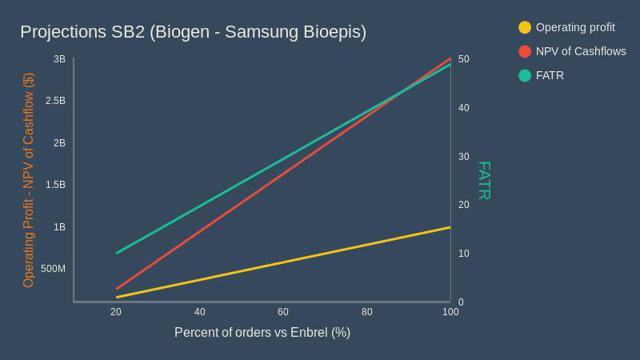 Click to enlarge
Disclosure: I am/we are short IONS, RGLS.
I wrote this article myself, and it expresses my own opinions. I am not receiving compensation for it. I have no business relationship with any company whose stock is mentioned in this article.