There seems to be lots of confusion about navigating the market these days, especially as a dividend growth investor. As you know, I am an advocate of dividend growth investing and buying the dips. Sometimes the dips are telling us that they are something more, and a real correction is underway.
Being a more conservative investor, I will take heed and hold off on buying a dip, but of even more concern is running out of cash if the dips keep "dipping." Many folks who are avid "buy the dip" dividend growth investors could find themselves completely out of money to take advantage of some amazing bargains, when right before our nose, the issues and headwinds are screaming that we should wait!
Let me tell you that in the real world, if we use all of our cash quickly, we WILL run out, and then be in the unenviable position of not being able to take advantage of even better bargains, and more importantly have a cushion to fall back on.
The Key Issues Are Still Right In Front Of Our Noses
The main issues to review are the major headwinds that all stocks have been facing, so let me re-state them from this previous article:
The price of oil is still under pressure as supply is much greater than demand, and Iran will be producing massive amounts of crude very soon, to put further pressure on the price.
China has slowed, which impacts some of our largest exporters such as Apple (NASDAQ:AAPL). It may not be apparent across the board yet, but as the earnings season moves along, companies will see lower revenue and earnings from that region.
The strong dollar will continue to have a negative impact on all global US company revenues and earnings as higher prices for products will impact sales.
The Fed, while making a slight nod in favor of fewer interest rate hikes, has not been as definitive, and I am not convinced that they will not stay the course, and raise rates at least 4-5 times this year. Higher interest rates will impact consumer spending on higher ticket items such as homes and automobiles. It will also impact those companies that will need to borrow at higher interest rates. This has not shown up either as of yet, but as the Fed tightens, so will consumer spending.
Economic growth dropped to an anemic .07% last month as that will impact corporate earnings and revenues as the consumer, as well as business, slow their spending.
The earnings season has actually surprised me, but the projections were lowered dramatically. Thus, there still are less revenues and less profits to grow business and/or spend on capex.
Yesterday (2/2/16), the market dropped 300 points (today, we are also seeing red), realizing more or less that nothing has changed the above headwinds. To exacerbate the issues, Exxon (NYSE:XOM) came out with an earnings and revenue beat, but the share price dropped another 2% to around $74.50.
Why? Well, the expectations had been lowered last quarter, so it was an obvious beat this time, but revenue and earnings dropped by about 50%. Here are some highlights from XOM's earnings report:
Earnings of $2.8 billion decreased $3.8 billion, or 58 percent, from the fourth quarter of 2014.
Earnings per share, assuming dilution, were $0.67, a decrease of 57 percent.
Capital and exploration expenditures were $7.4 billion, down 29 percent from the fourth quarter of 2014.
Yes this great American company continued its return of shareholder value in the form of a dividend increase and continued share buybacks, so I feel good owning shares and not dumping them out of fear or panic.
This is a great example of how a dividend growth investor can rely on many dividend aristocrats continuing to pay us to simply own shares.
So Why Not Buy More Shares Now?
It does not take a brain surgeon to see that oil prices face the same issues, and actually all the issues I noted are still in front of our noses. Truth be told, if the Team Alpha Retirement Portfolio had tons more cash, shares could have been continually added during this correction.
Unfortunately, regular investors who are close to or already retired live in the real world. In the real world, not many of us has an unlimited supply of cash reserves, and sooner or later, the well runs dry.
If my opinion of lower prices ahead is somewhat accurate, building cash and watching the issues and trends will enable us to add shares at even lower prices. If I am wrong, and use all the cash then, the shares added will be underwater, then TARP will have ZERO cash to take advantage of even lower prices!
Some might call this market timing, but actually, it is more common sense. If we do not have an endless supply of cash, eventually we will run out and have to sit on the sidelines anyway, but while the income will be fine, capital preservation at MY stage in life should be considered, and I prefer not watching my cash run out as the share prices continue to drop.
The real approach for the real world is not to dump stocks out of pure panic while the market tanks, which will reduce the income stream! The real world does not insist that everyone is 100% invested at all times, and there will be times when we simply will have to be happy to continue cashing dividend checks, watching the world around us and building up some cash.
How easy would it be for everyone to say buy all the time, and every dip is not a serious correction, so buy, buy, buy! Pretty easy, but how realistic is it?
TARP Income Has Not Changed
As of now, the portfolio consists of the following stocks: Exxon Mobil, Johnson & Johnson (NYSE:JNJ), AT&T (NYSE:T), Franklin Street Properties (NYSEMKT:FSP), Coca-Cola (NYSE:KO), Omega Healthcare (NYSE:OHI), Procter & Gamble (NYSE:PG), Realty Income (NYSE:O), General Motors (NYSE:GM), Ford (NYSE:F), Microsoft (NASDAQ:MSFT), Consolidated Edison (NYSE:ED), Altria (NYSE:MO), Main Street Capital (NYSE:MAIN), PetMed Express (NASDAQ:PETS), BGC Partners (NASDAQ:BGCP), Ohio Valley Banc Corp. (NASDAQ:OVBC), HCP, Inc. (NYSE:HCP), Old Republic International Corp. (NYSE:ORI), Starwood Property Trust (NYSE:STWD), Mattel (NASDAQ:MAT) and Annaly Capital (NYSE:NLY).
During this period of serious uncertainty and major global issues, the income stream from TARP has actually gone up a bit. Not one share was dumped nor were any shares added.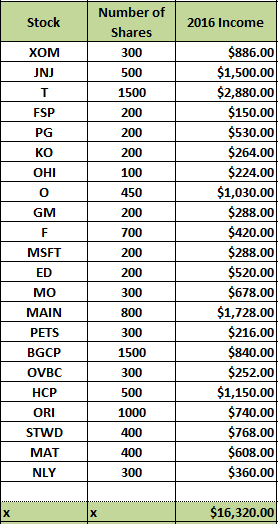 The checks keep getting cashed, there are anticipated dividend increases, and since I happen to be a conservative dividend growth investor, I am fine with watching and waiting. I happen to live in the REAL world.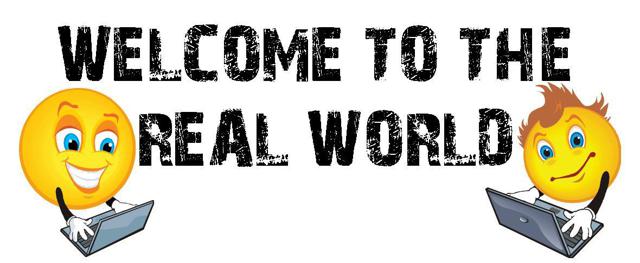 I wish I had a printing press like our government, but I do not. What world do you live in? (I prefer the fantasy world by the way, but alas, I have what I have!)
Why "Follow" Me?
The main reason for a subscriber to "Follow" me, especially for the model portfolios (TARP or otherwise), is to glean some knowledge to become a better investor and not simply place bets.
Money management is every bit as important as any other aspect of investing, and by following a portfolio and the actions taken, you can gain some insight into a somewhat higher level of investing acumen. There are no requirements, and this is not "rocket science" - it is simply a powerful way for you to put the money you have worked hard for to work even harder for you.
My message will be consistent, and my hope by doing this is to share my own experiences, illustrated in the model portfolios I build exclusively for Seeking Alpha.
Knowledge is power, and many folks shy away from the investing world because that very world makes it more confusing each and every day in an effort to sell you something: stock picks, technical strategies, books, videos, subscriptions with "secret ideas," gadgets, and even snake oil.
My promise to you is that my work here will remain free to all of my followers, with the hope of giving to you some of the things that took years for me to learn myself. That being said, let me reach out to you with my usual ending:
**One final note: The only favor I ask is that you click the "Follow" button so I can grow my Seeking Alpha friendships. That is my personal blessing in doing this, and how I can offer my experiences to as many regular folks as possible, who might not otherwise receive it.
Plus, it is free (and will continue to be) and does not cost one penny for anyone who reads me.
Disclaimer: The opinions and the strategies of the author are not intended to ever be a recommendation to buy or sell a security. The strategy the author uses has worked for him, and it is for you to decide if it could benefit your financial future. Please remember to do your own research and know your risk tolerance.
Disclosure: I am/we are long AAPL, BGCP, ED, F, FSP, GM, HCP, JNJ, KO, MAIN, MAT, MO, MSFT, NLY, O, OHI, ORI, OVBC, PETS, PG, STWD, T, XOM.
I wrote this article myself, and it expresses my own opinions. I am not receiving compensation for it (other than from Seeking Alpha). I have no business relationship with any company whose stock is mentioned in this article.
Editor's Note: This article covers one or more stocks trading at less than $1 per share and/or with less than a $100 million market cap. Please be aware of the risks associated with these stocks.