In this article, we will provide you with financial fundamental analysis of discount retail companies on U.S. stock exchanges. For each company, we have provided price targets, buy/sell/hold ratings, buy/sell ranges and theses. Additionally, using a multitude of financial analytical ratios and comparisons, we have given each company a score on growth, profitability, financial health, value and management indices to compare each company and see where companies excel and where they have weaknesses. We have featured four of the 12 companies in the full report, which can be seen here. Part 1 of the report can be found here.
We have initiated coverage on the following companies - Arctic Cat (NASDAQ:ACAT), Polaris (NYSE:PII), General Motors (NYSE:GM), Harley-Davidson (NYSE:HOG), Thor Industries (NYSE:THO), Tata Motors (NYSE:TTM), Toyota Motors (NYSE:TM), Winnebago (NYSE:WGO), Tesla (NASDAQ:TSLA), Drew (DW), Ford (NYSE:F), and Honda Motor (NYSE:HMC).
(Click charts to expand)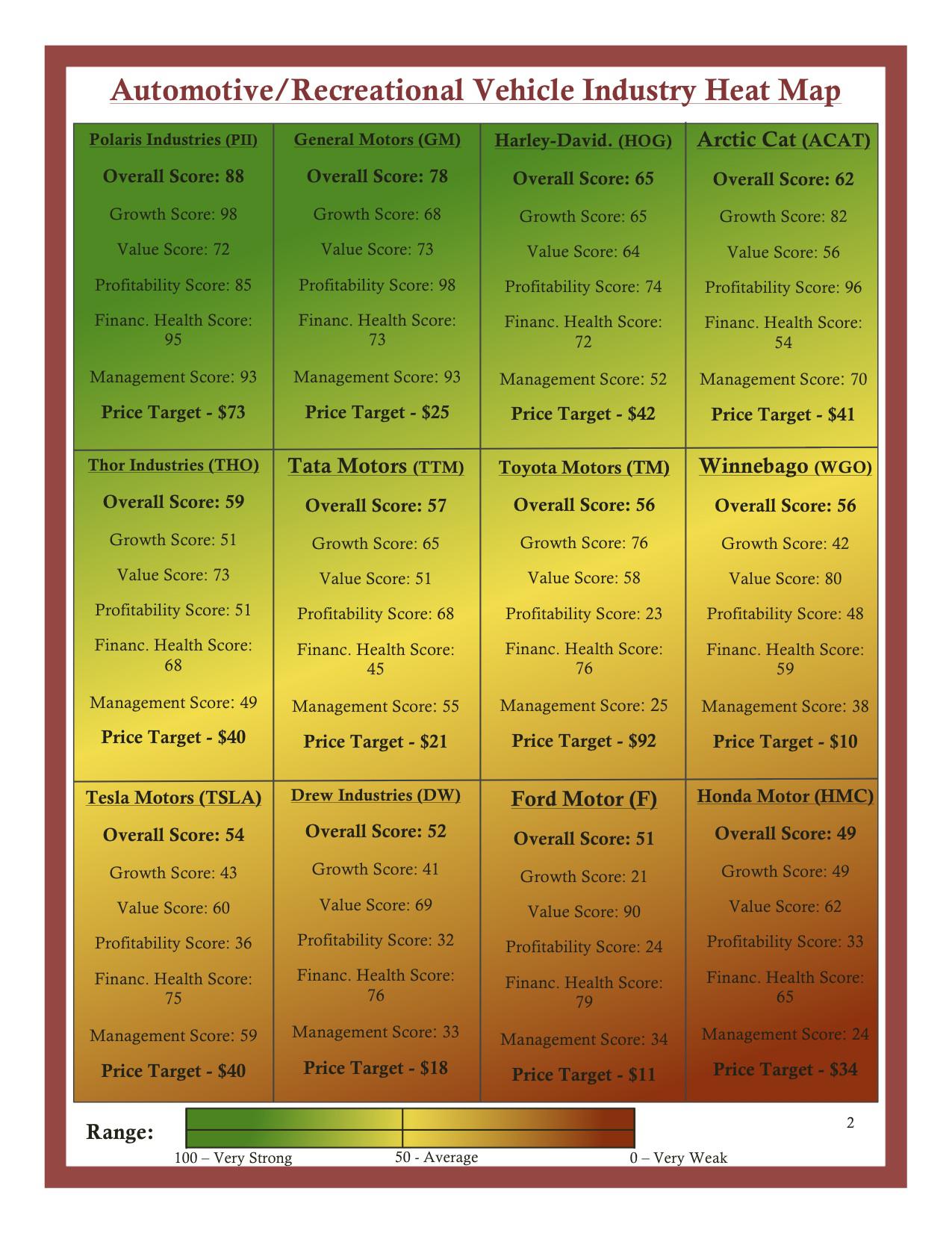 Honda Motor, Hold, PT at $34 -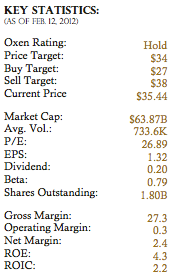 Right now, we do not see a lot of upside in Honda stock. The company was hurt badly by the crisis in Japan, and its recovery has been rocky so far . It has lost market share, profitability has dipped, and supply issues were very strong this year.
The company is definitely pricing in a strong recovery that should be expected for it, but we are uncertain of how strong any recovery in Honda stock will be.
The company has a lot of concerns for us, but the largest issue was its Management score. The company has seen nearly every management metric on a five-year period that we look at drop. Income per employee has dropped about 70% for the past five years. ROIC and ROE over the past five years have dropped north of 60%, not a good sign of healthy management and business conditions. Asset turnover has dropped by about 27% in the past five years.
We do see that the company has value, trading at a forward PE of just 9.5 and 1.2 price to book ratio, but the suggestion there is that the forward EPS is going to be strong. We are not so certain of that factor as other analysts may be. The company has lost a lot in market share over the past couple years, and that does concern us.
Overall, Honda is in a bad spot with issues in Japanese production, the cyclical nature of its company image, and company health. We would avoid adding at this time.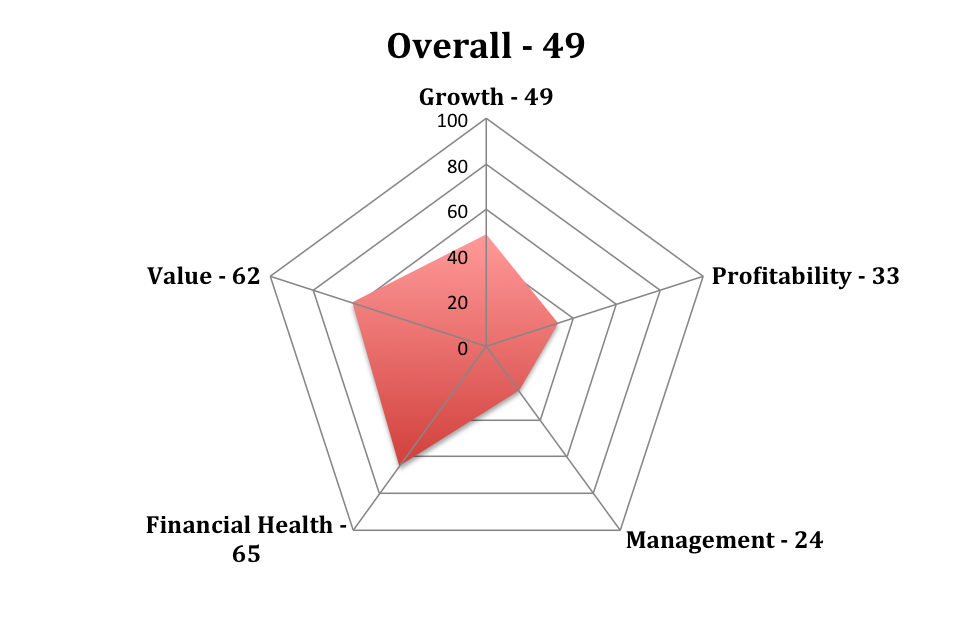 Tata Motors, Sell, PT at $21 -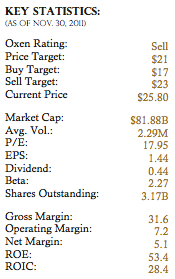 We have mixed feelings about Tata Motors. On one front, it's a great company to invest in to gain exposure to Indian growth. At the same time, it is a stock that seems to continue to be very range bound and follow more with the Indian market and less with its own specific successes.
The best move for the company was buying Land Rover. The Land Rover line is a great line that has a lot of premium margins and a strong loyalty to it. That line gives the company a slight economic moat. At home, however, the high growth of the industry is making it tough to analyze which car company is going to be the top dog.
The company has had mixed success at home, and we believe that rising competition is going to be bad for the company. Right now, we believe the picture is too cloudy for Tata to invest into the company. We would actually like to see the company break-off the Land Rover line into separate stock for the United States market. We believe this line is what makes TTM attractive, and its Indian line holds it back.
The company has done well with ROE and ROIC and has growth potential, but the Indian economy is going through some tough times. Wait for a dip to buy if you want that exposure.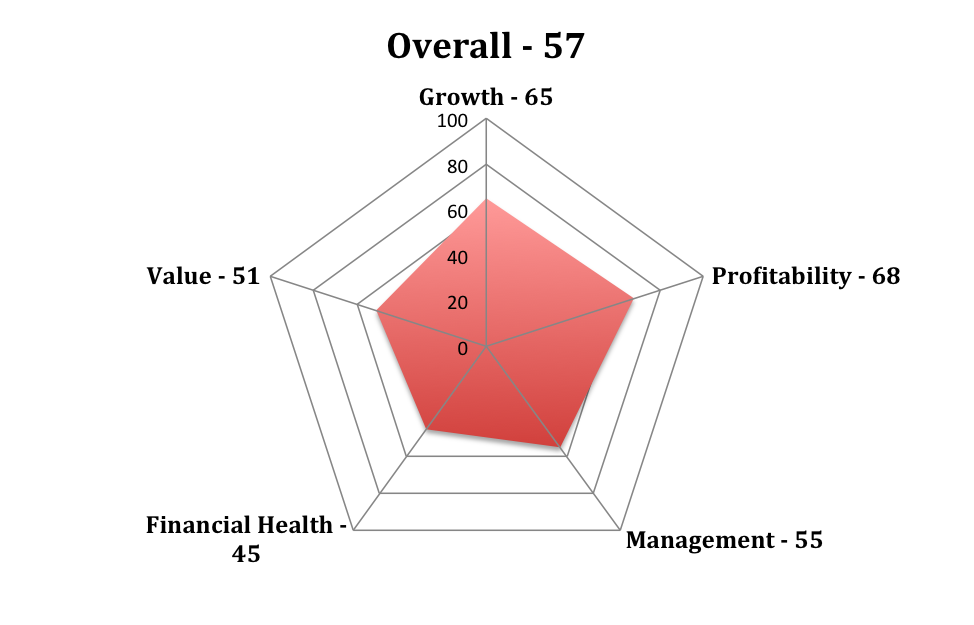 Tesla Motors, Buy, PT at $40 -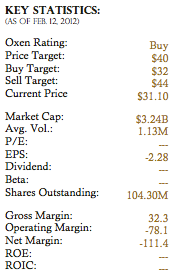 Tesla is probably the most exciting of the automotive stocks out there with most growth potential and most income improvement potential of all the companies. With its sleek, sporty electric cars, the speculation of how far this They company can go is not few and far between.
We like to keep our estimates conservative, and we believe that TSLA has solid upside. It should be able to reach over $2B in sales by 2014-2015, and we are pricing in around $300M in operating income by 2015 in our price target. The company's Model S continues to be on target to launch on time, and the company's engine business continues to attract attention. 2013 should be a profitable year for the company, and we believe as the company moves towards that, valuations could become quite extreme. This company has the ability to quickly become a momentum stock that will attract a lot of investors and traders.
It's the only company in the industry that has the potential for severe growth of over 100% in sales for the next several years, and that is very attractive for investing. At the same time, there are many question marks with Tesla that need to be answered. The company is still not profitable. It has a lot of debt and its distribution channel is weak.
We think it's a nice speculation play, but we want to keep our estimates in check for now until we see the company produce the first Model S.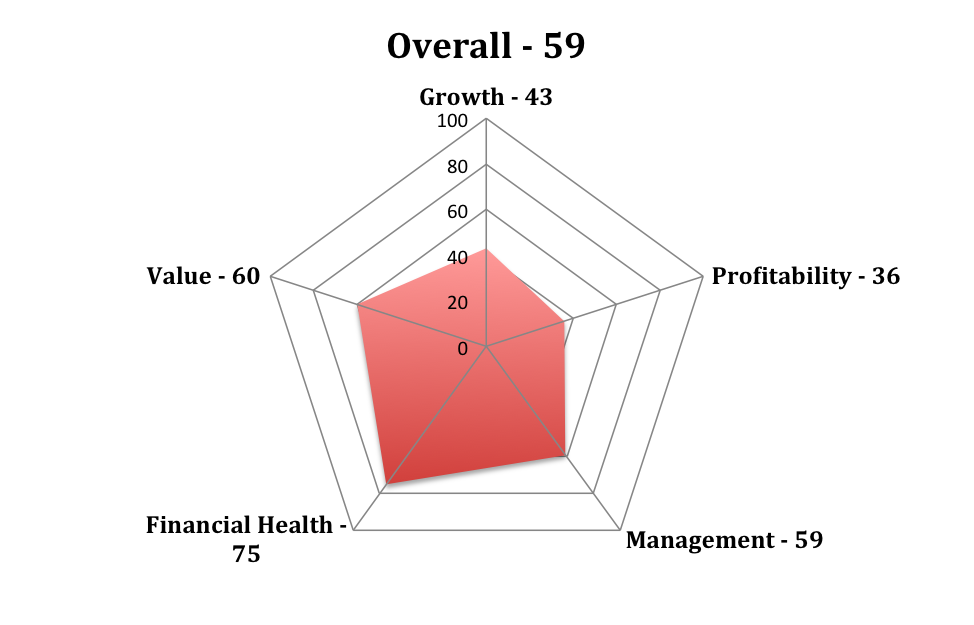 Toyota Motor, Hold, PT at $92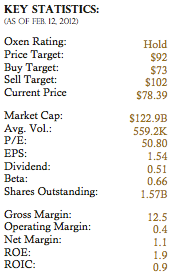 Unlike Honda, we believe much more in Toyota to rebound strongly, and any near-term dip will be a great place to buy one of the top auto manufacturers that is discounted due to a natural disaster. The company seems to have turned a corner recently over the past several months, and sales trends are improving for the company.
The company has been upping sales and profitability estimates for the year. TM would be a great buy if its profitability were to return to normal levels by 2014 - 2015, and we believe they can. Toyota operates a solid business line that has a good economic moat with strong customer loyalty.
From the recall crisis to earthqauke to economic crisis, Toyota has suffered a lot. It is operating now with a PE of 13.8, which is cheap. We believe that its sub-1 price to book ratio is also screaming buy. We believe the company is well positioned to come out of the economic crisis as a cheap stock, with a strong dividend and the ability to retake market share.
The company continues to also be at the forefront of new technology that we think gives it another added bonus and slight economic moat.
We also believe also that as Toyota emerges from this crisis, it will be able to shell off some of the $150B in debt that will quickly increase valuations. Profitability improvements continue to be occurring as well that are not fully priced in at the point.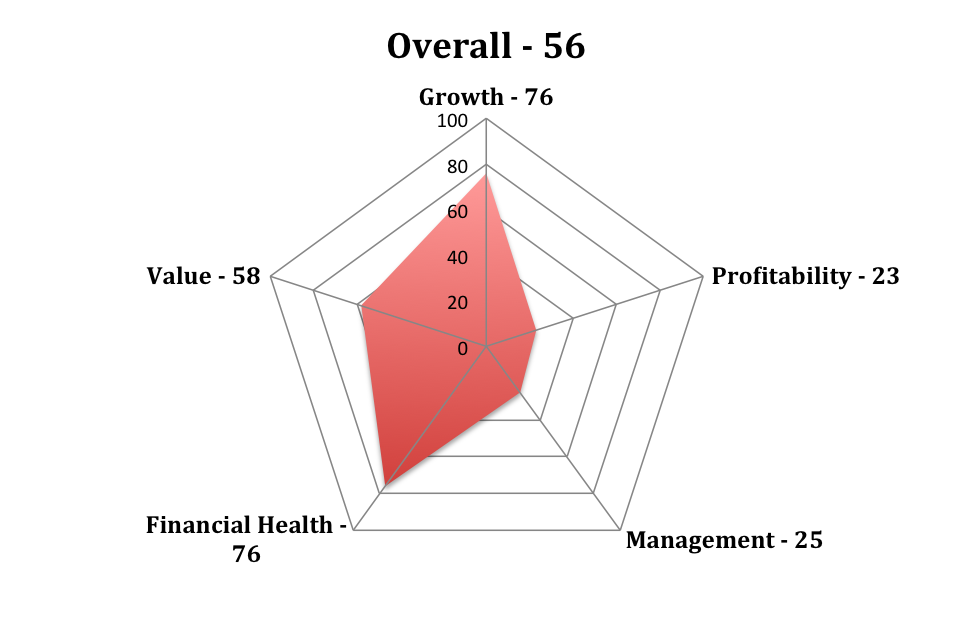 Disclosure: I am long TSLA.