I've grabbed a group of mREITs that I intend to be providing a substantial amount of coverage on throughout the winter. Since this article may contain some industry jargon, I would encourage readers to check out the piece I did describing the terms if they feel any confusion. If something else is confusing, tell me in the comments and I will get it added to my list of terms and concepts.
I want to run through some of the latest data and share my thoughts on a long list of mREITs. I won't get to single out every mREIT in the list out for attention, but I'll get several of them and the analysis will be relevant to all of them.
The table is demonstrated below:
| | | |
| --- | --- | --- |
| Annaly Capital Management | (NYSE:NLY) | |
| American Capital Agency Corp | (NASDAQ:AGNC) | |
| ARMOUR Residential REIT | (NYSE:ARR) | |
| Capstead Mortgage Corporation | (NYSE:CMO) | |
| CYS Investments | (NYSE:CYS) | |
| Dynex Capital | (NYSE:DX) | Long DX |
| Javelin Mortgage Investment | (NYSE:JMI) | |
| New York Mortgage Trust | (NASDAQ:NYMT) | |
| Orchid Island Capital | (NYSE:ORC) | |
| Two Harbors Investment Corp | (NYSE:TWO) | |
| Western Asset Mortgage Capital Corp. | (NYSE:WMC) | |
| MFA Financial | (NYSE:MFA) | |
| Ellington Residential Mortgage REIT | (NYSE:EARN) | |
| Arlington Asset Investment Corporation | (NYSE:AI) | Technically Corporation |
| ZAIS Financial | (NYSE:ZFC) | |
| Apollo Residential Mortgage | (NYSE:AMTG) | |
| Anworth Mortgage Asset Corporation | (NYSE:ANH) | |
| American Capital Mortgage Investment | (NASDAQ:MTGE) | |
| Cherry Hill Mortgage Investment | (NYSE:CHMI) | |
| Starwood Property Trust | (NYSE:STWD) | |
| Blackstone Mortgage Trust | (NYSE:BXMT) | |
| Chimera Investment Corporation | (NYSE:CIM) | |
| New Residential Investment Corp. | (NYSE:NRZ) | |
| | | |
Rate Analysis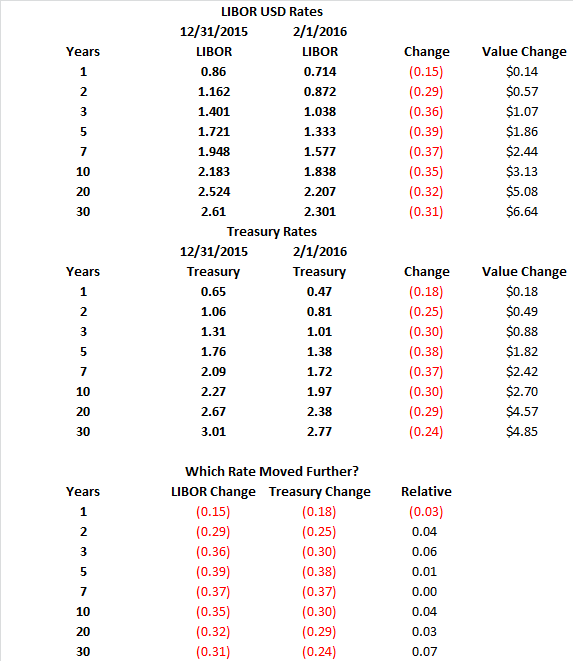 We can see that the LIBOR changes have usually been falling by more than the treasury change. The only exception is the 1 year rate where treasuries fell further. However, if we compare the results above with the numbers from last week, we can see that the gap between the LIBOR change and treasury change for the one year security narrowed quite a bit. Specifically, it fell from .08 to .03.
For comparison, the following chart came from last week's article: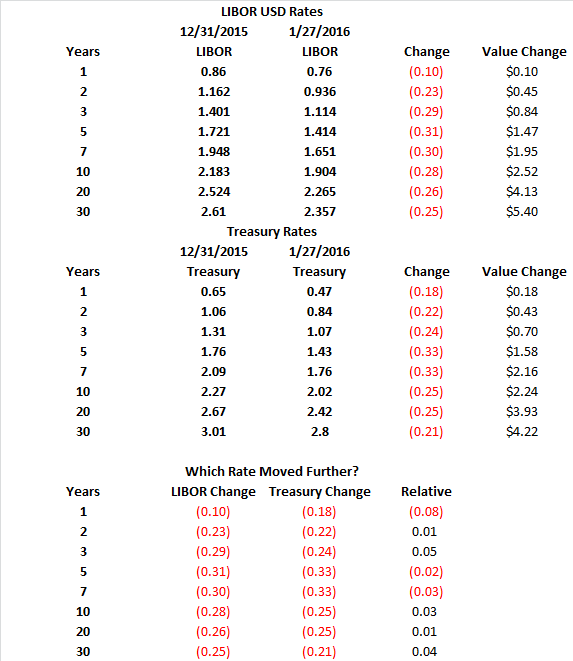 We can see that LIBOR swaps were falling harder than treasuries over the last week or so which is bad for book value but positive for metrics like Core EPS in future periods since it allows the mREIT to lock in a lower cost of funds.
MBS Movements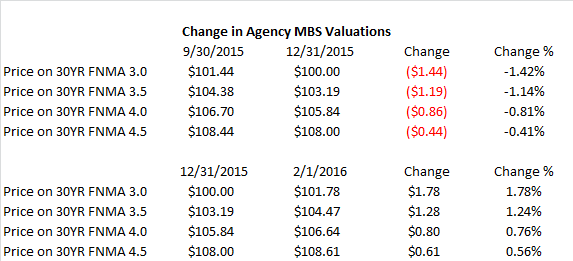 Agency MBS prices have been bouncing back in the first quarter of 2016. Since I'm preparing this piece shortly after the market close on February 2nd, I can also state that today saw the MBS values rise again by a material amount. We're look at around 8 to 50 basis points in gains on the Fannie Mae fixed rate 30 year MBS. The huge gains were in the 3.0 and 3.5. As I've been saying, prepayments are the huge concern.
Thoughts on Individual Investments
Several of the mREITs I cover were up at least slightly. Ironically with AGNC up over 3% and NLY up over 1%, the Market Vectors Mortgage REIT Income ETF (NYSEARCA:MORT) was down .71% and the iShares Mortgage Real Estate Capped ETF (NYSEARCA:REM) was down .22%. That should be fairly interesting. I checked the ex-dividend dates for both to look for an explanation but neither went ex-dividend today. I haven't constructed their entire portfolios into models to try to evaluate the NAV of the funds in real time and I probably shouldn't pour the time into such an endeavor. It would be interesting though …
If I did something like that, I would be focusing on the share prices of the underlying mREITs. I certainly would not be modeling book value for every mREIT in real time and then using those values to revalue the ETF.
AGNC released their fourth quarter performance. It was in line with my estimates which is a good sign for accurate predictions. They declared $22.59 to my $22.58 estimate. My current estimate of BV puts them around $22.31.
ARR had some fairly rough price movements over the last few weeks. They were temporarily trading at a similar discount to large peers like AGNC and NLY. They've moved back to a larger discount by my estimations. If you're interested in ARR, you might also want to look at the preferred shares. Things are occasionally getting interesting.
CMO remains exposed to the prepayment rate on adjustable rate agency MBS. Their dividend sustainability will primarily come down to the prepayment rate they experience. Short term borrowing rates could push higher, but the short part of the yield curve is moving to be flatter. Since they aren't hedging excessively (remember adjustable rate mortgages) the flatter costs expected in the short term are very nice. Despite that, they need prepayments to slow down.
Dynex Capital also has quite a bit of agency ARMs, but they also have some CMBS that should be less exposed to the prepayment risks which is a nice benefit. I wish their overhead costs were as low as CMO though.
JMI remains a play on liquidation. The portfolio isn't large enough to justify the costs of managing it. Management cut the fees on the portfolio, but it still needs to just be liquidated.
NYMT remains a concern for me due to the nature of their assets. I don't mind IO strips as one method of hedging against higher rates, but the prepayment concerns combined with their credit sensitive assets makes this a risky investment. The dividend is worthy of further inspection. Sustainability of dividends may be an issue for several mREITs this year.
I checked on ORC shares while writing. They were last priced at $8.94. Since I tend to price ORC based off other mREITs, this is within the reasonable trading range. I pulled my short rating when shares were at $8.38 because I felt there was no longer a solid argument for holding the position. I also took the unconventional step of calling the end to a pair trade while suggesting that shares of CYS were still attractive for investors going long. CYS rose from $6.54 to $6.95. The case for each is becoming a little weaker as prices move back up.
TWO is interesting for their heavy non-agency MBS exposure. If an investor really wants to do some exceptionally high quality analysis, they might look for a breakdown of non-agency MBS by state and then get reports on house prices and employment in those states to determine the expectations for defaults. Higher values on both (house prices and employment) would be favorable, lower values would be a negative indicator.
I don't think the Federal Reserve would risk sending the U.S. into another major recession, but I'm not certain about that. If they announce a sell off of their agency MBS, I'd be very scared for TWO. Even though TWO is holding the non-agency MBS, they are relying on the house values being supported as collateral. If agency MBS rates soared it would make housing unaffordable for many families unless prices fell substantially.
The earnings call for CIM might be interesting. There should be some pressure for lower management costs after their separation from NLY. If costs don't go down, then shareholders should start getting angry. On previous calls the guidance on management costs was insufficient.
Earnings Season
Several of the mREITs will have earnings releases coming up. With the potential for very positive or negative surprises to come out, this is a dangerous time to leave limit orders open. Regardless of the nature of those limit orders, there is a material risk of getting executed against when prices swing. I love limit orders outside of earnings season because inefficient markets produce some significant swings.
The ideal strategy is to get the earnings release and finish analyzing it before the markets open.
If a company announces a huge buyback program while trading at a huge discount to book value and the company does not have an impeccable record of putting shareholders first, it would be worth looking carefully at the situation to determine if an activist might be present. If an activist reveals themselves shortly after the announcement, it could drive a spike in share prices.
Disclosure: I am/we are long DX.
I wrote this article myself, and it expresses my own opinions. I am not receiving compensation for it (other than from Seeking Alpha). I have no business relationship with any company whose stock is mentioned in this article.
Additional disclosure: Information in this article represents the opinion of the analyst. All statements are represented as opinions, rather than facts, and should not be construed as advice to buy or sell a security. Ratings of "outperform" and "underperform" reflect the analyst's estimation of a divergence between the market value for a security and the price that would be appropriate given the potential for risks and returns relative to other securities. The analyst does not know your particular objectives for returns or constraints upon investing. All investors are encouraged to do their own research before making any investment decision. Information is regularly obtained from Yahoo Finance, Google Finance, and SEC Database. If Yahoo, Google, or the SEC database contained faulty or old information it could be incorporated into my analysis.