Overview
IBM Corp. (NYSE:IBM) recently reported 4th-quarter 2015 earnings with a small beat on earnings and revenue. Forward guidance was lighter than most analysts thought, and IBM shares fell to $118 on January 20. At the current price of about $123, IBM yields 4.2% and is selling at about 9 times 2016 earnings of "at least" $13.50. The stock is at six-year lows even though current financial metrics, such as earnings, are much better than six years ago.
I have been pro-IBM for some time now, believing that its transformation to new services, such as cloud and analytics, will lead to much higher prices in future. In my latest article on IBM, "5 Reasons IBM Is A Buy Whether You Like The Weather Or Not", I argue that The Weather Channel acquisition will add significantly to the company's new plans.
In this article, I present points suggesting that, with the current stock market volatility, IBM's high, safe dividend and low P/E ratio offers investors a safe investment alternative.
I'm not afraid of storms, for I'm learning how to sail my ship.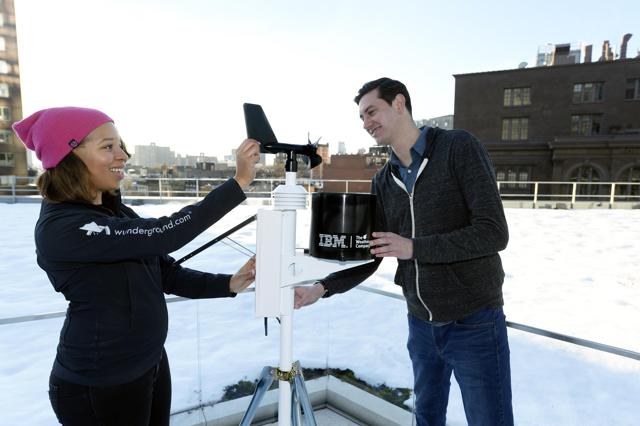 Click to enlarge
Source: IBM
IBM climbed the mountain once, can it climb it again?

At its recent price in the $120 range, IBM's six-year chart has a nice symmetry to it. At the very beginning of 2010, the price of the stock was virtually the same as today. In fact on February 4, 2010, IBM closed at $123.00, almost identical to Tuesday's (February 2) close of $122.94. From that February 4, 2010 price, the stock climbed to over $210 in 2013, something I think it can do again.
If we compare 2009 results (as reported in early 2010) of the 2010 $123 IBM with the 2016 $123 IBM, we can see that on many financial metrics, the current IBM is better than the IBM of 2010. Those include earnings, gross margin, operating margin, shares outstanding and P/E ratio. Progress is definitely being made.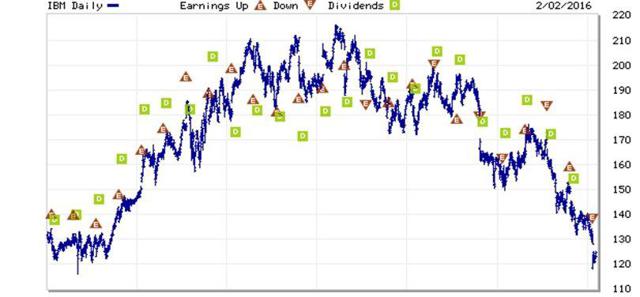 Click to enlarge
Source: MarketWatch.com
The company's latest earnings call transcript had some good news
As I mentioned earlier, IBM actually beat its 4th-quarter forecast modestly, with earnings at $4.84 versus $4.81 and sales up $20 million. But the really good news came from the new strategic initiatives programs, which now represent 35% of sales, up 26% from 2014. Also, cloud revenue was up 57%, data analytics up 16% and mobile sales tripled, although from a small base. Also, z13 mainframe sales were up 16% and Power System sales were up 8%, the first increase since 2010.
But the best news, in my opinion, was management's projection of next year's earnings to be "at least" $13.50. The least that comment tells me they have prepared for the worst at $13.50, and it will probably be better than that. Although not specifically mentioned, the "at least" could be their way of covering for another year of strong dollar performance, especially since they did note that many forex hedges would be rolling off in 2016. So, on the off chance the dollar weakens next year, the 13.50 number will be exceeded. With Watson still ramping up and The Weather Channel assets yet to be put to work in a meaningful way, 2016 could easily exceed expectations. And the current low P/E of 9 is based on the "at least" number.
But there was plenty of bad news too, including a 10% decrease in software sales, an 11% decrease in disk and tape and the continuing strong dollar effect on earnings. Global Technology Services revenues were also down by 7%, and Global Business Services by 10%, before adjusting for currency. But in a possible turnaround sign for services, the backlog was up 1% to a huge $121 billion.
IBM has several long-term advantages over the competition
First is a huge customer base, with virtually every large institution in the world using IBM services or equipment at some level. Not only that, but many - if not most - of these relationships have been ongoing for years and even decades. No other company has as many key relationships at large institutions as IBM does. This is a big advantage to the company. In addition, these very large institutions make very long-term plans (and commitments) and are not about to change their plans because of a recession or other economic turmoil. That leads to stability in long-term revenue.
Secondly, adding The Weather Channel's huge data collection abilities to Watson will give IBM a huge step up in the IoT wars. Here is how COO Walter Schroeter put it during the earnings call:
One example is The Weather Company acquisition, which will provide the basis for our IoT platform. This acquisition brings with it a high-volume platform that can ingest sensor data at scale. This platform can handle enormous complexity, taking in four billion weather forecasting points and 26 billion queries in its cloud service each day. This is the fourth most-used mobile app, handling seven times more transaction volume than the world's leading search engine.
Thirdly, for the 23rd year in a row, IBM has produced more patents than any other company in the world. This does not automatically lead to commercial success, but it does show that the company has research capabilities at the very highest level.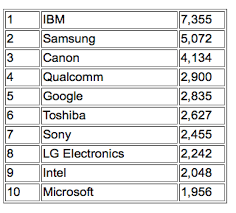 Source: Fortune.com
Conclusion
With IBM reaching its lowest price in six years, it is time to consider it as a safe, almost utility-like, stock. With huge cash flows and low CAPEX requirements easily supporting a 4.2% yield and a forward P/E of only 9, you could consider IBM to be like AT&T (NYSE:T), but with more upside.
The turnaround continues, albeit slowly, and the future looks bright, especially in light of the dividend and P/E supporting the current price.
IBM is a Buy for long-term conservative accounts.
Disclosure: I/we have no positions in any stocks mentioned, and no plans to initiate any positions within the next 72 hours.
I wrote this article myself, and it expresses my own opinions. I am not receiving compensation for it (other than from Seeking Alpha). I have no business relationship with any company whose stock is mentioned in this article.