Are we headed into another recession?
That's a question that I get practically every day.
Even on many investing sites, like Seeking Alpha, it has become routine for analysts and investors to suggest that the sky is falling. One reason that I spend a lot of time reading is so that I can attempt to understand where the U.S. economy is really headed, there's so much data to take in, it's really hard to know when there will be another correction.
Keep in mind, it has been 79 months since the last recession ended, and while I have my doubts that the recession officially ended in June 2009 (as the experts suggest), there is strong evidence that there is another one around the corner. So how far around the corner?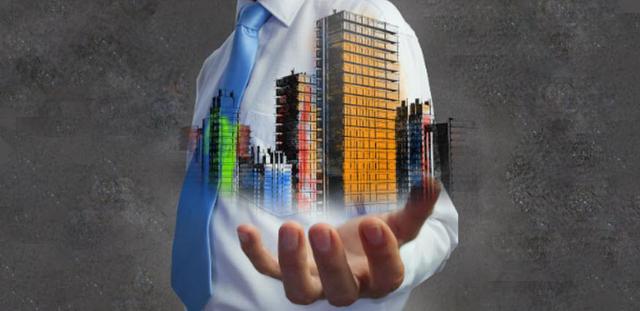 Click to enlarge
The last recession, many refer to as the great one, was the worst since the 1929 Depression. It was also the longest since the Depression, lasting 18 months. As most of you recall, the trigger for the last recession was the subprime mortgage crisis that created a global banking credit crisis. The U.S. economy shrank five quarters (four in a row).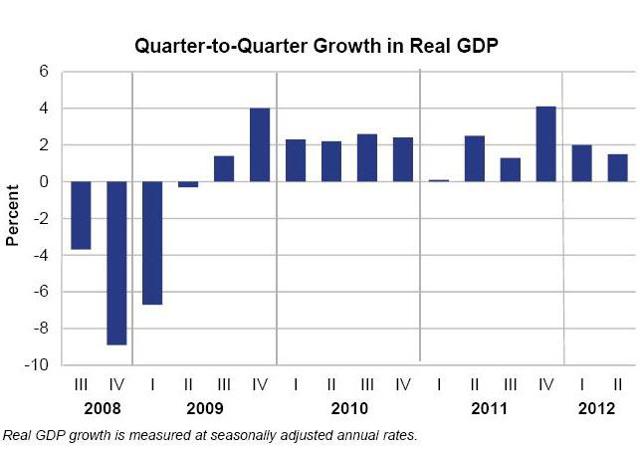 Click to enlarge
The recession ended in Q3-09 when GDP turned positive, thanks in large part to the massive economic stimulus package (or QE). Let's take a closer look at the impact of the last recession.
How Deep Was The Hole?
This chartbook documents the course of the economy following the last recession against the background of how deep a hole the recession created - and how much deeper that hole would have been without the financial stabilization and fiscal stimulus policies enacted in late 2008 and early 2009.
Click to enlarge
Economic activity as measured by real (inflation-adjusted) gross domestic product (GDP) was contracting sharply when policymakers enacted the financial stabilization bill (TARP) and the American Recovery and Reinvestment Act. The economy began growing in 2009, and has averaged 2.1 percent annual growth since then.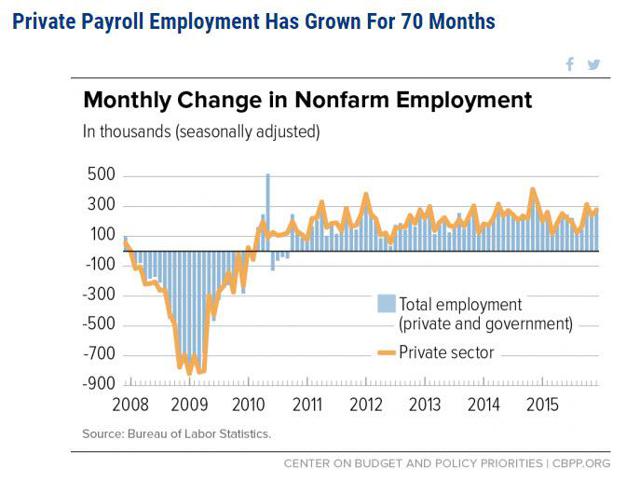 Click to enlarge
The pace of monthly job losses slowed dramatically soon after President Obama and Congress enacted the Recovery Act in February 2009. The trend in job growth in 2010 was obscured by the rapid ramp-up and subsequent decline in government hiring for the 2010 Census (which is now over), but private employers have added 14.1 million jobs to their payrolls in the 70 months since February 2010, an average of 201,000 jobs a month.
Total employment (private plus government) has averaged 194,000 over that period, as federal, state, and especially local government were net job losers. In December, private employers added 275,000 jobs, federal government employment rose by 4,000, state government employment by 6,000, and local government employment by 7,000.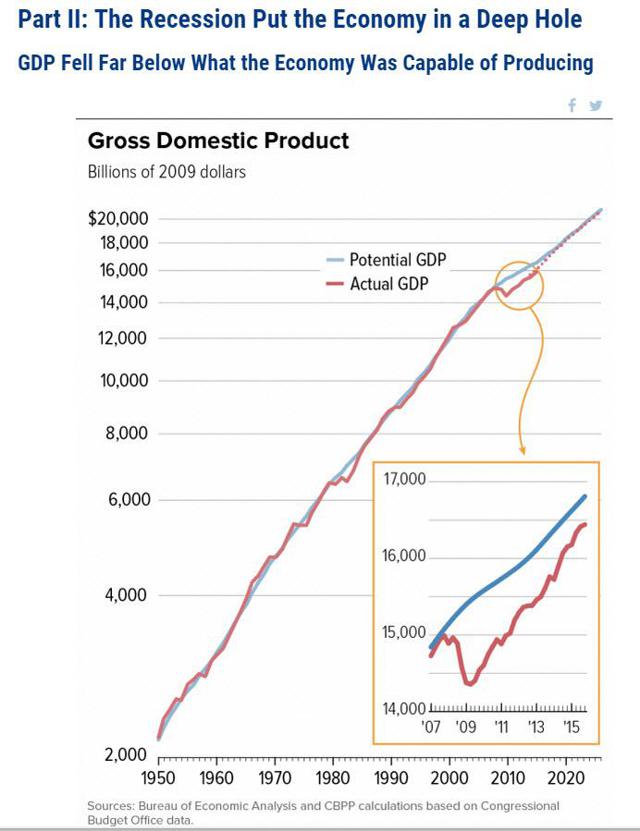 Click to enlarge
In the fourth quarter of 2015, the demand for goods and services (actual GDP) was roughly $405 billion (about 2.2 percent) less than what the economy was capable of supplying (potential GDP). This output gap, which is manifested in excess unemployment and idle productive capacity among businesses, is the legacy of the Great Recession. Congressional Budget Office projections show the gap closing over the next few years as actual GDP grows somewhat faster than potential GDP.
GDP rose at a 0.7 percent annual rate in the fourth quarter of 2015 and was 1.8 percent higher than in the same quarter a year ago. That is less than the 2.1 percent average annual growth since the start of the recovery, which has been insufficient to close the output gap.
In its January 2016 Economic and Budget Outlook, CBO revised down its estimates for the level of potential GDP, which is projected to grow at an average annual rate of 2.1 percent from 2016 to 2026. Growth faster than that is necessary to close the output gap further. The faster actual GDP grows, the faster the output gap will be eliminated and full employment restored.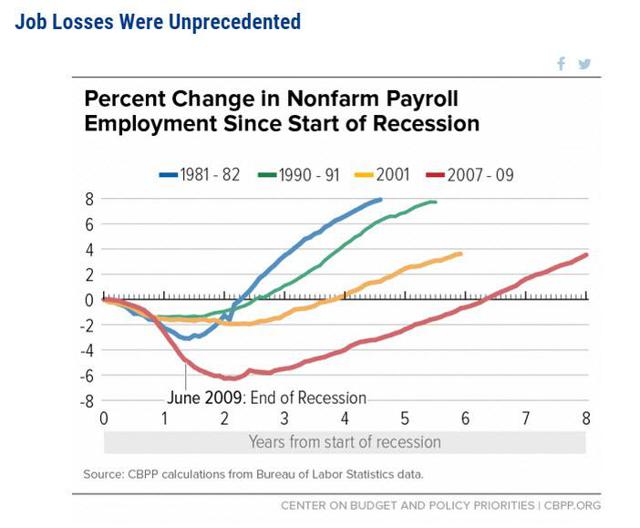 Click to enlarge
Employers began to add jobs in 2010. Progress erasing the jobs deficit was slow for some time, but the economy has now recovered the 8.7 million jobs lost between the start of the recession in December 2007 and early 2010 and continued to add jobs since. Nonfarm payroll employment was 3.5 percent (4.9 million jobs) higher in December 2015 than it was at the start of the recession.
Surpassing the pre-recession peak was a milestone on the way to a full jobs recovery, but population growth over the past several years means the potential labor force is larger than it was then. Job creation has averaged 221,000 a month over the past 12 months. That pace is well above what's required to bring down unemployment and will begin to slow as labor market health continues to improve.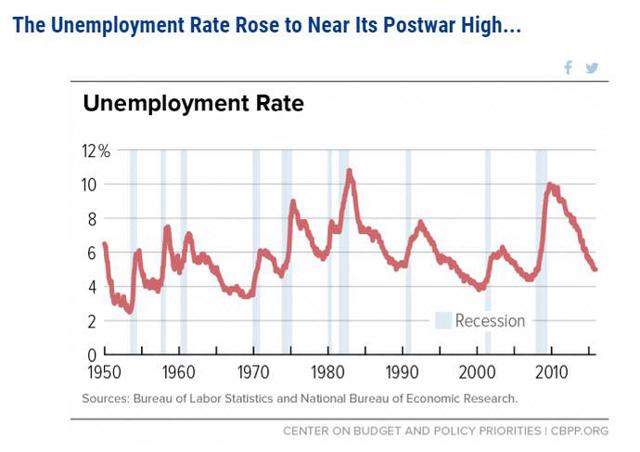 Click to enlarge
The unemployment rate rose far higher than in the previous two recessions and far faster than (though not quite as high as) in the deep 1981-82 recession. Technically, the recession that began in December 2007 ended in June 2009 as the economy began growing again, but at 5.0 percent in December, unemployment is now back to where it was at the start of the recession.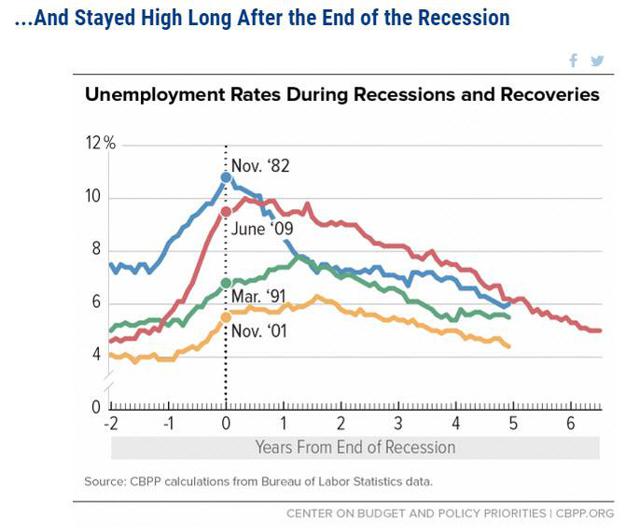 Click to enlarge
Now Let's Look At Real Estate Cycles
One of the first to research the business cycles of real estate was land economist, Homer Hoyt (1895-1984). During his tenure as an established appraiser and consultant, Hoyt conducted research on neighborhoods and his sector model of land use remains one of his most well-known contributions to urban scholarship (source: Wikipedia).
It's important to understand real estate cycles.
While most stock prices follow the business cycle, which traces changes in general economic activity as measured by GDP, income, employment, industrial production, sales, and the like, real estate business cycles are over three times longer due primarily to the difficulty of zoning, permitting, and construction.
Typically, it takes four years for a real estate project to be completed - that is from site plan to rent check. In contrast, other businesses can adjust their production schedules in a matter of weeks or months. The chart below illustrates the four broad phases of the real estate cycle: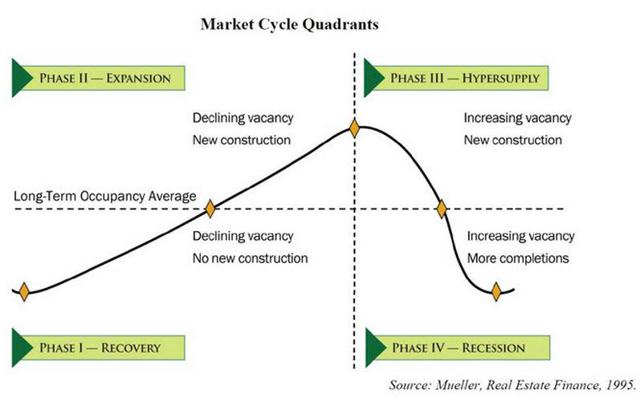 Click to enlarge
As illustrated below, Hoyt's 18-year real estate business cycle provides evidence that the brick and mortar asset class has a higher degree of predictability, with just two exceptions (WWII and the mid-cycle peak created by the Fed doubling rates in 1979), the cycle has maintained the same level of predictability that Hoyt observed.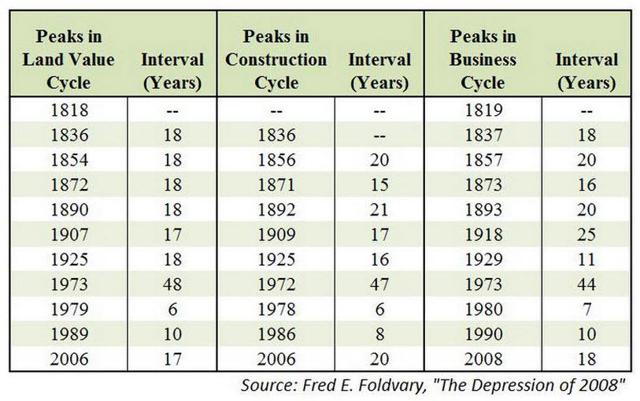 Click to enlarge
Keep in mind, the only reason the Federal Reserve has increased interest rates is because U.S. macroeconomic conditions are recovering due to increased demand for investment capital. Clearly, the Fed has signaled that the economy is in the "expansion phase" (see first chart above).
Remember, it has been over nine years since the last peak and around seven years after the crash and now we see that U.S. real estate is seeing strong occupancy growth, solid earnings growth, and robust construction activity. If Hoyt's math is right, there's another six or so years of growth until we see another real estate correction. In baseball terms, we are in the top of the 7th inning. But it's not too soon to prepare!
Don't Run From Real Estate
One of the biggest problems with investors is that they seem to always run when a certain sector gets hammered. You know what I mean, you put your hand on the hot frying pan and you never do it again.
I get it.
I'm living proof. I owned a massive amount of commercial real estate in 2003, and it took me years to regain confidence after suffering substantial losses. However, I realized that the only way to reclaim that confidence was to get back into the game, except smarter this time.
My biggest lesson was not diversifying. I owned over $100 million of rental property, most of it highly leveraged, with very little liquidity. In other words, I did not own liquid securities and when the recession hit, I was like a pimple on a teenager's face (I had to use that one since I have two teenagers at home).
As Ben Graham once said, "the most durable education is self-education" and so my mantra today - "huge failures, make for huge successes" - is simply derived from the lessons learned in life and I have heard someone say "you learn more from the failures than you do from the successes."
So perhaps one of the best ways to prepare for the nest recession is to DIVERSIFY.
It's funny, so many people like talking about the next recession, but they fail to address which asset class goes into it.
Take a look at this chart below (provided by my friend, Craig L. Israelsen, Ph.D. and owner of 7Twelve).

Click to enlarge
As you can see, the 7Twelve model includes 12 mega asset classes of which real estate (REITs) is one. The portfolio is equally weighted (hence the 7 in "7Twelve").
You can see that since 2009, real estate has had positive returns (the only other classes - large caps and cash - paralleled that record) and that over a 15-year period, REITs beat ALL other asset classes "hands down."
But wait, what about 2015?
As the chart illustrates, most all asset classes got hammered last year and when you consider them, compared with REITs, 2.4% doesn't look too bad after all. The only asset class standing amidst most of the rubble was…. drum roll please…..REITs. More importantly, the 15-year performance record for REITs (of 11%) does not even match the other asset classes.
Make Hay While The Sun Is Shining
Finally, I'm giving you what you asked me for… or at least that's what the title for my article suggests, I'm giving you a "recession ready" REIT portfolio.
As I explained, I can't predict when the next recession will actually hit and I certainly can't forecast REIT returns for 2016. However, I can help you prepare for the risk of loss by recommending some of the best "battle tested" Equity REITs.
Let's start with the list below. I sorted out all of the REITs that have a credit rating of BBB or better.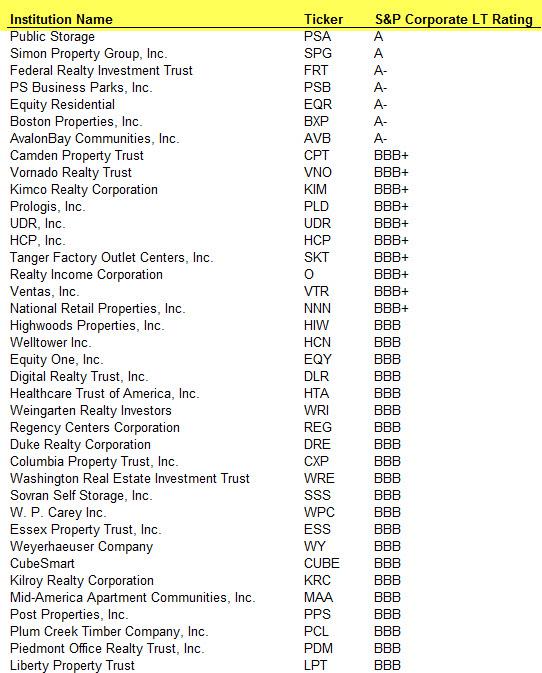 As you can see, there are just two REITs rated "A" by S&P: PSA and SPG. There are five rated "A-"by S&P: FRT, PSB, EQR, BXP, and AVB. There are ten rated "BBB+" by S&P and twenty-one rated "BBB." In total, there are 38 REITs with BBB or higher S&P ratings.
Over the last year, I have written on most every REIT included in my "recession ready" portfolio (below). The logic behind these picks is simple: I wanted to build a basket of REITs that had the most durable investment attributes, that means they are sound based on earnings growth dividend growth, leverage, diversification, and other quantitative risk management attributes.

Keep in mind, some of these stocks are expensive, so I would wait on a pullback if you are considering SPG, O, or NNN. Pound for pound, HCN, HCP, and VTR may be the best buys today if you can stomach the tighter coverage ratios related to the senior housing operators. The only two that I have not been able to put my hands on yet are NNN and SPG.
To Sum It All Up: A recession is coming, at least that should be a part of your investment mindset. REITs' track record of reliable and growing dividends, combined with long-term, capital appreciation through stock increases, has provided investors with attractive total return performance for many periods over the past 40 years.
Pick your pundit, but the best way to prepare for the next recession is to remember to DIVERSIFY. While it is impossible to eliminate all investment risks, an intelligent investor can greatly minimize such risks by filtering out disadvantageously positioned securities from the outset. It takes only a few large losses to decimate overall investment performance, so selecting sound securities (with a margin of safety) is what I call "sleeping well at night." Good luck!
Author's Note: I'm a Wall Street writer, and that means that I am not always right with my predictions or recommendations. That also applies to my grammar. Please excuse any typos, and I assure you that I will do my best to correct any errors if they are overlooked.
Finally, this article is free, and my sole purpose for writing it is to assist with my research (I am the editor of a newsletter, Forbes Real Estate Investor), while also providing a forum for second-level thinking. If you have not followed me, please take 5 seconds and click my name above (top of the page).
The only guarantee that I will give you is that I will uncover each and every rock I can in an effort to find satisfactory investments that "upon thorough analysis promises safety of principal and satisfactory return. Operations not meeting these requirements are speculative." (Ben Graham)
Disclaimer: This article is intended to provide information to interested parties. As I have no knowledge of individual investor circumstances, goals, and/or portfolio concentration or diversification, readers are expected to complete their own due diligence before purchasing any stocks mentioned or recommended.
I wrote this article myself, and it expresses my own opinions. I am not receiving compensation for it (other than from Seeking Alpha). I have no business relationship with any company whose stock is mentioned in this article.
Source: Center on Budget and Policy Priorities and SNL Financial
Disclosure: I am/we are long O, DLR, VTR, HTA , STAG, GPT, ROIC, HCN, OHI, LXP, KIM, WPC, DOC, EXR, MYCC, BX, TCO, SKT, UBA, STWD, CONE, BRX, CLDT, HST, APTS, FPI, CORR, NHI, CCP, WSR, CTRE, WPG, KRG, SNR, LADR, HCN, HCP.
I wrote this article myself, and it expresses my own opinions. I am not receiving compensation for it (other than from Seeking Alpha). I have no business relationship with any company whose stock is mentioned in this article.
Editor's Note: This article covers one or more stocks trading at less than $1 per share and/or with less than a $100 million market cap. Please be aware of the risks associated with these stocks.