Just like last year, CSX (NASDAQ:CSX) has continued struggling on the stock market in 2016. The stock's decline has been accelerated by the fact that it posted highly disappointing results last month on the back of sharp drop in coal volumes that decimated its top and bottom lines. As a result of the weakness, CSX has already seen an erosion of 15% in its market capitalization this year and slipped to its 52-week lows on January 20.
However, I think that there are certain positives about CSX that investors should not miss, which make the stock an enticing bet at its 52-week lows. Let's take a look.
Coal volumes might recover
Last year, coal accounted for almost 20% of CSX's top line. Thus, it is quite evident why weakness in this segment has weighed on CSX's revenue performance of late. Now, the reason why coal has lost its attraction is because the low price of natural gas has made it the primary source of electricity generation in the U.S. According to the latest data available, in five of the first 10 months of 2015, natural gas was the fuel of choice to generate electricity. A look at the following chart will make it clear why coal lost its ground to natural gas last year: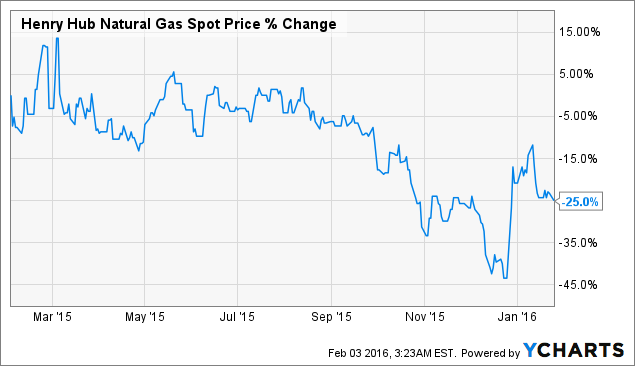 Henry Hub Natural Gas Spot Price data by YCharts
As seen above, the price of natural gas has fallen steeply since the beginning of 2015. But, the price of coal, though volatile, has remained in a narrow range over the same period as shown in the chart given below: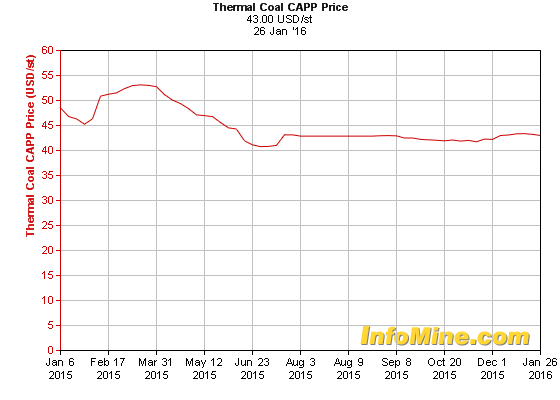 Thus, it is because of the steep decline in natural gas pricing that it is being used more in electricity generation. But, that might be about to change. As shown in the first chart, natural gas prices have appreciated sharply this year and this is a trend that might continue and aid growth in coal consumption.
According to the EIA, natural gas prices in 2017 are expected to rise almost 21% from this year on the back of growth in consumption and a slowdown in production. Moreover, LNG exports from the U.S. will also play a key role in reducing oversupply in the domestic market, and therefore encourage better pricing. Thus, as natural gas starts getting expensive, coal to gas switching by power plants will lose steam and lead to an increase in coal consumption.
As such, it is not surprising to see that coal production in the U.S. this year is expected to decline just 4% as against a drop of 11% in 2015. Meanwhile, next year, production is expected to drop just 1%. Hence, coal production is expected to get stable going forward and this is good news for CSX considering the contribution to the top line.
Looking beyond coal
The good thing about CSX is that it has reduced its reliance on the coal segment over the years. This can be seen in the chart given below: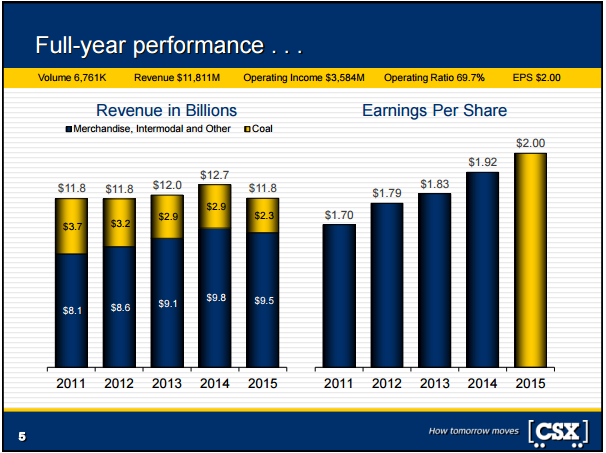 Source: CSX
Since the company has expanded its focus on other areas and implemented efficiency moves, it has been able to maintain consistent growth in its bottom line. Looking ahead, the company's diversity will allow it to continue improving its financial performance on the back of growth in sectors such as housing and automotive, both of which will be driven by an improving economy and job conditions.
For instance, job openings in the U.S. are growing at a good clip as unemployment has declined to almost eight-year lows. As reported by Reuters:
"Job openings, a measure of labor demand, increased 82,000 to a seasonally adjusted 5.43 million, the Labor Department said in its monthly Job Openings and Labor Turnover Survey on Tuesday.

"We interpret this as a sign of a mismatch between the needs of employers and the skills of job seekers," said John Ryding, chief economist at RDQ Economics in New York. "Since firms appear unable to fill job openings with unemployed labor resources, we expect there will be competition for already-employed workers, which should lead to stronger wage growth."
Now, as wages in the U.S. increase, consumers will have better purchasing power that will allow them to purchase big-ticket items such as cars and homes. As a result, CSX expects that both these segments will record consistent growth this year, as shown in the charts given below: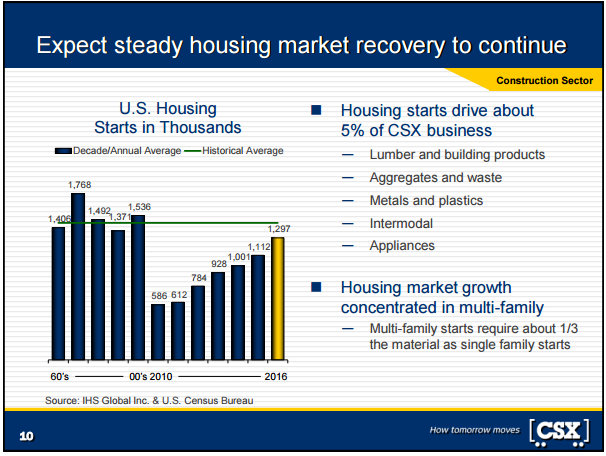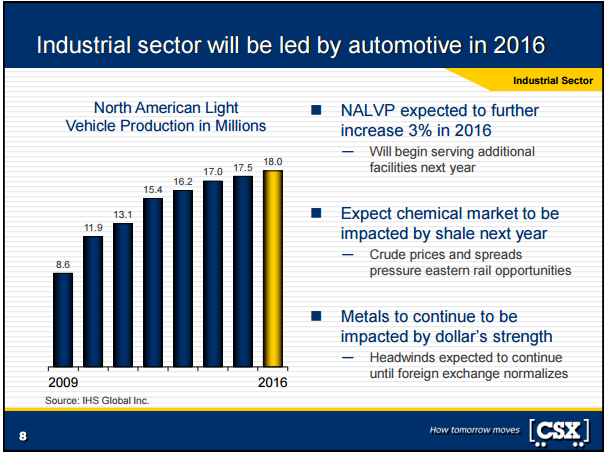 Source: CSX
Thus, as shown above, the construction sector is anticipated to continue growing this year as housing starts are still below the historical average. Additionally, the automotive sector will also act as a tailwind for CSX since higher production ideally means that more cars will need to be transported to dealerships from manufacturing areas. Thus, CSX should see strength in these end markets, which will allow the company to offset the weakness in the coal segment to a certain extent.
Conclusion
CSX trades near the lower end of its 52-week range, but stability in the coal segment in the coming quarters, along with an improvement in the auto and housing segments, will allow the company to improve its top line performance. CSX had posted a steep drop in the top line last quarter, but I think that the situation could change for the better going forward in light of the points discussed above. Thus, investors can consider going long CSX at current levels since positive developments in the end market will be a tailwind.
Disclosure: I/we have no positions in any stocks mentioned, and no plans to initiate any positions within the next 72 hours.
I wrote this article myself, and it expresses my own opinions. I am not receiving compensation for it (other than from Seeking Alpha). I have no business relationship with any company whose stock is mentioned in this article.