Exxon Mobil (NYSE:XOM) has been facing significant headwinds over the past twelve months. The company's share price is tumbling and its stock price is plummeting amid low oil prices. The company posted a major decline in profits over the last two quarters. The fourth quarter loss was its largest since 2002. Exxon's profit declined 58%, to $2.78B in Q4, compared with the last year quarter. For the first time since 2002, the company logged a quarterly profit below $3B.
For the full year, XOM generated earnings of $16B, which represent a 50% decline compared with last year. The company is operating in three major segments, including upstream, downstream, and chemical business. Its upstream segment is suffering major losses due to low commodity prices. In Q4, upstream earnings stood around $857 million, down from $4.6 billion in the same quarter of last year. Despite falling prices, its production increased by 4.8% on an oil-equivalent basis from the fourth quarter of 2014.
On the positive side, stronger margins and a favorable volume mix enlarged its downstream earnings to $1.4 billion, an increase of $854 million from the same quarter of last year. Moving forward, the company is looking to post lower results in the first two quarters of this year, due to ongoing low oil prices.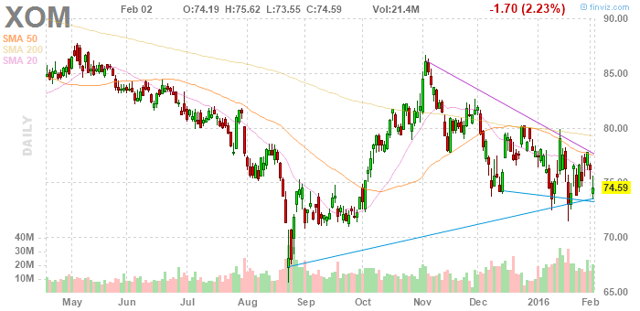 In a recent article, I predicted that short-term value investors can gain some profits on market speculations by investing in Exxon. However, long-term investors need to be more patient, as the company's market fundamentals are poor, and the company is poised to suffer additional earnings and cash flow losses in the coming quarters. Its latest results have only affirmed my opinion.
XOM's share price has been declining over the past three months. On its earnings announcement, the stock lost 2.33% of its value in the early trading session. XOM's share price has limited upside potential for the first six months of this year amid falling earnings and continued low oil prices.
In the latest trading session, WTI crude oil prices stood at $29 per barrel while Brent was a little higher, near $32.72 per barrel. The unfortunate reality is that most producers require oil prices of $60 per barrel to make any profit at all and to remain cash flow neutral. Sadly, the future fundamentals for oil prices are bleak, especially since the major oil producers are not planning to reduce their production at all, despite steadily falling oil prices. In addition, the inflow of Iranian oil will create a huge surplus in oil inventories, while Saudis are not willing to lose market share by reining in their own production levels.
Oil prices have averaged around $30 per barrel since the start of this year, quite low compared to the average 2015 price of $45 per barrel. This means that Exxon's upstream business will continue to post lower earnings relative to the final quarter. In addition, with the fall in earnings, the company's cash generation will be negatively impacted. At present, the company's operating cash flows are not covering its dividend and capital requirements. The company is funding these requirements with asset disposals and by external borrowing.
In Conclusion
Exxon is a strong company with a diversified business model. However, its business is directly linked to commodity prices. At the moment, oil and gas prices are not showing any sign of positive momentum. EIA has predicted oil prices will hover around $37 per barrel this year. Based on this prediction, Exxon is expected to continue to post ever lower results in the coming quarters.
The company has initiated a few changes in its capital investments to save some cash. However, it will be difficult for Exxon to offset the impact of low prices on its earnings and dividends. The company's dividend growth is now highly questionable in my mind, since its operating cash flows and asset disposals are not even covering its capital requirements. Exxon's stock price is likely to remain under pressure with little upside potential in the foreseeable future. Therefore, I would recommend waiting longer before buying this stock.
Disclosure: I/we have no positions in any stocks mentioned, and no plans to initiate any positions within the next 72 hours.
I wrote this article myself, and it expresses my own opinions. I am not receiving compensation for it (other than from Seeking Alpha). I have no business relationship with any company whose stock is mentioned in this article.