I have found it incredible to see how Meg Whitman, the new CEO of Hewlett-Packard (NYSE:HPQ) continues to be underappreciated by Wall Street analysts. I will concede that there are yet many things to be proven in the company before she can earn full credit for its turnaround, but one does not need to look too hard to find the remarkable difference that she has already made.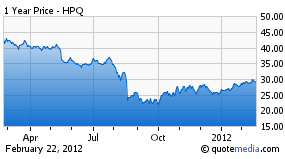 The recent 40 percent run in the stock price since her appointment notwithstanding, It seems that HP is now responding to her in a way that it wasn't able to with its predecessor, Leo Apotheker, who sought (and failed) to change the company from its core competency - this is where the value is being returned to Hewlett-Packard.
It seems to me that Whitman appreciates what the company is and what it is not whereas Apotheker wanted to kill off the company's PC business to compete head on with Apple (NASDAQ:AAPL) in tablets and sought to outperform Oracle (NASDAQ:ORCL) in services - both of which failed miserably. In other words, dominating the PC market from Dell (NASDAQ:DELL) and securing printing away from competitors such as Lexmark was not enough and I suspect was perceived boring. All of this, while ignoring the fact that it was also losing market share to Cisco (NASDAQ:CSCO) in its networking business. And this is where Whitman has restored some stability, direction and focus as evidenced by what the company has been able to do in a relatively short period of time under her tenure.
The quarter that was
On Wednesday, the company reported net income of $1.47 billion, or 73 cents per share, in the three months that ended January 31. This didn't compare too well with its net income of $2.6 billion or $1.17 per share in the year ago period. Adjusted for one-time items, the company earned 92 cents per share, above the 87 cents expected by analysts surveyed by FactSet. Revenue was $30 billion, down from $32.3 billion and slightly below expectations of $30.7 billion.
The revenue drop was even steeper, 8 percent, when taking out the effect of changes in currency exchange rates. It was the fastest revenue decline for the company since the recession hit 2009 results. As with Dell and Microsoft (NASDAQ:MSFT), HP blamed flooding in Thailand for more than half of its revenue drop. The floods last year disrupted manufacturing of storage drives, a key component in PCs. HP said it decided to divert resources to higher-margin products, but it didn't do as well as it expected due to ongoing operational problems.
"We were not as effective as we needed to be in matching that supply with that demand," Whitman said during a conference call with analysts.
Whitman said the company will focus first on stabilizing its finances and improving its operations. She said the company needs to do better, for instance, at turning orders into products faster than its rivals. And while she described HP as "world class" in buying components, she also added:
I'm not sure I'd say we were world class in terms of how we think end to end about supply chain. Our systems and processes: we underinvested in those over the last few years.
As disappointing as these numbers may appear, I think a bit of perspective is warranted here. Only a couple of months into her new role, investors are already seeing the difference that Meg Whitman is able to make as CEO. While listening to the call, it was clear that she had established a firm grasp on the company and understands its weaknesses unlike her predecessor. Admittedly, there are some glaring problems, but they are also correctable.
Whitman's blueprint for rejuvenating HP should not be underestimated. The company plans to focus heavily and inject capital into its PC division as well as its IT Services business which includes boosting research spending and limiting the size of acquisitions. This is a far stretch from the company's previous strategy that involves neglecting some of its key assets.
I asked previously if Meg Whitman was up for the task of turning around HP. That question was clearly answered during the conference call on Wednesday as she more than demonstrated based upon HP's guidance that she has a more realistic sense of the company's challenges and what it will take to get them fixed. Recently, an analyst from Sterne Agee raised its rating on the stock from Neutral to Buy and said it sees an upside price target at $34 per share as it sees uncertainty lifted and the stock as widely oversold. The firm issued the upgrade while lowering estimates, citing the company's own revised guidance.
Summary
I continue to remain bullish on the company and think that there is yet 20 percent upside to be had for value investors. The company is taking a new strategic direction - one that I think makes perfect sense. But investors must not make the mistake of expecting an immediate turnaround. This is going to take some time to realize. As bad as things once looked for this company with its indecision regarding its PCs and tablet initiatives, investors should be comfortable in its new leadership yet appreciate that the old HP might be coming back.