By Parke Shall with Thom Lachenmann
Lumber Liquidators (NYSE:LL) shot up in trading two days ago after it was announced during the session that the company had "reached a settlement and a plea agreement". Many people that had been waiting for a positive catalyst in the Lumber Liquidators story saw this as a great opportunity to pounce and subsequently the stock was quickly bid up from the mid $12 region well into the $14 region, with call buying that corresponded with the move.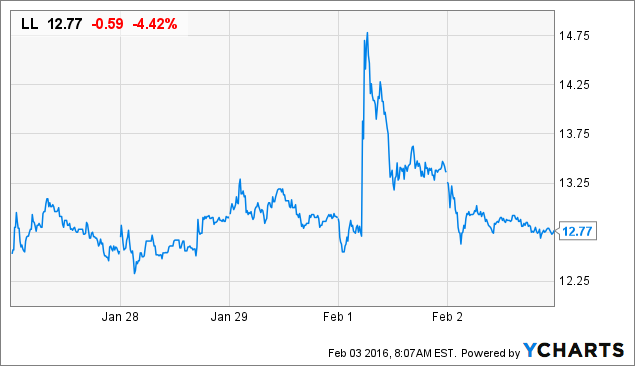 Once again, just as what happened in October, investors were fooled.
What investors seem to be having trouble with is exactly which legal liabilities Lumber Liquidators has outstanding and which have been cleared up. We will try to provide a quick note that clarifies the two.
First, before the formaldehyde issue, there was a long running issue of importing illegal hardwood from Siberia. The company was under investigation for violations of the Lacey Act and even had its headquarters in Virginia raided by federal agents with regard to this. This came after a several yearlong effort to try and bring regulatory attention on to the company's business practices by advocate groups. Hidden camera videos and periodicals were published showing that the company was apparently knowingly importing hardwood from areas in Siberia where it was prohibited. This is a legal liability that has been around since 2010, and is separate from the most recent charges and allegations made against the company involving their Chinese made laminate flooring (i.e. the 60 Minutes stuff).
Second, separate from that, you have what has taken place over the last two years. Over the last two years, it has been alleged that the company knowingly sold laminate flooring from Chinese mills that had more formaldehyde content in them than was allowed by California Air Resources Board standards. It was also alleged that the manufacturer was incorrectly labeling the product as CARB compliant, when it was not in fact CARB compliant. Lumber Liquidators was then assumed to either be in on it or grossly negligent when they were selling these products to their customers which were then off gassing in people's homes. This is the bigger and the more publicized of the two regulatory liabilities, and a simple resolution of this liability may definitely be cause for the company's stock to move higher.
However, that was not the case. What we found out two days ago was that the company had reached an already determined settlement agreement on the first of these two issues. The company is just now settling its liabilities from much earlier prior to the formaldehyde incident, and so the main legal overhang for Lumber Liquidators still exists. This is why the stock moved lower in the hours after the news was released. You can see the small pop here on this chart.
It is extremely important to make sure that if you are looking at the potential liability surrounding company that you know the difference between these two events. This is the second time the company has reached a resolution on the first liability where the market thought that the company had reached a settlement on the second liability (it happened in October, too). Make no mistake about it, a slap on the wrist for the second liability would definitely be cause for a move to the upside, as all contingent liabilities would essentially be settled.
Unfortunately, that is not the case. As the company looks to settle the second set of liabilities with regulators, we think that LL is still going to be mired in the low $10 region, as a product of these past transgressions and the shaky market we have now. Our goal in writing this article was to clear up these two issues, and we hope Lumber Liquidators investors are more informed.
Disclosure: I/we have no positions in any stocks mentioned, and no plans to initiate any positions within the next 72 hours.
I wrote this article myself, and it expresses my own opinions. I am not receiving compensation for it (other than from Seeking Alpha). I have no business relationship with any company whose stock is mentioned in this article.