Quarter 4 Earnings Report
On Thursday of last week, Ford (NYSE:F) reported earnings per shareof $0.58, beating analyst's estimates by $0.07. Revenue also came in above guidance, with $37.90 billion in sales compared to the $36.32 billion estimate. The company's full pre-tax profit was $10.8 billion with a profit margin of 10.2% in the quarter.
Foreign growth has been a bright spot for the company as of late. Its European sales increased by 11% to 1.3 million units. It was China that stood out the most, however, as it saw a pre-tax profit increase from $95 to $444 million. It sold 1.1 million vehicles which is a 3% increase from 2014.
A negative takeaway from the report was the reduced guidance of its profit margin to 9.5% for fiscal year 2016. Pre-tax results were also poor from South America, as Ford experienced a loss of $295 million. Its "Other Automotive" segment lost $254 million in the quarter as well.
Along with reporting solid numbers, Ford also offered moderately positive guidance for 2016. Its North American unit is expected to remain neutral to slightly up for 2016. This is a focal point that many bearish investors are paying attention to in the company, and rightfully so. The North American segment represented about 65% of its revenues in 2014. With the negative sentiment surrounding the United States as the Federal Reserve continues to keep rates low, this is going to be a key unit for Ford to grow. Positive growth in North America will help silence the bears.
The company's European segment showed signs of growth in the fourth quarter and is expected to continue the trend into 2016. It is forecasting a neutral to a 5% growth rate in this area while the Eurozone's gross domestic product is only expected to be 1.2%-1.7%. This is an area in the business that represents about 13% of Ford's revenues and is showing steady growth.
As it reported a loss in Latin America in the fourth quarter, growth in Ford's Brazil segment is forecast to contract more than 4%. This country, as it is well known, has been having hardships lately with its 2016 GDP (expected to contract between 2% and 3%). Although this unit only represents a small portion of the company's revenues investors should still monitor just how poorly future performance is.
The China segment is performing very well even with the recent economic slowdown in the country. It is forecasting industry volume between 23.5 and 25.5 units compared to the 23.5 units it reported in 2015. This may be a sign that Ford's 2015 decision to open ten new plants in the region is beginning to pay off.
Economic Trends
Ford has recently been helped by the record setting year in the United States auto industry as sales totaled 17.47 million in 2015. With lower fuel prices, consumers have been spending more of their money on less fuel efficient vehicles, such as Ford's F Series pickup trucks. The F Series experienced a 15% sales increase in December even as industry numbers for the month trailed estimates. It was also the best selling truck in the United States for the 39th consecutive year and celebrated 34 years as the best selling vehicle of any kind.
With a report on Tuesday morning, the F Series units decreased by 5% for the month of January. Overall U.S. unit sales dropped 2.6% which beat the Kelly Blue Book estimate of a 5% slide. The share price dropped following this report as many continue to worry about the U.S. auto industry. This is the key risk that investors assume by creating a position in Ford.
The recent trend in the oil market has been "lower for longer." Many investors have a bearish outlook on the auto industry after its record setting year, but I still believe that there is potential for growth. Since consumers will continue to save money at the pump if fuel prices do remain lower, that means they should also keep purchasing the higher margin vehicles like the F Series Ford offers.
Valuation
Ford's P/E ratio in the past twelve months is currently 10.10 compared to the industry average of 14.92 according to data on Reuters. Its forward P/E is nearly half of this at 5.80 since its earnings are expected to grow around 4% for FY2016. Using the P/E multiple of 10.10 and projected 2016 earnings of $1.96, that gives Ford a valuation of $19.80 per share, or 72% higher than the share price at the close of 2/2.
I have also conducted a fair value analysis of the company by discounting both its cash flows and earnings.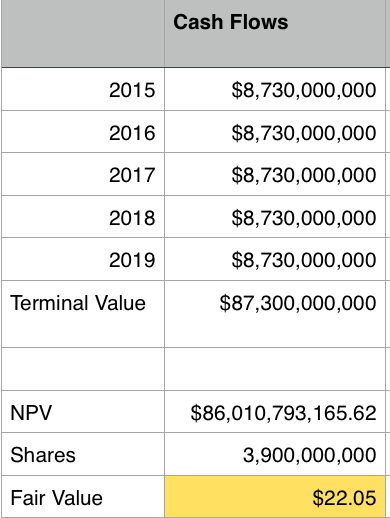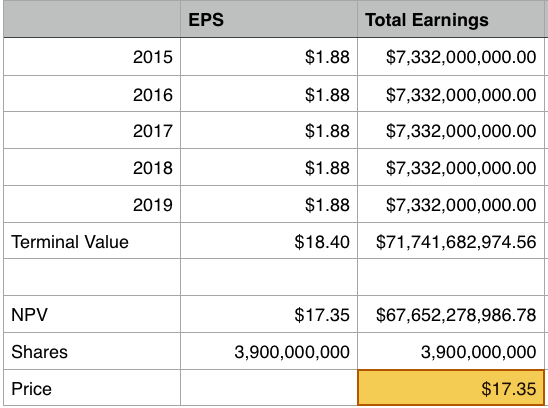 I used very conservative estimates as I discounted at 10% and had a cash flow/earnings and terminal growth rate of 0%. Averaging the two figures gives Ford a fair value of $19.70, a 71% premium to its current price. I strongly believe that Ford will be able to grow their earnings and cash flows into the future which would provide evidence of an even higher valuation.
Takeaway
With the stock down 45% from its 52 week high, the $12 price range presents a great buying opportunity. As we all know the goal of investing is to buy low and sell high, I believe that Ford is trading at a very low price. The company reported higher than expected growth on both the top and bottom lines in the fourth quarter as well as forecast for moderate growth in 2016. Investing in the Asia Pacific region should continue to increase its market share in a region where it has seen solid growth as of late. Inexpensive fuel prices should continue to drive demand for vehicles like the company's very successful and popular F-Series line. A very conservative discounted cash flow/earnings analysis suggests that shares are priced cheaply around $12. I recommend buying while it's on sale.
Disclosure: I am/we are long F.
I wrote this article myself, and it expresses my own opinions. I am not receiving compensation for it (other than from Seeking Alpha). I have no business relationship with any company whose stock is mentioned in this article.