Where have all the shorts gone?
We had some very vocal shorts here on Seeking Alpha that have stopped writing their daily anti-Valeant (NYSE:VRX) news bulletin. Citron has covered long ago. John Hempton admitted to have sharply reduced his short exposure. One of the most vocal shorts on Twitter has not only stopped bashing Valeant, but even wiped her entire history. (Which leaves me doubting whether maybe she has gone long now.) The Twitter chatter has become less intense since then. (She admitted that she was not working alone.)
And where are the longs?
Longs haven't gone anywhere. The largest shareholders have kept their shares or even raised their exposure. Yesterday we learned that guru investor Bruce Berkowitz initiated a 5% Valeant position in one of his funds and also bought some Valeant bonds. ValueAct now has two board members and the guys at Sequoia preferred to lose two of their own board members instead of reducing their Valeant exposure.
Shorts had obviously sought to scare retail and fund investors to drive redemptions and, hence, create huge sales pressure on the stock. That's why they used Twitter as their preferred platform. Yet it hasn't worked so far.
And where has the stock gone?

Click to enlarge
YTD, Valeant has solidly outperformed both the IBB and the XBI. Since Philidor was booted by PBMs (10/30/2015), the stock is flat, while the biotech indices have lost between 20 and 25% (including dividends it's a bit less). Hillary Clinton's renewed attacks could not change that. Even the upcoming Howard Schiller testimony in Washington appears to be seen as a positive for the stock. (I'm writing this in the night before the hearing.)
So there can be little doubt that (known or expected) risks seem to be priced in.
The la(te)st short arguments
Shorts were obviously looking forward to today's hearing. The U.S. House Committee had requested substantial internal documents from Valeant that has transmitted about 75.000 pages (!) of emails, presentations and calculations. On 2/2, Democrats released a memo containing some extracts of this documentation. Honestly, if this was really all the beef that could be found, I feel excellently well with my investment.
The most critical issue probably related to an internal email from the former CFO and current interim CEO Howard Schiller to CEO Mike Pearson, sent on May 21, 2015:
"Last night, one of the investors asked about price vs volume for Q1. Excluding marathon, price represented about 60% of our growth. If you include marathon, price represents about 80%."
This was quickly compared to Pearson's statement during the Q1/15 conference call:
"In terms of price volume, actually volume was greater than price in terms of our growth outside the United States. It's all volume. In fact, we have negative price outside the U.S. with FX. And in the U.S., it's shifting more to volume than price. And we expect that to continue with our large brands."
So there is an evident contradiction. Shorts raved. Finally, there was a smoking gun! Pearson had lied to investors.
However, they forgot (?) to consider the timeline: The Q1/15 call was 3 weeks before that email. On the call, Pearson referred only to the top 20 products subset mentioned in the Q1/15 slide deck: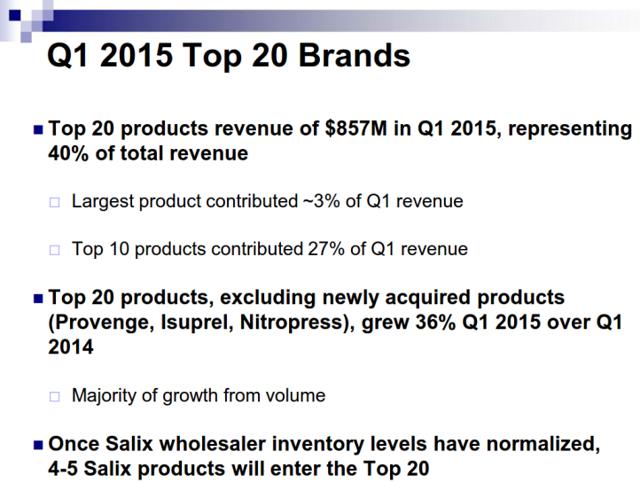 Click to enlarge
So his statement was true in this context. The very fact that, 3 weeks later, Howard Schiller sent him an email detailing the overall, global price/volume mix confirms that at the time of the call he almost certainly had not been aware of it.
However, the same email seemed to support another (old) short argument: the reliance on price increases for growth. Including the Marathon products, 80% of growth was due to price increases. Sounds impressive. So how much would Valeant have grown without price increases? From Q1/14 to Q1/15, revenues grew 27% (at constant currencies). 80% of this is 21.6%. So volume still contributed a decent 5.4% to growth. How many large pharmaceutical companies grew revenues 5.4% in 2015, including price increases? Very few.
Besides that, the Marathon products were clearly an outlier and their price increases have drawn enormous criticism. It would be ridiculous to take this 80% figure as representative for Valeant's whole history. In fact, Schiller's email also says that without Marathon volume growth would have contributed 40%. That's 10.8% overall growth exclusively thanks to volume - an exceptional achievement.
The last straw for the shorts are the Marathon products. It was the hefty price increase on Nitropress (525%) and Isuprel (212%) that caused the first public outrage about Valeant. Half of the first hearing in Washington focused on this issue. (Here is my account of the events.) Today's hearing will see the voluntary participation of Howard Schiller who is expected to be in a blistering seat.
However, I expect him to exit the hearing pretty well. How would this be possible? Well, the public debate on this issue has been pretty one-sided, stereotyped and, frankly, hypocrite. It was driven by political interests (Hillary Clinton trying to appear credible against Bernie Sanders despite having received substantial donations from the drug industry), financial interests (PBMs, competitors, shorts) and ill-informed media hype. This should make it rather easy to rebalance the discussion by introducing a few solid arguments nobody has talked about so far (besides myself).
Hospitals have described the issue as if the sales guy from Valeant had basically extorted more and more money from them, hijacking patients. And obviously they said they didn't have the money. Yet this is not true.
Nitropress and Isuprel are used within medical procedures in clinical settings and hospitals receive "bundled" reimbursement for the whole procedure, including drugs used. What Valeant had discovered prior to acquiring the two drugs from Marathon was pretty surprising: the reimbursement rates hospitals were receiving for the procedures implied a far higher cost of the drugs than what they were paying. In other words: The more Nitropress and Isuprel hospitals were using, the more money they made! So Valeant decided to demand its share of these profits by raising prices.
By doing so, Valeant did not consider that there were some special cases: For very specific reasons, some clinics used higher amounts of these drugs during their procedures and the price increases really hurt them a lot. This and only this justified the outrage - and Valeant has already backpedalled by offering special volume-based discounts to these clinics.
If hospitals had communicated to insurers the extreme difference between the cost paid and the reimbursement received, there would have been no chance for Valeant to raise prices. Yet they preferred to keep the money. And when Valeant demanded its share of these profits, they talked about "unjustified cost increases for payers and patients". Call them hypocrites - at the very least - because in most cases the cost to payers did not increase at all, as hospitals were already paid for the higher cost. Most of which they pocketed.
Bottom line
While there are certainly still headline risks, I don't see increased fundamental risks. Quite on the contrary, I expect fears to subside over the next few months and the stock to approach a more reasonable valuation of at least $120.
Disclosure: I am/we are long VRX.
I wrote this article myself, and it expresses my own opinions. I am not receiving compensation for it (other than from Seeking Alpha). I have no business relationship with any company whose stock is mentioned in this article.