If you like roller coasters, you probably had a blast on Wednesday. It was, hands down, one of the weirdest days of market behavior I've seen in years. I think popular commentator Joshua Brown summed it well with this tweet: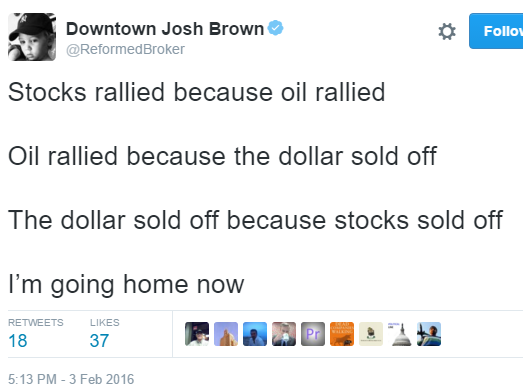 Perhaps the biggest headline of the day was with the US dollar (NYSEARCA:UUP), which got hit with its worst one-day loss in seven years. There was no clear catalyst for the massive loss.
I haven't even seen many plausible theories. If I had to guess, the dollar dropped because many people were betting on the dollar going higher with all the promised rate hikes. And now that there won't be any more hikes, everyone suddenly realized they should unwind their dollar longs, and as soon as momentum turned negative, it developed into a feeding frenzy.
Again, though, I can only speculate. Massive moves like that are usually driven by some huge economic event or unexpected Central Bank action. A 7-year biggest decline totally out the blue? Let's just say the markets are on edge.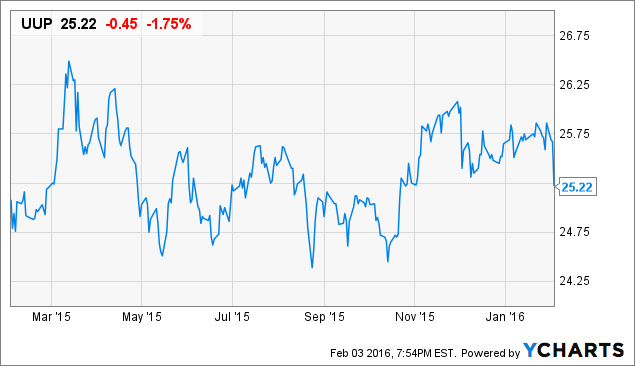 UUP data by YCharts
This out-of-the-blue plunge in the dollar comes just one week after the drastic reversal in the yen. You are going to hear plenty of speculation about what it all means. Just know that the markets are very much on edge. The wild moves in currencies and commodities indicate that if you're an active trade with risk exposure, this is a poor time to take a vacation.
All That Glitters
One group that has come out of a long period of hibernation is the gold bulls. It's been a long four years for gold fans since the metal topped at $1,900/oz what feels like forever ago.
This latest move in the dollar comes at just the right time, though. Gold had already been stealthily moving higher throughout January, and there's nothing like a massive drop in the dollar to get the yellow metal bid into high gear.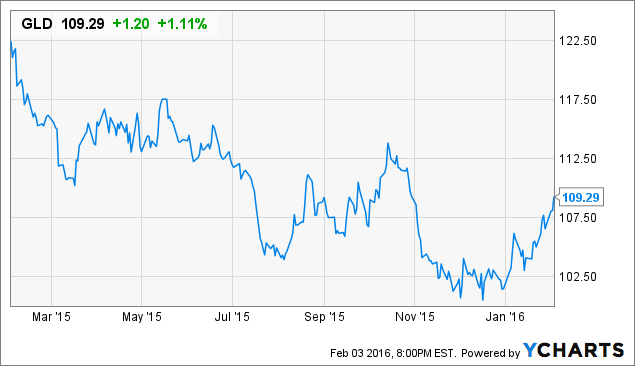 GLD data by YCharts
The yearly chart still doesn't look that great. However, $1,000/oz held, despite many folks thinking a date with a three-digit price was a sure thing. And now gold is up 8% YTD, versus a significant drop for the market. I can count on one hand the number of people that I saw predicting gold to way outperform stocks this year.
Perhaps most encouragingly, silver (NYSEARCA:SLV) is really moving out ahead of gold, showing real signs of speculation in the precious metals space for the first time in quite a while.
Some of the mining stocks are starting to look downright giddy. Look at Newmont (NYSE:NEM), for example. That's a serious pop off the low - 30% in a couple of weeks!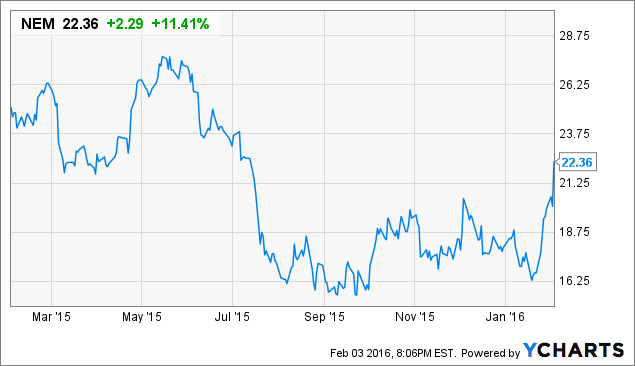 NEM data by YCharts
Barrick Gold (NYSE:ABX) looks similarly enthused: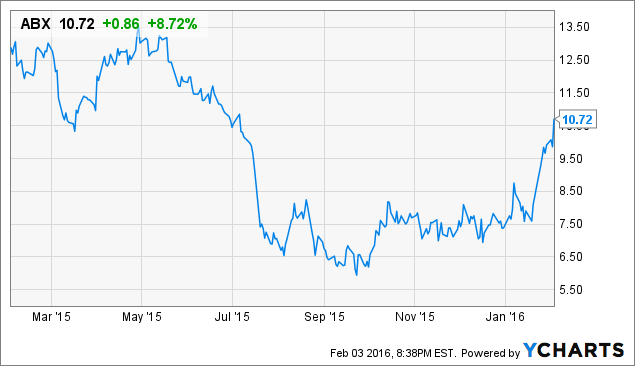 ABX data by YCharts
The whole way down during this gold bear market, mining stocks have far underperformed the metal. It's a real change of sentiment that mining stocks are greatly outperforming the metals now. It's too early to say this is the definitive bottom for gold and silver, but the market's behavior is changing, which warrants paying close attention.
That changing behavior also holds for crude oil (NYSEARCA:USO). Oil was up slightly on Wednesday morning. But then, inventory numbers came out that, as usual, showed more supply than anticipated. Oil began to sell off, taking the stock market with it. Everyone on social media was like, "Here we go again".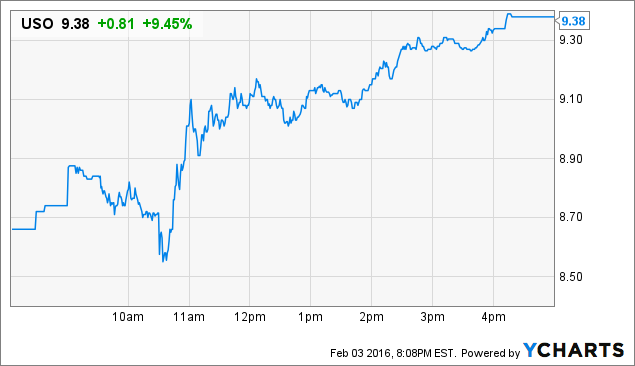 USO Price data by YCharts
Note the drop at 10:30 am. That was when inventory numbers came out. And when those are bearish, the market has been pounding oil without exception. But this time around, oil shrugged off the bad news and put in a 9% gain in spite of the negative inventory report.
As the market cliche goes, you get bottoms when stocks rally on bad news. You can argue oil deserved to be up, since the dollar was down so far - but oil's 9% move seems outsized, regardless. It feels like oil bears got caught sticking their hand in the cookie jar one too many times.
Oil continues to face huge structural oversupply. The price isn't going to make a "V" bottom and go back up to $80/barrel anytime soon. But bears who are used to shorting and always making money should take note. At current price levels, oil is capable of putting up a fight, even shrugging off the occasional piece of bad news.
Tech Stocks Out, Last Year's Losers In
It's beginning to feel a lot like March-April of 2000 now. For those of you who weren't watching the markets back then, let me fill you in.
The late 1990s saw the internet bubble - a truly meteoric rise in tech stocks. By the end of it, defensive and value stocks were woefully underperforming, as people were selling everything to buy tech.
It was an infamously bad time for traditional value investors. Warren Buffett underperformed dramatically and took much public criticism. Investing legends such as Julian Robertson shut down their funds, defeated by the tech bubble. The new economy was in, and absolutely everything else was out.
And then, in early 2000, it all changed. The tech stocks started plunging, while the "old economy" stocks found bids. The Nasdaq and S&P 500 diverged to a huge degree, with the broad market treading water, while the Nasdaq stocks were losing more than half their value. The broader market would hold on for another year before really heading lower. By the time the Dow and S&P 500 really started dropping, the formerly high-flying dot com stocks were already trading in the pennies.
Fast-forward to today. Starting in late 2014, most stocks stopped advancing. As has been widely reported, only a handful of S&P 500 stocks were responsible for all of last year's positive activity. The median stock got hit for a double-digit loss.
Leading the way were the biotechs (NYSEARCA:XBI) and the FANG stocks. The biotech bubble popped last fall, killed under the weight of the Shkreli and Valeant (NYSE:VRX) scandals, along with Hillary Clinton's efforts to curtail drug pricing.
But the FANG-type momentum stocks still held on, the last bastions of strength. Now, even those are giving out. Chipotle (NYSE:CMG) has soiled itself. Tesla (NASDAQ:TSLA) has lost its charge. Amazon (NASDAQ:AMZN) has returned to sender following earnings. Netflix (NASDAQ:NFLX)'s outlook is looking increasingly fuzzy.
Instead of these former high-fliers, investors are now throwing money into the sectors that have been absolutely despised over the past year. Just look at the closing numbers - Nasdaq down .5% on the day, while the S&P 500 was up .6%. It's quite odd to have a more than 1% divergence between the indices, and speaks to the underlying rotation in the market.
Emerging market stocks are flying - many of them are up double digits on the year, surprisingly enough. Mining stocks are catching bids. The agriculture stocks are suddenly attracting attention again. Even much-despised Wal-Mart (NYSE:WMT) suddenly looks fairly healthy.
What's it all mean? This is a time to be cautious and to consider your moves carefully. The market is very jittery, and all sorts of weird volatility events are occurring. Trade smaller, have a plan before taking action, and be willing to reconsider your biases. We've got a wild market at hand.
Disclosure: I am/we are long WMT.
I wrote this article myself, and it expresses my own opinions. I am not receiving compensation for it (other than from Seeking Alpha). I have no business relationship with any company whose stock is mentioned in this article.