As investors inevitably learn, it doesn't always pay to be the brightest bulb in the box.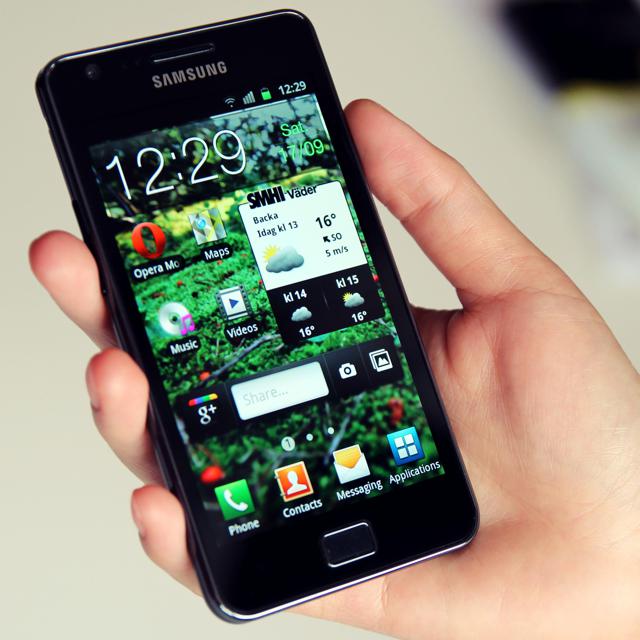 But in the case of AU Optronics (NYSE:AUO), a cutting-edge developer of AMOLED technology, there are some compelling reasons to think being brighter might (finally) mean a payout is around the corner.
You saw it first on Seeking Alpha.
Ever since December 28th, when SA Contributor Esekla first published this article on AUO's unique position in the AMOLED space and a potential working relationship with Apple (NASDAQ:AAPL), the rumors have spread (and morphed) quickly.
The very next day, Reuters reported that LG (NYSE:LPL) and Samsung (OTC:SSNLF) would be supplying OLED technology to Apple "starting in 2018." Weeks of speculation and conflicting reports followed, with only one common factor: OLED is definitely a next step for the iPhone, specifically AMOLED.
Of course, while this "realization" was hitting the newsstands, it would have been helpful to keep in mind that the well informed were by no means surprised. In a much earlier article (published in September 2014) on the future of displays, the same contributor noted:
Apple's failure to use AMOLEDs in the new iPhones is a function of availability and pricing; however, it does look like Apple will be making the shift in the future.
It seems the shift is beginning. Now more about that "availability and pricing" part.
How Apple does business.
It is no secret that Apple likes playing its suppliers against each other, so when we conclude that an OLED iPhone is on the horizon, we can expect to see a flurry of tech news, investment news, and other suggestive reports coming from all directions - everyone trying to convince everyone else that they have won Apple's favor. And Apple basking in the confusion.
Sometimes, as noted in Esekla's piece, this really amounts to Apple playing countries (Japan, Korea, Taiwan) off of each other. The most tantalizing of these bits of information, of course, comes from a Bloomberg report that a low-key production facility has the company actually collaborating with AUO in Longtan, Taiwan.
Is this where some of the next-generation OLED iPhone screens will actually end up coming from?
We don't know.
But what we do know is that, even if it's only a possibility, this makes AUO very compelling as a speculative bet - not least of all because the company is almost certainly undervalued anyway.
I won't belabor the valuation point - plenty of SA authors have already weighed in on it already, so read someone else's deep value proposition to get an idea of where the company stands.
So, from the perspective of value as well as embedded optionality, AUO is already looking like a good candidate for the risk end of a barbell strategy.
But wait, there's more!
You didn't think we'd forget to talk about the short selling and market dynamics, did you? Here's a chart from the SqueezeMetrics site (email sign-up required) representing a little over a year of AUO.
The red volume bars represent dark pool short selling.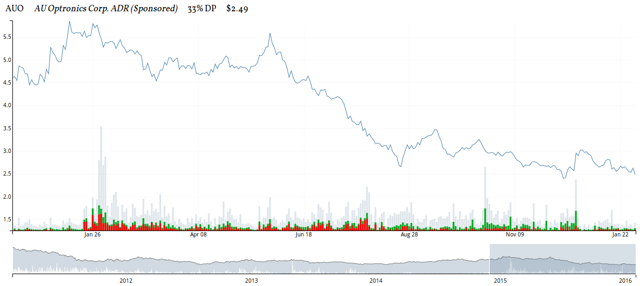 We think that the trend is pretty easy to identify. Short sellers were willing to commit to shorting AUO from $5.50 down to the $3.50 level, but absolutely no lower. By late July and the beginning of August 2015, it was time for the shorts to take their profits off the table and cover their positions.
We can verify that this is exactly what happened by referring to the twice-monthly short interest reports from Nasdaq.
| | |
| --- | --- |
| Settlement Date | Short Interest (shares) |
| 7/15/2015 | 41,613,657 |
| 7/31/2015 | 21,339,498 |
| 8/14/2015 | 17,474,692 |
| 8/31/2015 | 15,948,631 |
| 9/15/2015 | 12,966,851 |
| 9/30/2015 | 12,443,649 |
| 10/15/2015 | 11,323,722 |
| 10/30/2015 | 11,134,690 |
| 11/13/2015 | 11,087,491 |
| 11/30/2015 | 11,423,152 |
| 12/15/2015 | 10,766,768 |
| 12/31/2015 | 10,627,218 |
For the would-be investor, this means that a well-informed subset of investors who use dark pools to short sell do not see further downside in AUO right now.
By extension, we can surmise that there's probably no negative material nonpublic information available to any of the more well-capitalized investors in the space. In other words, it looks like it's pretty safe to swim here.
Perhaps even more interesting is the recent non-short dark pool volume (represented by green bars). Could this be large-block accumulation at anticipated all-time low prices? We've certainly seen it before, so don't discount the possibility.
It all adds up.
Starting with one SA author's timely piece and ending with this transparent dark pool volume trend, we think that the stars may have finally aligned for a speculative play in AUO. Upside potential is outsized, downside potential limited.
---
Part of your due diligence here should be understanding where this data comes from (FINRA's TRFs) and why it's significant. If you don't like what you see, don't blame us, blame government regulators! (Everyone else does.)
And if you're still confused, email us at info@sqzme.co. We always like to talk.
Matt
Disclosure: I/we have no positions in any stocks mentioned, and no plans to initiate any positions within the next 72 hours.
I wrote this article myself, and it expresses my own opinions. I am not receiving compensation for it (other than from Seeking Alpha). I have no business relationship with any company whose stock is mentioned in this article.