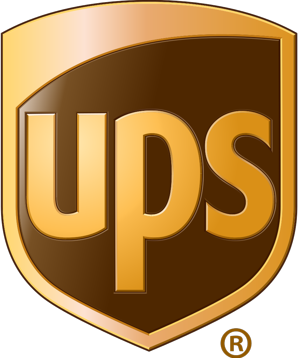 United Parcel Service, Inc. (NYSE:UPS) knows what it's like to take on the competition. From FedEx (NYSE:FDX) in the United States to DHL in Europe, they've faced aggressive competition on the ground and in the air - as it were - to come out as the global leader in logistics and transportation.
Having said that, one of the most challenging business situations is to have a customer become a competitor. Though relatively new, the phenomenon has been seen on more than one occasion in the past few years.
Take Dish Network Corp., for example, which saw HBO skirt past them to deliver programming direct to the customer. When cosmetics giant Estee Lauder decided to take the same route, that pain was felt by the likes of Macy's (NYSE:M).
Over and over, we see this phenomenon unfolding, and the UPS-Amazon (NASDAQ:AMZN) relationship is now undergoing the same difficult phase.
The question now is: Does Amazon pose a serious threat to UPS? I don't think so - not by a long shot... and most definitely not in the United States. Here's why...
My, That's a BIG Moat!
First, we need to understand the moat that companies like UPS and FedEx have built around themselves for the entire time they've been around.
This is a huge moat constructed on an investment, knowledge and on-the-ground logistical foundation that cannot be duplicated in a matter of a few years. To achieve the reach and depth of penetration that these companies have, any competitor would need to periodically invest billions of dollars over a prolonged period of time - and even then, they'd be nowhere near the levels of accuracy and consistency that they'd need to be a serious competitor.
The only real "threat" that UPS faces right now from AMZN is the fear of losing a customer - and a very good one at that - and even that may not happen for a long while yet.
So why then, does everyone think Amazon is just going to magically create its own logistics business to rival a 100-year-old company like UPS?
Here's why…
What's Amazon Been Doing in Shipping?
I do not believe that Amazon's multi-pronged attempts at improving the fulfillment part of its business have anything to do with weaning off dependency from UPS or anyone else. Amazon's only objectives are to reduce shipping time and cost, and expand their extremely tight margins that are more often than not on the negative end of the scale. Everything else is a knock-on effect.
The possible leasing of 20 freighters for shipping is part of that, as is its purchase of the French company Colis Privé. In fact, even the drone shipment idea is a part of trying to meet all of those objectives.
To put it another way, Amazon only wants what's best for Amazon - and its own customers and stakeholders. They're not doing a favor to UPS by giving them a billion dollars worth of business every year; they need UPS and its vast network to provide a mission-critical service to them. It's as simple as that.
If that changes, I don't think it will be because Amazon can operate as a completely independent entity from ordering to fulfillment. It will be because Amazon has found a cheaper way to have its parcels delivered to its end users.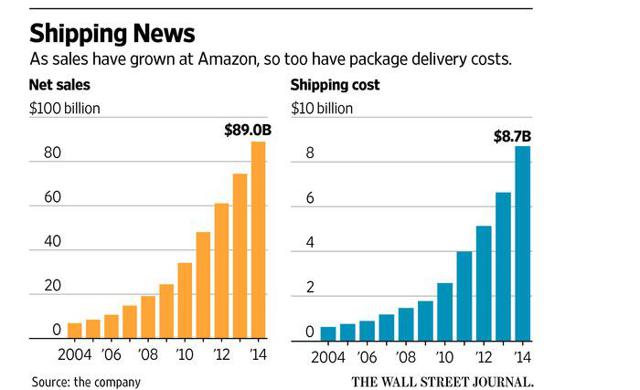 Click to enlarge
Look at the escalating cost of shipping that Amazon currently faces. In 3Q 2015, shipping cost as a percentage of revenue was up 1.3% to 11.7%.
Smaller wonder why Amazon is doing everything it can to reduce shipping costs. What's happening here is that because they're exploring cheaper options, people are assuming that they're trying to muscle in on UPS's business. That's not what's really going on.
What's the Real Threat to UPS from Amazon?
I think the immediate threat is losing segments of business that Amazon currently depends on them for. As an example, take Amazon Prime Air and Amazon Flex. These offerings are intra-city options that could see UPS losing some of Amazon's business. Similarly, the addition of freighters to the already increasing size of Amazon's last-leg fleet of trucks will see more business going away.
How much business will they lose in 2016? That's anyone's guess, but judging by the speed at which Amazon is rolling out these initiatives, it may even negate the price increase that UPS announced for 2016. The 4.9% net increase for ground shipping and 5.2% net increase for UPS Air are sure to affect Amazon's bottom line - even considering their concession pricing status as UPS's biggest customer.
For now, UPS may have averted a loss situation by hiking up their prices, but it's not something they can repeat every year.
UPS has already admitted that losing Amazon as a customer will seriously impact their revenues and projections:
From their 2014 Annual Report:
"Customers could choose to divert all or a portion of their business with us to one of our competitors, demand pricing concessions for our services, require us to provide enhanced services that increase our costs, or develop their own shipping and distribution capabilities. If these factors drove some of our large customers to cancel all or a portion of their business relationships with us, it could materially impact the growth in our business and the ability to meet our current and long-term financial forecasts."
They're obviously directing this comment at Amazon, but I don't think they've left themselves wide open to such contingencies. The price hike is a result of that and other, possibly related factors, in my opinion.
So there is definitely a threat to UPS from Amazon, but not from the angle that several analysts are speculating. Amazon is just too far away from achieving "competitor" status against UPS or FedEx. Maybe 20 years from now that will change; for now, however, UPS will remain a dominant player in the U.S. logistics and transportation game.
The Niche Dive
To counter the effects of losing a major client like Amazon (and, in fact, any downturn in revenues), UPS has been working in several directions. One such undertaking is to create a healthcare niche within its own shipping business.
In 2014, UPS operated nearly seven million square feet of healthcare distribution space across 49 facilities.
In the last two years, the company opened 15 dedicated healthcare facilities on four continents to help create a dedicated healthcare transportation and distribution network that can piggyback on their global footprint.
There are literally dozens of industries where UPS can position itself as a supply chain partner and facilitator. Healthcare is just one of them that UPS has made a serious commitment to; essentially, any industry that relies on materials being moved from point A to point B is up for grabs.
All of these niches can easily and quickly be built on the backbone of the network that UPS has already created, so there's not much of a Capex outlay involved in such expansion exercises.
I believe this is what UPS should be doing to further strengthen its market position.
Operating Margins
UPS Revenue and Operating Profit share by Segment (2014)

Click to enlarge
UPS is not a one-trick pony. The company generated nearly 22% of its revenues from overseas markets in 2014, and that number has slowly grown over a period of time. They already have the technology backbone, and nothing is going to stop them from expanding in developing countries and keep establishing their network wherever they see an opportunity.
Investor-speak: The Real Threat to UPS is UPS!
I strongly believe that the only serious threat UPS faces now is in terms of what it isn't doing to keep expanding its margins and increasing its top line.
On the margins front, their supply chain and freight seems to be the immediate pain point. It generates 16% of the company's revenue but only accounts for 10% of operating profit. It's definitely an area they should dig deeper into.
In regards to increasing its top line, there are several opportunities that are still not being exploited. The healthcare supply chain niche is just a scratch on the surface of a potentially multibillion-dollar segment of its own. If they can offer such services to manufacturing companies, pharmaceutical giants, petrochemicals across the globe, they won't have to worry about top line income for another hundred years, figuratively speaking. The best part about that is this: they already have a ready network to put this into play in a short period of time.
Even within the e-commerce industry alone, there are billions of untapped dollars that UPS can get their hands on. Here's an interesting statistic from Forrester, Inc.

Click to enlarge
With such growth, the demand for shipping can only go up. Some may argue that shipping to individual consumers is not a hugely profitable business, and they'd be right. UPS will need to deal with the last-leg delivery issue, which has been the biggest bane of e-commerce fulfillment. Nevertheless, the economies of scale still make it a profitable endeavor - something they've experienced first-hand with Amazon as their client.
This is what I know about UPS:
It is one of the safest companies to invest in.
They have achieved a dominant global status in an industry that is thousands of years old.
As such, they are a traditional business that has leveraged the power of technology to their advantage.
I strongly believe that the future growth of UPS depends more on what strategies it deploys and the positioning of itself in niche markets than what its competitors - or even clients, for that matter - can do to it.
Disclosure: I/we have no positions in any stocks mentioned, and no plans to initiate any positions within the next 72 hours.
I wrote this article myself, and it expresses my own opinions. I am not receiving compensation for it (other than from Seeking Alpha). I have no business relationship with any company whose stock is mentioned in this article.