To say that FedEx (NYSE:FDX) is in a slump would be antithetical: they have an aggressive share buy back program; they will gain significant market share in Europe with the acquisition of TNT; and, very soon, they will be earning as much as their arch rival UPS (NYSE:UPS). The company has been churning out good news after good news but the stock has barely moved up; in fact, it's been actually moving down steadily since June 2014.
What's Going Well at FedEx?
FedEx's acquisition of the Dutch parcel company is a game-changing move that will not only significantly increase the company's penetration in Europe, but also put it almost alongside UPS in terms of market share. After investigating antitrust concerns for nearly six months, European regulators recently approved the deal.
The acquisition will see FedEx controlling 22% of EU market share against UPS's 25% and DHL's 41%. It will also narrow the gap with its main home ground competitor, UPS.
The acquisition will also help FedEx narrow the gap with UPS on the revenue front: FedEx reported $ 47.4 billion against $58.23 billion by UPS last year. In 2014, TNT reported 6.68 billion Euros in revenues, with a loss of 190 million Euros for the year.
Additionally, FedEx will be looking to eliminate any excess resulting from the combined operations in Europe, and exploit as much synergy as possible, thus reducing overall costs and increasing efficiency in the region.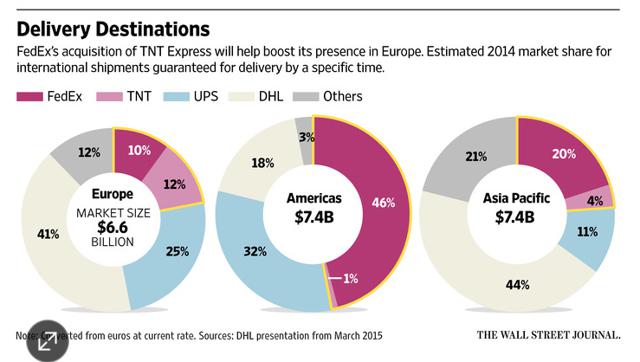 Source: Wall Street Journal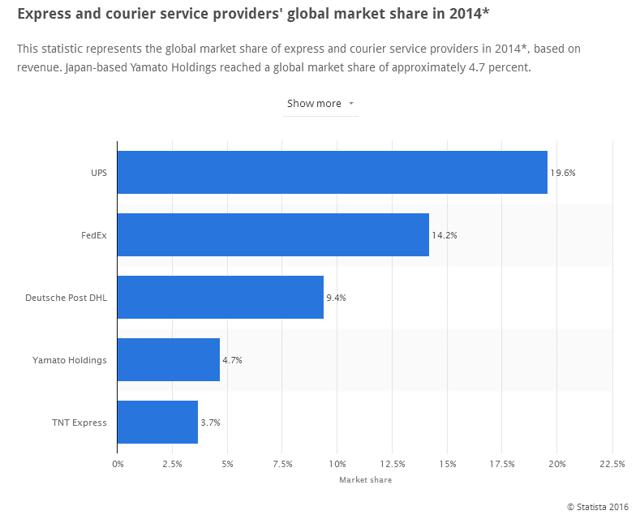 Revenue Gap Narrows while Market Capitalization Widens
With FedEx poised to earn almost the same as UPS in the near future, it's very surprising to note that UPS market capitalization of $83.8 million is almost 2.5 times that of FedEx's market capitalization of $36.5 billion.
UPS is trading at 15 times forward earnings while FedEx is languishing at 10 times. Let's dig a bit deeper to find why the market is not happy with FedEx. The stock price definitely looks like a bargain, but is there something that lies beneath the surface that's putting pressure on it to stay this low?
FedEX has been a Poor Manager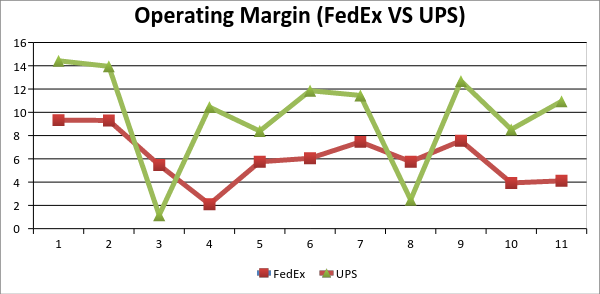 At the very first glance at operating margins for both companies, it's clear where the bulk of the problem lies.
In the last ten years, UPS has resoundingly proclaimed that it can manage its costs far better than FedEx can.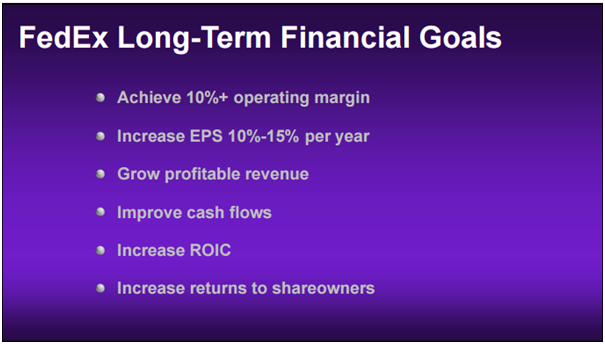 Source: FedEx
In a recent presentation, FedEx set itself a goal to achieve 10% operating margins. That's not going to be an easy task with the industry already struggling to match the needs of explosive growth thrown at it by e-commerce companies - and UPS is not going to make it any easier for them.
Case in point: FedEx possibly lost most of Amazon's business to UPS as the company wasn't in a position to part with the sky-high discounts the online retailer was looking for. UPS, on the other hand, was able to do it because it had better margins to begin with - and room to accommodate the needs of a large and growing client. FedEx simply couldn't match up because its margins are already sliver-thin.
Debt is Rising while Free Cash Flow is Declining
FedEx's long-term debt has been steadily growing since 2012, and nearly doubled in the last year alone - thanks to their share repurchase program and the steady decline of free cash flow.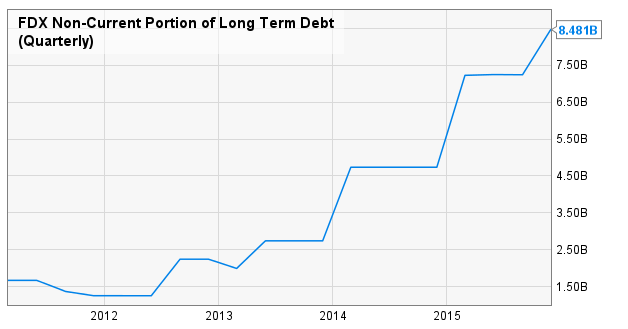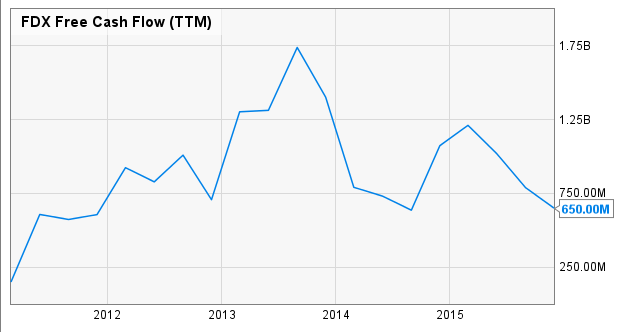 "Since FY14, we have returned nearly $8 billion to shareowners through the repurchase of over 57 million shares, and we remain committed to delivering long-term value for shareowners," said Frederick W. Smith, chairman, president and chief executive officer of FedEx Corp. "Our profit and cash flow performance is strong, and we will continue to fund substantial investments in the business."
To be honest, I'm completely lost as to what strong "cash flow performance" they're referring to. For the sake of perspective, UPS currently has nearly nine times the free cash flow of FedEx, and the divide has significantly widened since 2012.
Furthermore, FedEx has used up almost $8 billion in share repurchase since 2014 and, according to their recent press release, the company plans to buy back 25 million shares.
FDX has significantly dropped in 2015 and, if the stock hovers around the 120-140 range, a 25 million share buyback can easily hit the balance sheet by $3 to $4 billion.
With free cash flow staying below the billion dollar mark, the acquisition of TNT, a capital expenditure in the range of $4 to $5 billion and a stock repurchase program to the tune of another $3 to $4 billion will significantly increase the debt load of the company - possibly forcing it above the $10 billion long-term debt levels of UPS - very soon.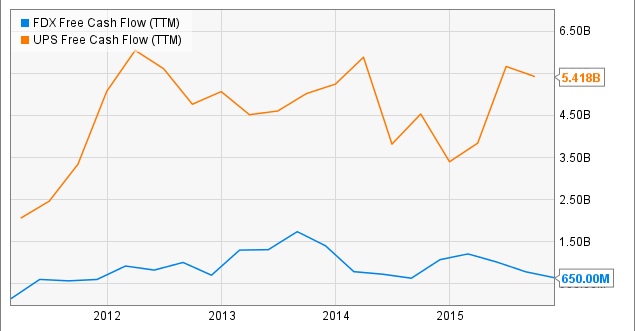 Where's All that Money Going?
Transportation and logistics is a capital-intensive business to begin with. FedEx expects capital expenditure to reach $4.6 billion in 2016 to fuel the expansion of FedEx Ground network and also to buy additional aircraft. A quick look at the last three years of capex clearly shows that the company needs to re-invest $3 to $5 billion a year just to keep its competitive advantage intact.

If the transportation market keeps growing - as it will, on the back of ecommerce growth across the globe - then FedEx has no choice but to keep accelerating its investments.
Investor-speak: Not Everything is Bad about FedEx
For all that's going wrong, not everything is working against FedEx. For one, the company is gaining ground on UPS in terms of market share as well as revenue; significantly, in the United States.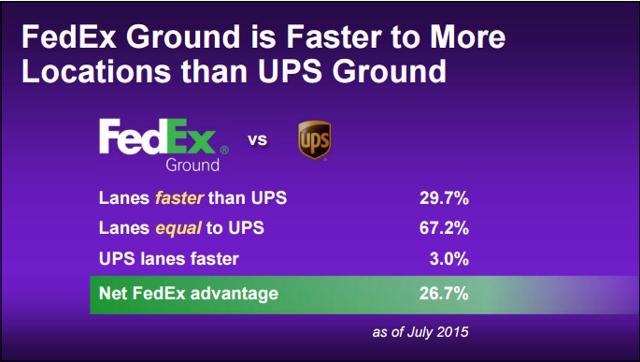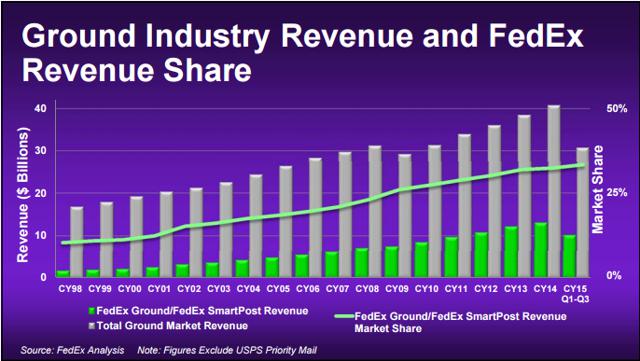 Source: FedEx
Another is the TNT acquisition, which will turn the tide in FedEx's favor to a significant degree.
In addition, the company has lots of opportunity to improve its margins, but the fruits of that tree will take time to ripen.
While these things bode well for the company, there are several opportunities that they cannot continue to ignore.
Their operational efficiency is the first of these that comes into question. With operating margins hovering around the 4% level, they have to at least double their performance to be anywhere near UPS.
Though the acquisition of TNT is a brilliant move, the biggest spanner in the works right now, in my opinion, is the way they're piling on debt to fund their share buyback program. This is the time when industry growth is strong and companies need to focus on acquiring larger chunks of market share. It's not the time to be creating artificial floors for stock prices by "returning nearly $8 billion to shareowners."
I believe that's the real reason why the market - despite hearing the good news about the TNT acquisition - failed to respond positively.
If they want to command the kind of respect that UPS gets from its investors, FedEx needs to look long and hard at its share repurchase policies and start focusing on margins and growth instead.
Disclosure: I/we have no positions in any stocks mentioned, and no plans to initiate any positions within the next 72 hours.
I wrote this article myself, and it expresses my own opinions. I am not receiving compensation for it (other than from Seeking Alpha). I have no business relationship with any company whose stock is mentioned in this article.