Introduction: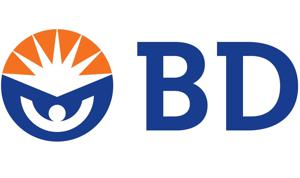 Becton, Dickinson (NYSE:BDX) reported its first quarter financial year 2016 results yesterday, on the 3rd of February, before the market opened. Regular followers of BDX may recall the things I mentioned I would be looking out for in its Q1 results release; you can see for yourself here. By all measures, BDX's results exceeded my expectations based on the key operating metrics that I talked about in the article above. Despite the currency headwinds facing them, BDX still managed to upgrade its earnings guidance for FY16. In spite of this, BDX closed down 2.7% yesterday.
First Quarter Results Crush Expectations
For the benefit of readers who might not have read the above article, I talked about focusing on three main things during the results announcement. Namely, 1) Would they deliver at the low or high end of their organic growth target? 2) Would the stronger dollar result in an earnings downgrade? And 3) whether integration efforts between BDX and CareFusion (NYSE:CFN) has been successful. In my view, these are the three key drivers of BDX and they outperformed expectations in all three areas.
(I) Organic growth target maintained
BDX reported first quarter revenue of $2.9 billion, which is a 45.9% increase from a year ago. This, however, would have been 53.8% on a currency-neutral basis. The stronger currency in BDX's first quarter meant that BDX missed analyst's revenue estimates, which resulted in a 2.74% correction in their shares yesterday. I admit being a little surprised by the market reaction to the top line miss from currency headwinds given their international exposure.
Despite the currency headwinds, BDX maintained their organic growth sales target of 4.5%-5% for the year. I think management understood investors' concerns and sought to allay their fears during the conference call yesterday. What I think is important for investors to remember, however, is that while price is one of the considerations in this business, the quality of the company's product offerings is even more important. And this is where BDX's strengths lie.
Its acquisition of CFN allowed the company to expand the suite of products available to customers. A case in point is the CFN IV sets, which BDX intends to sell in China. This is expected to be a more than $500 million business for them. At the end of the day, while currency headwinds are a concern, the quality of the company's products is even more important. I think long-term holders of BDX should look beyond the short-term currency strength and consider the long-term fundamentals of BDX, which is obviously very strong on a currency-neutral basis.
(II) Will the strong dollar result in an earnings downgrade?
The short answer to this is, no. In fact, BDX upgraded its earnings guidance yesterday, to my surprise. On a foreign exchange neutral basis, BDX is now guiding for EPS of $9.01 to $9.08 vs. the $8.73 to $8.80 previously. Taking the midpoint of its guidance, this is a more than 3% increase on a currency-neutral basis. I think this speaks volumes in terms of the fundamentals of the business.
(III) CFN integration a work-in-progress but results better than expected
In my article above, I talked about how it would be a positive for BDX if it reported operating margin above the 21.1% it managed for the whole of last year as this would mean that they were successful in realizing important cost synergies from the CFN integration. BDX did not disappoint, reporting operating margin of 21.2% for the first quarter and even raising its guidance for operating margin expansion for the year from the initial 130 to 150 basis point expansion to the 170 to 190 basis point expansion.
Key Operating Metrics: Valuations
The good news is, after the correction yesterday, BDX is now trading at even cheaper valuations. Referring to the image below, BDX is currently trading at 20x of earnings vs. the sector's 27x.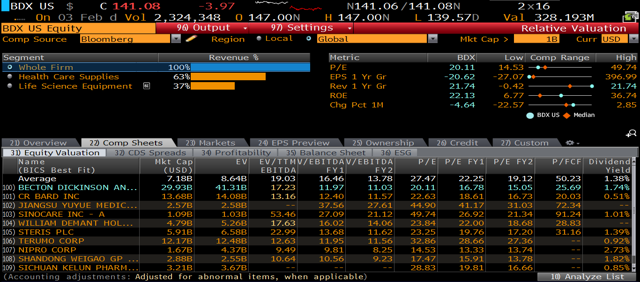 Click to enlarge
Source: Bloomberg
As I have established above, BDX came out on top of every metric that is important for them. I think the Street unfairly punished the company for its top line miss and the extent of currency headwinds facing them. I could not resist the opportunity to accumulate on the unjustified sell off yesterday and will be adding more on any weakness.
Disclosure: I am/we are long BDX, HOLX.
I wrote this article myself, and it expresses my own opinions. I am not receiving compensation for it (other than from Seeking Alpha). I have no business relationship with any company whose stock is mentioned in this article.