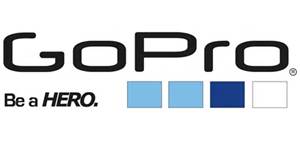 GoPro (NASDAQ:GPRO) has certainly been a battleground stock since it came public more than a year ago. The company's niche product provided bulls with enough to push the stock towards $100 briefly before an epic bear market has pushed the shares to just $9 and change as I write this. GPRO's fall from grace has been spectacular and if you've been short the stock, you're certainly sitting on enormous gains. But I wasn't and in fact, I've been defending GoPro as a cheap stock that was punished too much. But after a remarkable miss with Q4 earnings and guidance for this year, I have to say that I've lost patience.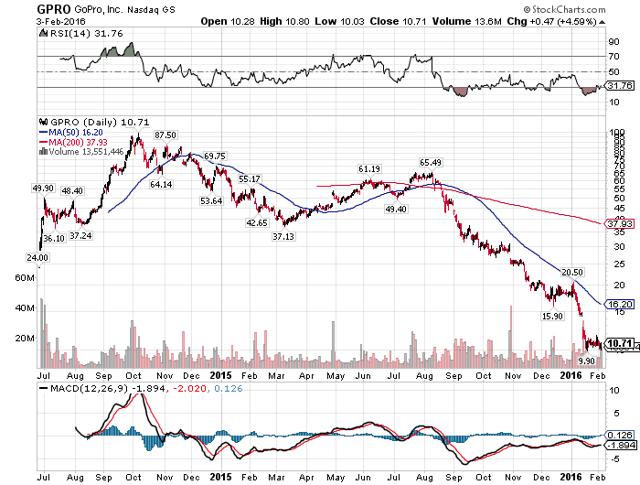 Click to enlarge
GoPro's product is expensive and it amounts to a toy for adults. Nobody needs a GoPro but that by itself doesn't exclude GoPro from relevance; nobody needs and iPad either but Apple (NASDAQ:AAPL) sells a lot of those. And GoPro's first-to-market brand recognition is a big piece of the bull argument as well; when people think of action cameras I'd bet most of them cannot think of a brand besides GoPro in the space. That's a powerful message but at the end of the day, it's still just a toy and you have to convince people to buy them over and over again to grow the company over the long term. After Q4 and guidance for this year, it seems that task has proven much more difficult than I originally thought it would be.
Q4 was horrendous but we already knew that; GoPro told us as much a few weeks ago when it warned that Q4 was going to see a big miss. There wasn't much that was surprising or interesting about Q4 since we already knew about it so for that reason, I'll focus on this year.
The guidance GoPro provided was shocking to me, particularly for Q1. The company guided for just ~$170 million in Q1 revenue against a consensus of nearly $300 million; that is a miss unlike most anything I've ever seen in my years of investing. It can be argued that consensus didn't include the warning that GPRO provided a few weeks ago but whatever; this guidance was absolutely horrendous and there is no other way to put it.
In addition, the entire year's revenue was guided for $1.425 billion at the midpoint, well below the consensus around $1.6 billion. While the full-year number isn't nearly as bad as the Q1 number is - and in fact accounts for most of the guide down - GoPro's expectations for this year were already beaten down and this simply makes it worse. Here's the thing; I've been bullish on GoPro on the belief that the company's products were bottoming in terms of demand but this guidance makes me think that hasn't happened yet. And management is losing its rapport with investors as the stock just continues to plummet; what is going to cause it to turn around?
The company's product refresh will (hopefully) help as it launches its own drone and refreshes its core camera offerings over the next few quarters. But will these refreshes and new products stoke demand? Expectations for GoPro were so high after its IPO and run to $100 that I think reality failed to enter the equation. I cited that factor when I recommended shorting GoPro on the way up and more on the way down from $100 but I was duped into thinking that GoPro's growth trajectory was much higher than it apparently is. The refreshes and new products may work but again, GoPro is going up the price ladder in offering toys and I hesitate to extrapolate that millions of these units are going to be sold. In short, I've lost confidence in management's ability to deliver.
Given that GoPro's expenses are so high at this point and revenue is plummeting, I have a very hard time believing that this company can earn close to a dollar next year. This year is likely going to produce something like 30 or 40 cents so without massive cuts to spending, I don't think $1 is close to realistic. GoPro's guidance just continues to get worse and worse and the fact is that we don't know where the bottom is. I think the next couple of weeks will see some ugly cuts to 2016/2017 EPS estimates and that won't help the stock.
Even if sales surprise to the upside the company's gross margins appear to be at least semi-permanently impaired. Margins that used to reside in the mid- to upper 40s are now in the 30 area and while we may see some improvement in 2016, I think GoPro will have a very hard time (AKA no chance) hitting the 2015 full-year level of 41.6%. That seems very unrealistic at this point and given that it continues to cede margin to "price protection" actions, I have to assume that GoPro will continue to see massively reduced profitability on the revenue it has left.
On the bright side, the company's share repurchase program still has $264 million left on it, which is good for about 20% of the float at current prices. If management thinks that the company really is going to turn around it should spend every penny of that authorization in this quarter. Not only would that defend the stock from some selling pressure but it would reduce the float such that hitting its lofty EPS targets would become much easier. It has the unencumbered cash on its balance sheet right now and should defend the stock aggressively. Its average purchase price in Q4 was $23 and with shares at $9, it has the opportunity to buy a lot more for a lot less money. GoPro needs to step up and spend heavily on its buyback in Q1 to defend the stock. If it doesn't, that's a big red flag to me that things will get worse this year before they get better.
I hesitate to talk about GoPro's valuation at this point because the simple fact is that nobody knows where the bottom is in terms of revenue and EPS. If things go south this year we could see GoPro post a very small profit and if its new products fail to stoke demand, next year's numbers are at serious risk. It is simply too early to know if these numbers are worth anything as they could be very wrong given the significant volatility we're seeing in GoPro's results. At this point, if you're buying the stock you're buying the hope that the company's new products see strong demand; I'm not sure if I'm willing to make that assumption at this point. I'm not saying they won't but I am saying I've completely lost faith in this management team to execute and for that reason, I'm out of GoPro.
Disclosure: I/we have no positions in any stocks mentioned, and no plans to initiate any positions within the next 72 hours.
I wrote this article myself, and it expresses my own opinions. I am not receiving compensation for it (other than from Seeking Alpha). I have no business relationship with any company whose stock is mentioned in this article.