Piper Jaffray Companies (NYSE:PJC) is a $496.62M market cap financial sector company with annual revenue of $626.10M. The company's primary business is Regional Investment Brokerage. This stock could be considered a Small Cap, due to the aggregate market value of the stock. This stock may be severely undervalued based on key valuation metrics.
The company will report 4th Quarter 2015 earnings results on Thursday, February 4th. Analysts expect them to report earnings of $0.87 per share and revenue of $149.69 million for the quarter. The stock is currently trading near 2013 lows indicating that investors are feeling nervous, but broadly speaking many stocks in this market are behaving in a similar manner.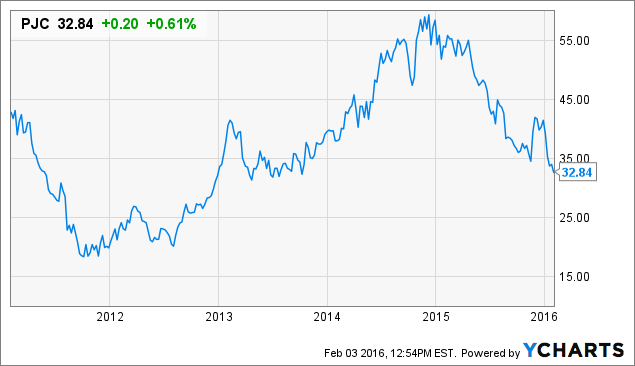 Valuation

Looking at P/E ratios is the simplest form of value investing. The trailing P/E ratio is simply price divided by historical earnings. Value investors may feel some comfort in the PE ratio of 10.15, which seems fair. The forward P/E of 8.69 indicates that the stock may be undervalued. Forward P/E ratios are simply the current price divided by expected earnings. Some investors prefer this measure when valuing a stock.
One of the easiest measures of value is the price to book ratio, which shows a stock's price divided by book value per share. Low P/B ratios indicate a value stock. The stock currently has $57.03 per share in book value. A value proposition may be present due to the low PB ratio of 0.57. This is quite a discount to full book value per share.
Value investors sometimes look at the Price to Earnings Growth Ratio (also known as the PEG ratio). Because this ratio takes into account earnings growth, it may give a more complete picture of value. Few companies have a PEG ratio as low as 0.81 and this would indicate an affordable stock. Many notable investors have stated that a PEG ratio of 1.0 is a fair valuation.
Insider Buying
There's only one reason to buy shares of stock. You expect them to appreciate. Scott Larue may feel that the company is undervalued due to his purchase of 15,000 shares in November 2015. This buying may be evidence of good things coming. The total shares held by Scott Larue are now 82,435 and those shares are worth approximately $2,690,678.
Technical Perspective

Stock price data may show the technical information needed to make a buy or sell decision. The 52-week low is $31.66 and this stock is trading 3.09% above that price at $32.64. This stock's recent 52 week high is $57.18 and the current price level is 42.91% off of that level. With the current price below the 20 DMA ($34.44), 50 DMA($38.05), and 200 DMA ($41.54), there has been a large sell-off beyond technical support levels in the past few days and months. Given the tremendous sell-off, investors appear concerned about 2016 forecasts for revenue and earnings.
Target Price
Given a strong performance with the earnings release, this stock should be worth 10x forward earnings. That's about $37 per share, or a 15% premium to the current price. With all of the negativity in the markets, investors should consider moving into the stock cautiously, when stocks dip and over a long period of time.
Disclosure: I/we have no positions in any stocks mentioned, and no plans to initiate any positions within the next 72 hours.
I wrote this article myself, and it expresses my own opinions. I am not receiving compensation for it (other than from Seeking Alpha). I have no business relationship with any company whose stock is mentioned in this article.