I really wish I could kick myself right now. I swear I was checking out RONA Inc. [TSX:RON](OTC:RONAF) after a viewer of The Business News Network brought the company to my attention a month or so ago. There's a Rona within walking distance from where I am and it has a huge parking lot. However, I don't visit it very often, and when I do, there are seldom any customers, but maybe it's because it's so big that customers are sparsely situated, or maybe I just happened to go when it's not busy.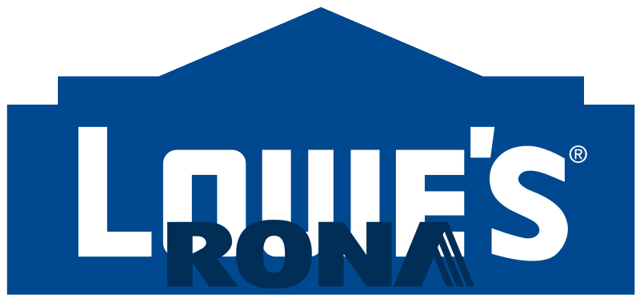 Click to enlarge
Anyway, at the time, I quickly checked out Rona's valuation graph and it showed something like the following. It looked undervalued. However, the many years of earnings decline and the BB+ credit rating turned me off. Although now that I think about it, the rising earnings in 2014 and 2015 sure make it look like the business is turning around nicely.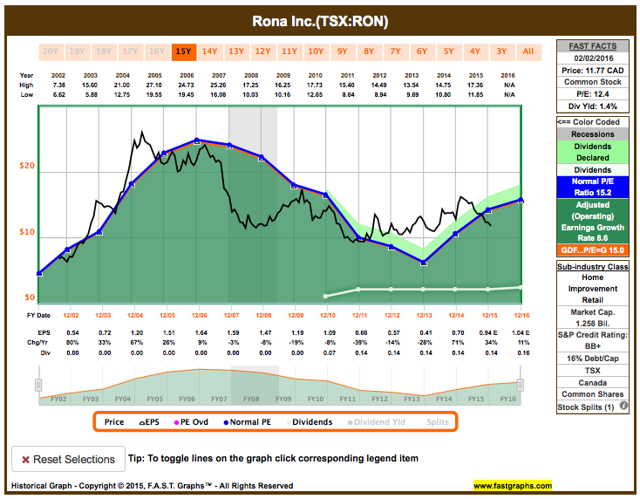 Click to enlarge
In fact, its graph based on price-to-cash-flow looks even more enticing. After all, healthy cash flows indicate a healthy business.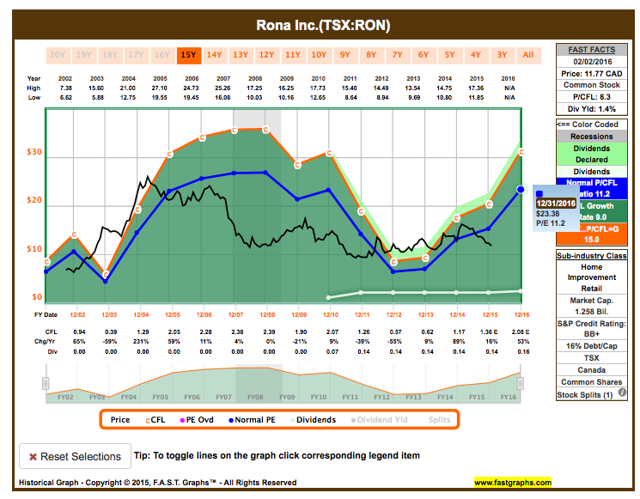 Click to enlarge
So I really shouldn't be surprised when Lowe's Companies, Inc. (NYSE:LOW) decided to gobble up Rona for $3.2 billion or C$24 per share and Rona shot up almost 100% in a day!
Now is actually a better time for Lowe's to acquire Rona than four years ago (when Lowe's attempted to acquire Rona for C$14.50 per share) because Rona is a healthier company and the exchange rate from the U.S. dollar to the loonie is much more favorable for Lowe's.
The management and the board of directors of both companies have nodded their heads for the transaction, but it's still subject to approval from Investment Canada and the Competition Bureau.
Personally, Lowe's has been on my watch list for some time now. I've been waiting for an opportunity to buy its shares but it always seems to be expensive. Unfortunately, it now takes me 40% more to convert Canadian dollars to US dollars. So even though at one point, Lowe's shares fell more than 9% today, I still couldn't bring myself to pull the trigger.
U.S. investors don't have the foreign exchange problem, though. So, Lowe's is more attractive after the pullback.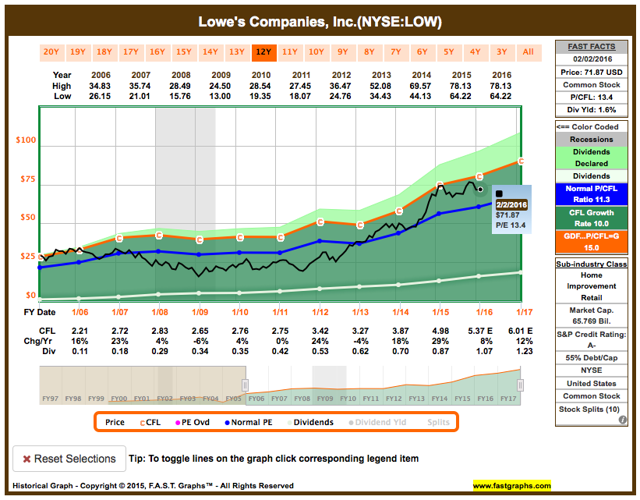 Click to enlarge
However, based on its P/E, it still looks a little expensive. At about $67.50, it's still trading at a premium of about 8% from its normal P/E.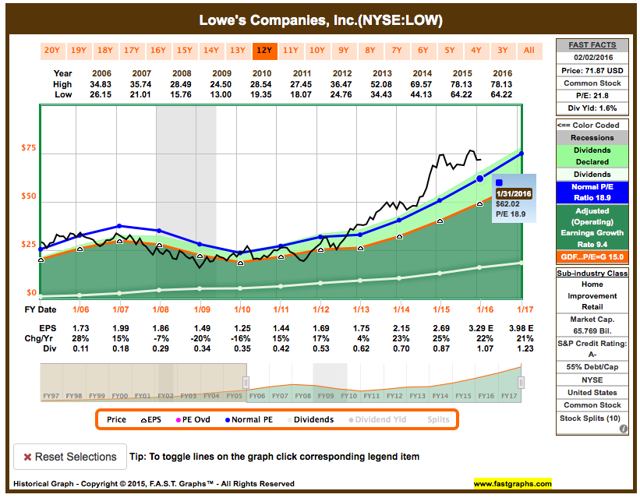 Click to enlarge
However, if you factor in the consensus analyst estimated earnings growth of 17%, the high multiple may be warranted.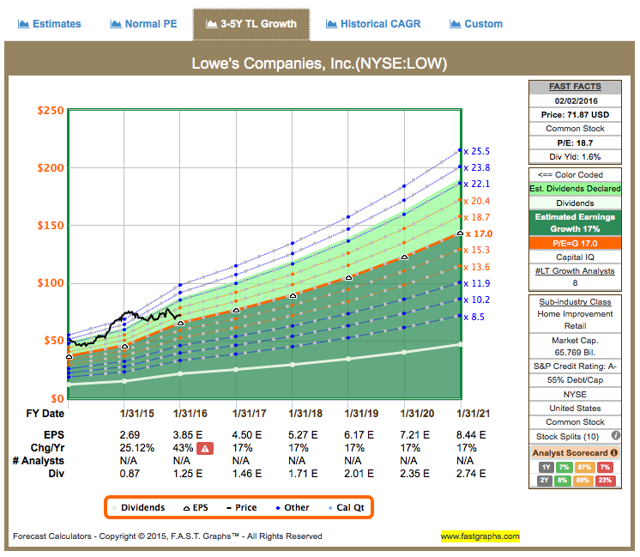 Click to enlarge
So...is it smarter to buy a cheap, lower quality business over a more expensive, but higher quality business?
In doing this exercise, my goal was to determine whether it was the right thing or not for me to have ignored Rona because it had a BB+ rating and I was focusing on building a higher quality portfolio.
In hindsight, my inaction is wrong of course, but there's no way I could have even remotely guessed that Lowe's would attempt to acquire Rona again (given that I didn't know about its previous attempt). I simply stayed in my comfort zone as an investor. Even if I did buy Rona, I wonder if I could have held on until its value was realized.
I think it's the right thing to do to invest in any business that is becoming more profitable (as is evident by growing cash flows in Rona's example) at a discounted price. The lower its quality rating, the higher margin of safety or discount one should wait for before buying.
As I said before, I still can't pull the trigger on Lowe's because I'm Canadian, and the ridiculous cost of 40% more deters me from buying any U.S. assets right now. If I were American and earn U.S. dollars, I would think differently. U.S. investors might find the dip in Lowe's as an attractive opportunity to buy a high quality, high growth asset.
Food for thought
If Canadians like me are refraining from buying U.S. stocks because of the strong U.S. dollar, it could very well mean that it's an opportunity for Americans to buy high-quality Canadian companies on the cheap and wait for oil prices recovery that'll bring the loonie higher.
Some names that come immediately to my mind are the Big Five banks, including Royal Bank of Canada (NYSE:RY), Toronto-Dominion Bank (NYSE:TD), Bank of Nova Scotia (NYSE:BNS), Bank of Montreal (NYSE:BMO), and Canadian Imperial Bank of Commerce (NYSE:CM). The first three are rated as wide moat by Morningstar. The energy infrastructure companies are also great businesses: TransCanada Corporation (NYSE:TRP), and Enbridge Inc (NYSE:ENB).
Both groups have pulled back in the last year, particularly the energy infrastructure companies which are negatively affected due to the oil glut. Both groups yield 4-5% and have long histories of paying dividends and hiking them in the Canadian currency.
If you like what you've just read, follow me! Simply click on the "Follow" link at the top of the page to receive an email notification when I publish a new article.
Disclaimer: I am not a certified financial advisor. This article is for educational purposes, so consult a financial advisor and or tax professional if necessary before making any investment decisions.
Disclosure: I am/we are long RY,TD,BNS,TRP,ENB.
I wrote this article myself, and it expresses my own opinions. I am not receiving compensation for it (other than from Seeking Alpha). I have no business relationship with any company whose stock is mentioned in this article.
Additional disclosure: I'm long on the TSX: RY, TD, BNS, TRP, and ENB.
Editor's Note: This article discusses one or more securities that do not trade on a major U.S. exchange. Please be aware of the risks associated with these stocks.