"Success is not final, failure is not fatal: It is the courage to continue that counts."
Winston Churchill
Introduction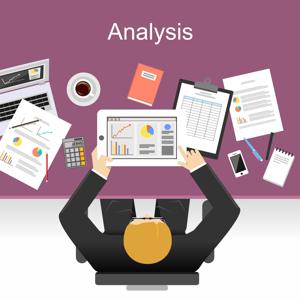 What started as a stealth market correction in 2015, with transportation stocks leading the burgeoning decline and an eerie calm below the surface, has morphed into a full-fledged market correction, and potential new bear market. While nameplate market indices have held up better thus far, the average stock is already in a bear market, down over 25% from its highs.
The past week has seen volatile price action in the broader stock market, as measured by Dow Jones Industrial Average (NYSEARCA:DIA) and S&P 500 Index (NYSEARCA:SPY). While the indices churn up and down, market leading stocks have been increasingly negatively impacted by the rolling market correction. Yesterday, Wednesday, February 3rd, 2016, was an interesting day, as the NASDAQ 100 Index (NASDAQ:QQQ) was down, while the S&P 500 Index and Dow Jones Industrials were both positive for the day. Could the leading momentum stocks, best represented by the NASDAQ, be in the process of taking a back seat to out-of-favor value investing?
Adding another layer of complexity, the U.S. Dollar, a prior bastion of strength, as multiple interest rate increases were baked into the Fed's forecast, looks to be predicting a different reality with regard to actual rate hikes. Do these recent developments signify the capitulation phase of the current market downturn, or is there more downside in store for investors?
Thesis
While leading stocks have withstood the gravity of a market pull-back for nearly a year, they will eventually correct, dragging down market capitalization weighted averages. The average stock, which has underperformed for over a year, is now set to outperform.
Facebook and Google Cannot Plug The Holes
A defining characteristic of the stock market rally in 2013, 2014, and the first part of 2015 was the narrowness of the rally. Said another way, a lot of stocks were not participating in the move higher. Ultimately, the market capitalization indexes were carried by the select few stocks.
As is typical during the latter stages of an extended bull market, the best performing stocks are often identified by their own acronyms. The FANG stocks, Facebook (NASDAQ:FB), Amazon (NASDAQ:AMZN), Netflix (NASDAQ:NFLX) and Alphabet (NASDAQ:GOOGL), proved that they were not an exception to this rule. Up until recently, the FANG stocks moved as a group, all advancing. As earnings have been released over the past several weeks, a different narrative has grabbed the headlines, with several of the leading stocks faltering. Two standout exceptions, FB and GOOGL, initially rocketed higher on better than expected results, but even they could not hold all of their gains as the following one-year performance charts illustrate.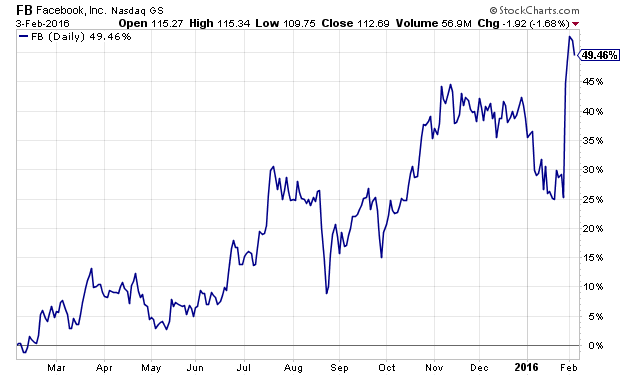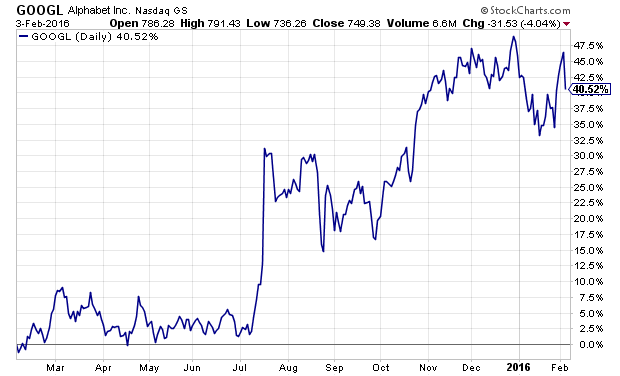 While FB and GOOGL initially reacted favorably to better-than-anticipated earnings, they were not immune to the market sell-off on February 3rd, 2016, with both stocks down sharply during the day, before recovering somewhat at the close. Amazon and Netflix were down even more on Wednesday, and both of these leading stocks have now corrected materially from their fall 2015 peak levels. AMZN and NFLX are still up over the past year, but look at the declines from their highs.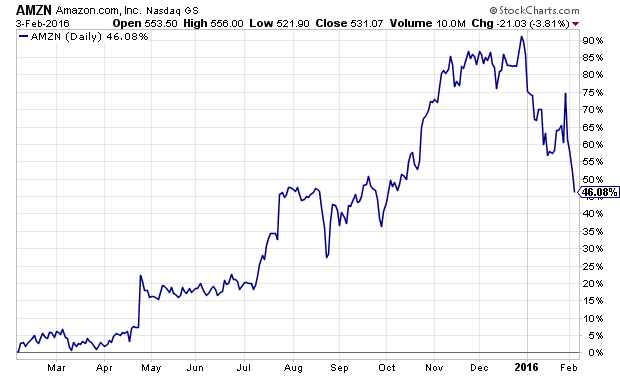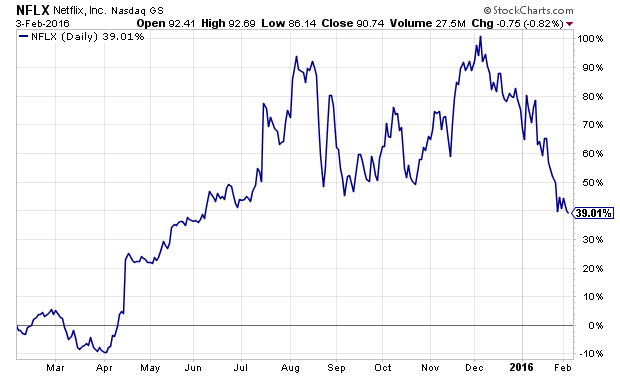 Cash Means Nothing Without Growth
Prior to the FANG stocks grabbing all of the market's attention, the bull market that began in 2009 was led by a core group of companies that were generating tremendous earnings and cash flow.
Apple (NASDAQ:AAPL) was the posterchild for this advance, rising to become the world's number one company by market capitalization, on the back of unprecedented growth in its iPhone mobile business, until Alphabet recently surpassed the Cupertino, CA, company as the world's largest corporation. In contrast to the FANG stocks profiled above, Apple's stock price is actually down over the past year as analysts ponder whether we have reached peak iPhone sales.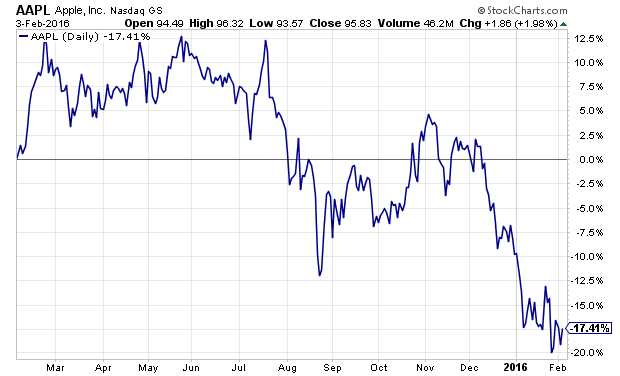 Disney (NYSE:DIS) was another star performer hitting on all of its cylinders, including movies, theme parks, and cable television. This carried the company's stock price higher until questions began surfacing regarding ESPN's subscriber growth. Even a blockbuster Star War December movie premiere could not stop the stock from giving back a majority of its gains over the past year.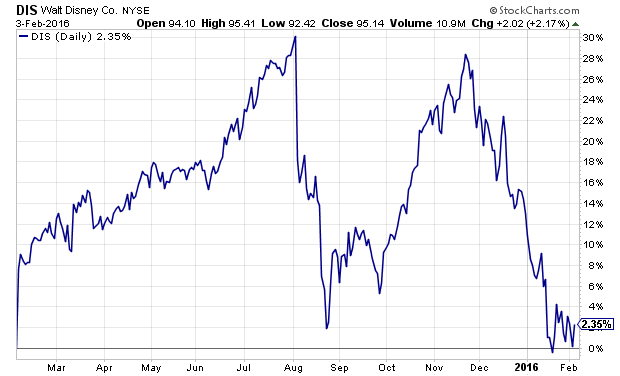 Gilead Sciences (NASDAQ:GILD) was the reasonably priced posterchild of the biotech boom, delivering record cash flows to its bottom line. Even your humble analyst, who was decidedly bearish on biotech stocks, found some redeeming qualities in Gilead.
The cash generated from its key drug franchises should have enabled management to buyback underpriced shares while shopping for accretive acquisitions. There were no holes in its fundamental story, until sales growth plateaued. Once the market began questioning its future growth prospects, GILD's stock saw a fate similar to Apple's, declining nearly 20% over the past year.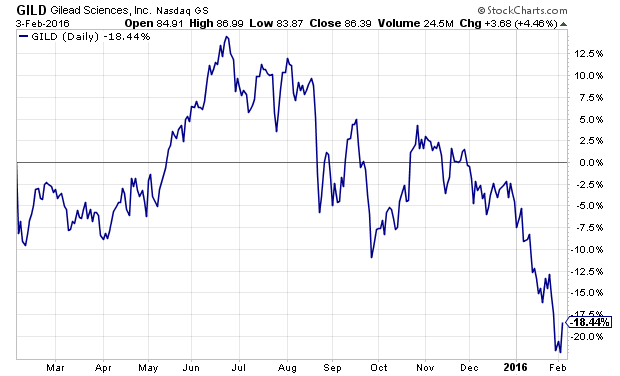 All of these growth-at-a-reasonable-prices stocks had momentum, but they also had real earnings and cash flows, and a credible case could be made to why they were undervalued based on these cash flows. Ultimately, as soon as each company's future growth was questioned, shareholders exited. Now, Apple, Disney, and Gilead are clearly broken growth stocks, or said another way, they are value stocks.
Biotech Is A Falling Knife
While Gilead, a leading biotech company, has declined over the past year as articulated above, biotech stocks, the leading sector of the stock market since 2009, have suffered even more as a group. I warned about the dangers surrounding these stocks repeatedly in 2015, but even I was surprised with the swiftness of the decline. For a better picture of the performance of biotech stocks over the past year, I have posted one-year performance charts of the iShares Biotech ETF (NASDAQ:IBB) and the SPDR S&P Biotech Index ETF (NYSEARCA:XBI) below.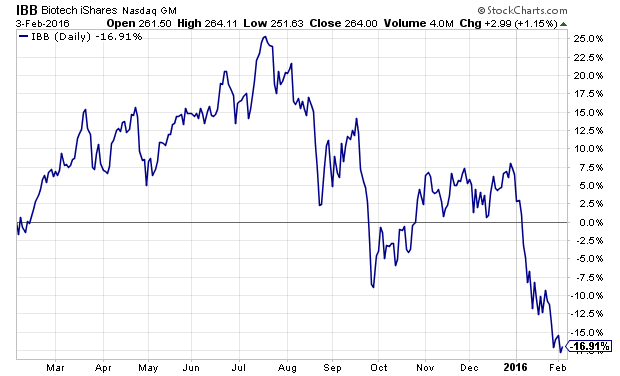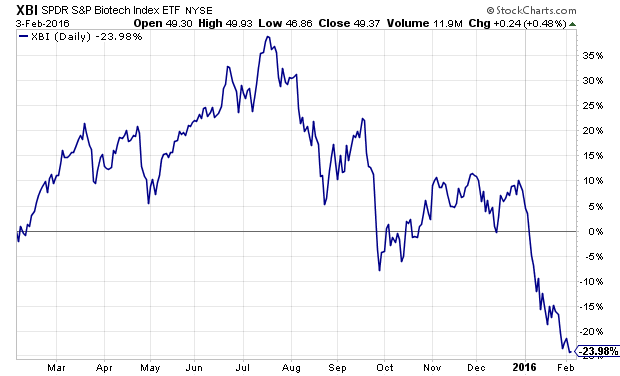 The declines have been steep over the past year, with IBB off 17%, and XBI down by nearly 24%. When looking at both biotech ETFs over the past five years, it becomes clear that there is more room to fall.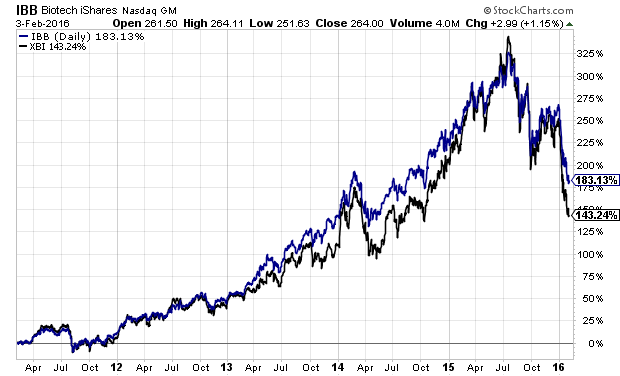 Sustainable Food & Energy?
One of the main pillars of the current bull market has been the growth of companies good for the consumer and the environment. I am an admirer and partaker in this movement. In the Peter Lynch philosophy of buy what you know, investors have voted with their share purchases. The resulting demand has driven stocks like Chipotle (NYSE:CMG), Whole Foods Markets (NASDAQ:WFM), and Tesla (NASDAQ:TSLA) to tremendous heights in this bull market. Over the past year, however, the punchbowl has been taken away.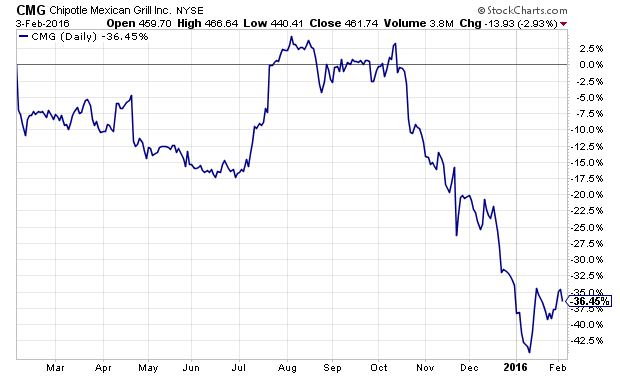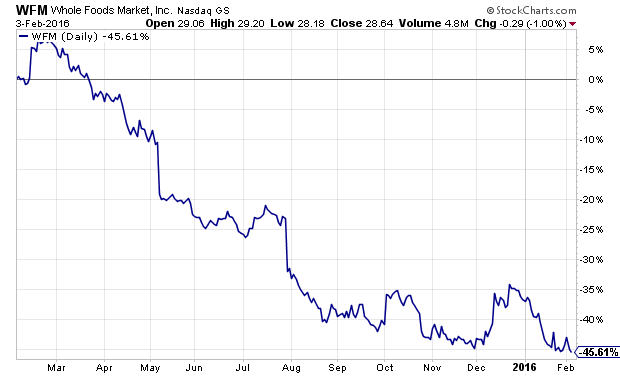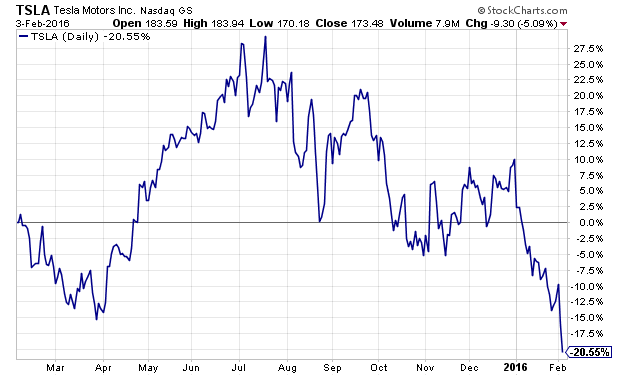 With Chipotle down 36%, Whole Foods down 46%, and Tesla off by 21% over the past year, it should be clear by now that many leading stocks are in their own respective bear markets. In fact, WFM has now given back most of its gains over the past five years. Incidentally, I personally think WFM is attractively valued today.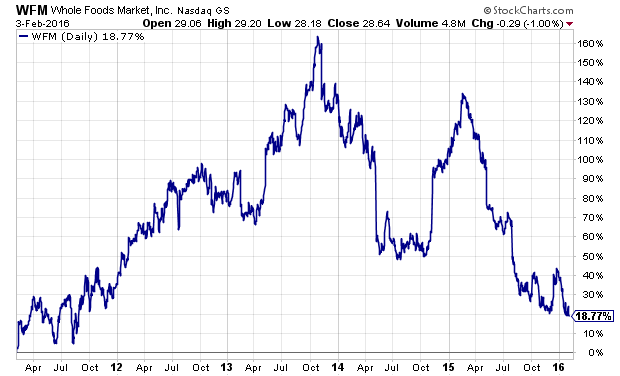 Despite their recent falls, Chipotle and Tesla have room for further declines, as they still have substantial gains over the preceding five years.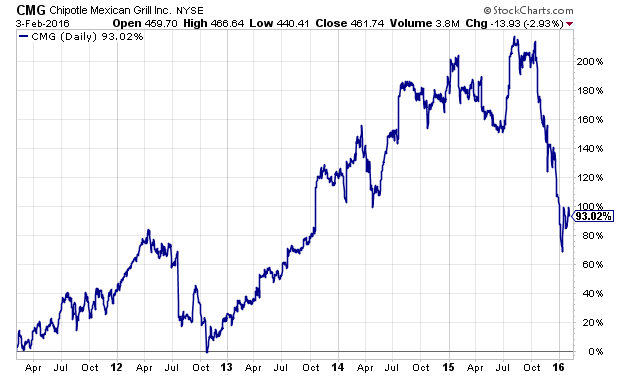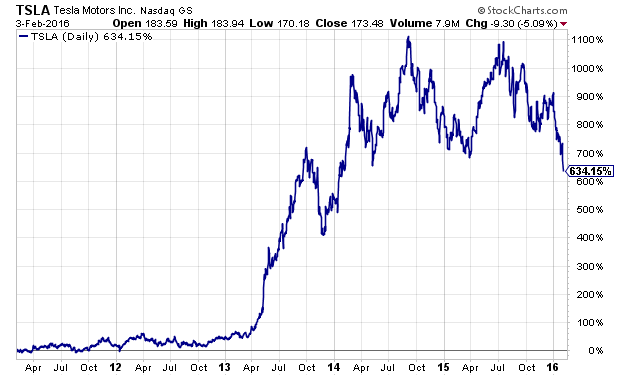 Even Home Depot Is Vulnerable
In previous market update pieces, I have examined the declines in the transportation sector. Stocks like Union Pacific (NYSE:UNP), American Airlines (NASDAQ:AAL), and FedEx (NYSE:FDX), are now firmly entrenched in their own bear markets despite the tailwind of significantly lower fuel prices.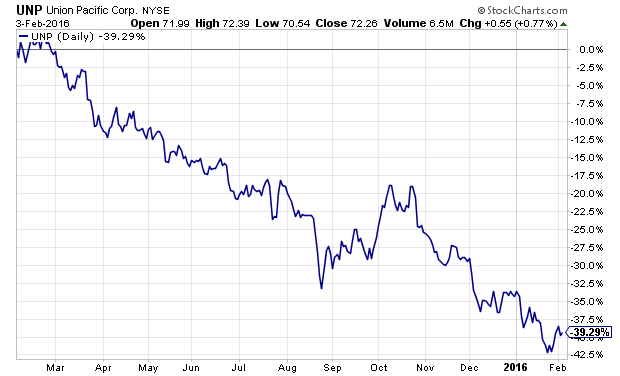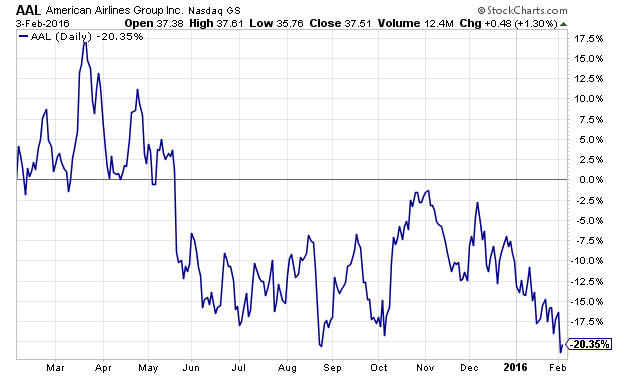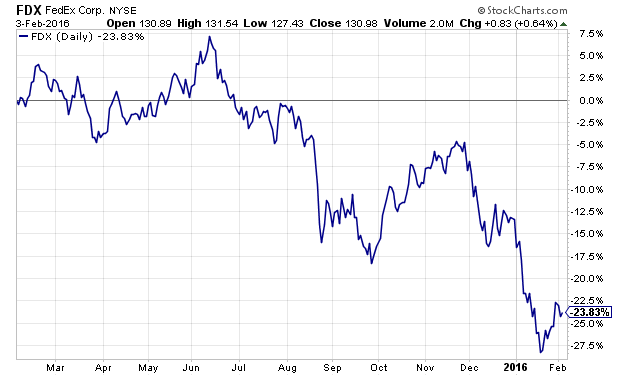 Declining oil prices seemingly would be a positive for transportation stocks, so their pronounced weakness is saying that something else is wrong with the economy.
In a similar fashion, Home Depot (NYSE:HD), which should also benefit from increased consumer purchasing power due to fuel savings, has started to struggle.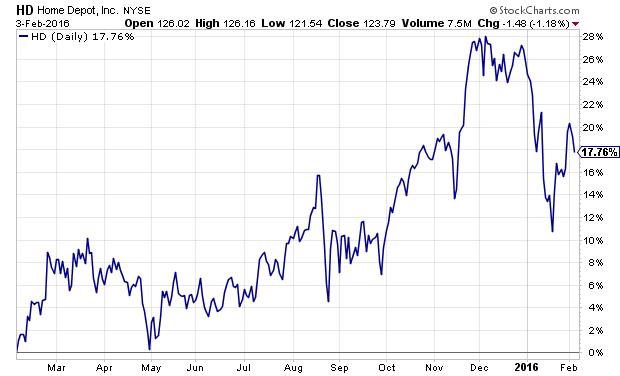 While HD is still up substantially over the past year, it is now down by more than 10% from its December 2015 highs.
Conclusion - Only A Matter Of Time
As the above stock charts illustrate, many stocks are in their own respective bear markets. With smaller capitalization stocks, as measured by the iShares Russell 2000 ETF (NYSEARCA:IWM), leading the market down, it is only a matter of time, in my opinion, until the S&P 500 Index, as measured by the SPDR S&P 500 Index ETF , catches up on the downside.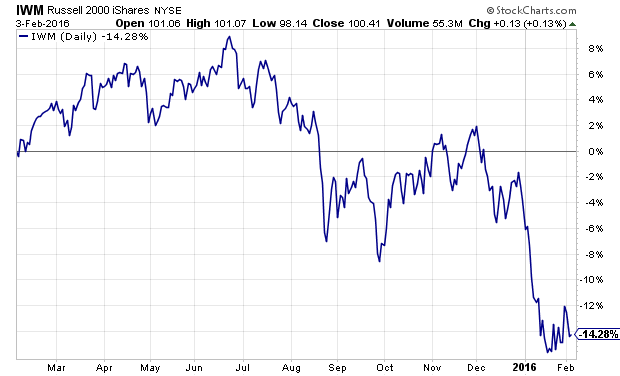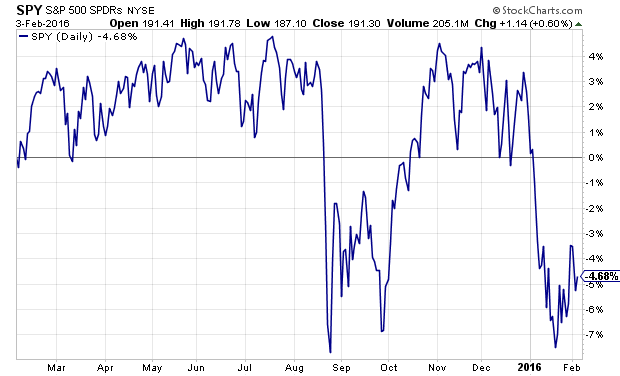 The weakness in the markets is spilling over into the U.S. Dollar, as market participants question the likelihood of future interest rate increases.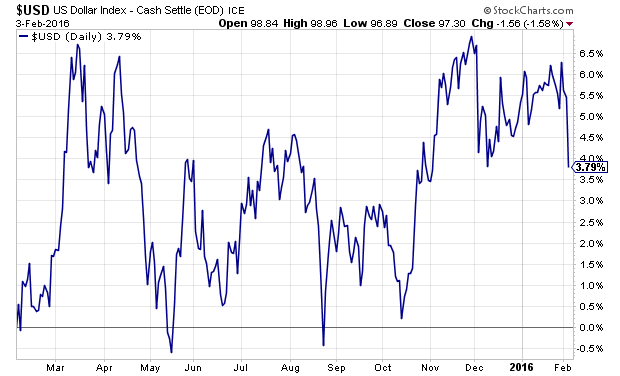 A weaker dollar would be positive for commodity stocks and emerging market equities, which have both been out-of-favor for the last five-years, as shown below by charts of the iShares FTSE China 25 Index (NYSEARCA:FXI) and BHP Billiton (NYSE:BHP).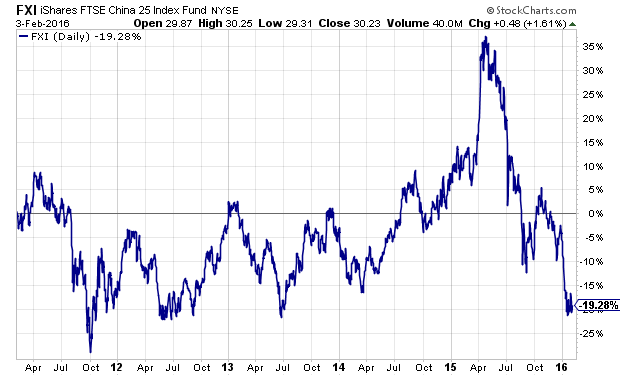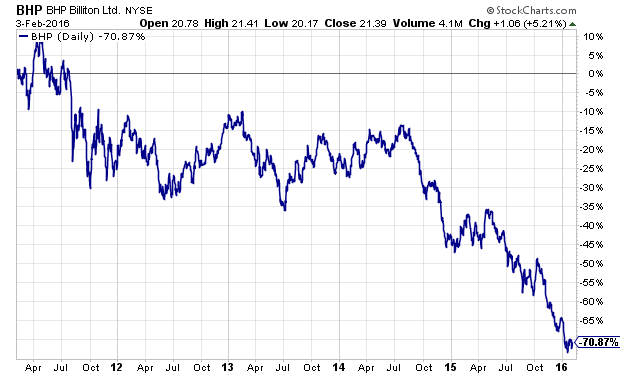 To close, from my perspective, it makes sense for investors to keep their respective defensive teams on the field. Additionally, considering alternative investment strategies, thinking outside the box, and looking for undervalued, out-of-favor assets, while avoiding overpriced securities, could all yield substantial benefits.
It should be clear from this presentation that a considerable, increasing number of stocks have been in their own bear markets over the past year. Building on this, a number of out-of-favor stocks have been in their own bear markets for the past five years, and this is where there are opportunities in my opinion. Whether the S&P 500 Index itself breaches the 20% threshold for a bear market is yet to be determined, but there clearly has been a negative divergence between the performance of the largest, leading market capitalization stocks and the performance of the average stock, and this gap appears to be getting resolved, with in-favor stocks now leading the market's decline.
Disclosure: I am/we are long AAL, WFM, AND UNP, SHORT IBB AND SPY.
I wrote this article myself, and it expresses my own opinions. I am not receiving compensation for it (other than from Seeking Alpha). I have no business relationship with any company whose stock is mentioned in this article.
Additional disclosure: Every investor's situation is different. Positions can change at any time without warning. Please do your own due diligence and consult with your financial advisor, if you have one, before making any investment decisions. The author is not acting in an investment adviser capacity. The author's opinions expressed herein address only select aspects of potential investment in securities of the companies mentioned and cannot be a substitute for comprehensive investment analysis. The author recommends that potential and existing investors conduct thorough investment research of their own, including detailed review of the companies' SEC filings. Any opinions or estimates constitute the author's best judgment as of the date of publication, and are subject to change without notice.