The last number of weeks have brought a plethora of new preferred stock issues from banking companies, including a new issue from regional banker Banc of California (NYSE:BANC).
Wells Fargo (NYSE:WFC), Bank of America (NYSE:BAC), Customers Bancorp (NYSE:CUBI) and Citigroup (NYSE:C) have all issued new preferred stock, but for our money the new issue from Banc of California is more attractive for the long term as the above issues have coupons of 5.70%, 6.20%, 6.50%, and 6.30% respectively. The new issue from BANC has a coupon of 7%. Obviously, the coupon reflects the real (or perceived) quality of the issuer (non investment grade), but the risk/reward proposition for the new BANC issue appears favorable.
Banc of California is a regional banker with assets of $8 billion and offices located primarily in California, but with lending offices in Nevada, Oregon, Idaho, Arizona, Montana, Maryland and Virginia. For the year that ended 12/31/2015 the company reported record earnings with very solid deposit growth and strong loan origination activity. The common shares of the company are now trading at a 52 week high, which is extremely strong performance in a sector that has been under pressure for the last 3 months.
The company has a total of 3 preferred issues outstanding with the most recent issue starting to trade on the OTC Grey Market on 2/1 under the temporary ticker symbol BNNCP. You will recall that most new issue preferred stocks trade on the OTC Grey Market prior to trading on either the NASDAQ or NYSE. We call this the "wholesale" market, because many times you can secure new issues under par ($25.00) which will help you maximize your returns. For those that are not familiar with the OTC Grey Market I have previously published a primer on The Yield Hunter website with suggestions on how to best approach purchases in this marketplace. You can find the primer here. For the "do-it-yourself" investor the 1st "heads-up" on when a issue will be trading on the OTC Grey Market can be found on the Financial Industry Regulatory Authority (FINRA) website, where a list of additions and deletions to the OTC Grey Market is published daily. The new Banc of California preferred will have a permanent ticker of BANC-E when trading on the NYSE occurs in the next couple of days.
Banc of California has the following issues outstanding (we have included the 1 "Baby Bond" issue that BANC has outstanding as well for comparison purposes)--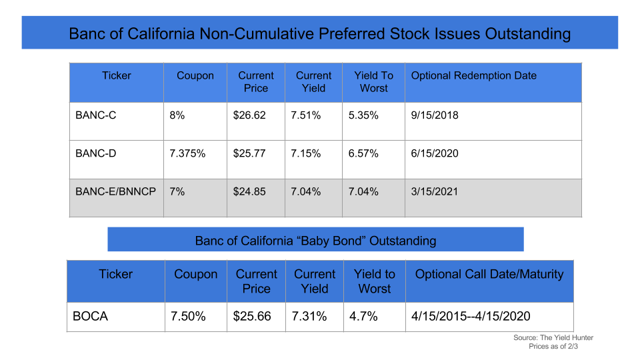 Click to enlarge
As you can see the new issue is trading with a clear advantage to the older issues when looking at the "Yield to Worst" (which we define as the yield that would be received if the issue is redeemed on the 1st allowable redemption date), while the older issues have the advantage of a higher current yield. Investors have to determine their interest rate outlook to truly know which might be the best issue for purchase.
As one reviews the preferred issues available from BANC it is reasonable to review the exchange traded debt that the company has outstanding as well given the similar nature of the securities (although the 'baby bonds' are truly debt--not equity). The baby bond has a coupon of 7.50% and is already in the optional call period so while it appears attractive it is reasonable to assume that the company may call this issue very soon. The outstanding debt issue is just $33 million in size and while the company has not indicated the intention to call the issue common sense would indicate that if a company can sell $125 million in preferred equity with a 7% coupon that a portion would be used to call 7.50% debt. Because of this we do not consider the baby bonds to be a smart purchase at this time.
As with all new issues of banking and insurance companies all of the preferred issues of Banc of California are Non-Cumulative (if the dividends are not declared they are gone forever), which is a requirement for these companies in order to be able to count the proceeds as Tier 1 capital. We understand that many potential buyers purchase only cumulative preferreds so they may not consider a banking issue for purchase and that is a decision each individual investor must make in their evaluation of a new issue.
Banking and insurance issues generally pay "qualified dividends" which are eligible for preferential tax treatment and this new issue is qualified.
In order to determine if the new Banc of California issue is a good buy we like to look at some other relatively similar issues. Below are relatively good comparable preferreds that other regional banks currently have outstanding.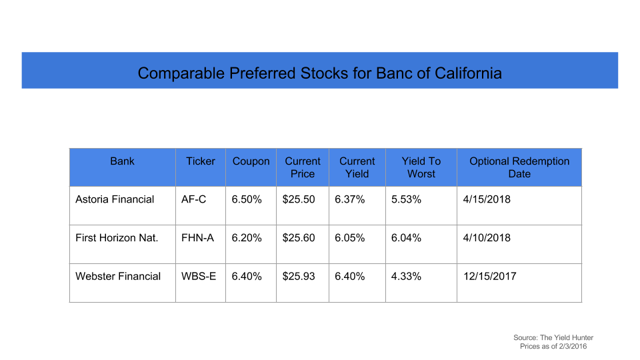 Click to enlarge
It is obvious that the new Banc of California issue provides a superior yield to each of the comparables shown above. None of these comparables are investment grade and just giving their financials a quick review showed them to be relatively similar in most respects.
In summary, it appears that this new issue from Banc of California provides one of the better risk/reward propositions of banking preferred stocks that are available and we are considering taking a small position in this issue.
NOTE that we make no recommendations to purchase or sell any security. Each individual has different circumstances and needs to determine the suitability of a particular security for their portfolio.
Disclosure: I/we have no positions in any stocks mentioned, but may initiate a long position in BANC-E over the next 72 hours.
I wrote this article myself, and it expresses my own opinions. I am not receiving compensation for it (other than from Seeking Alpha). I have no business relationship with any company whose stock is mentioned in this article.