Introduction
In the past two months I have been attempting to break down Banco Santander's (NYSE:SAN) divisions to find out if there were any red flags or smoking guns that might explain the weakness in the company's share price. Due to a lack of time, I was unable to review all of its sub-divisions, and as the company now has released its full-year results, I wanted to see how the bank was performing (and I could re-do the sub-division exercise with these updated results to find out where the weak spot is).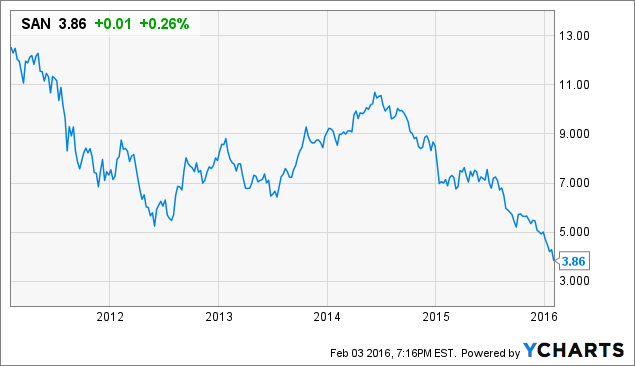 As the company's share price had been sliding (it halved in just 13 months), it did look like Mr Market was bracing itself for a bad earnings report.
The geographical diversification of this bank is a big positive, but Q4 was quite weak
Even though Banco Santander is still generally seen as a Spanish bank, the Spanish division only contributes a small part of the consolidated earnings, as just 12% of the company's net profit comes from its Spanish operations. It might sound surprising, but the UK is actually the main contributor of the bottom line as almost a quarter of the entire profit is generated on that island.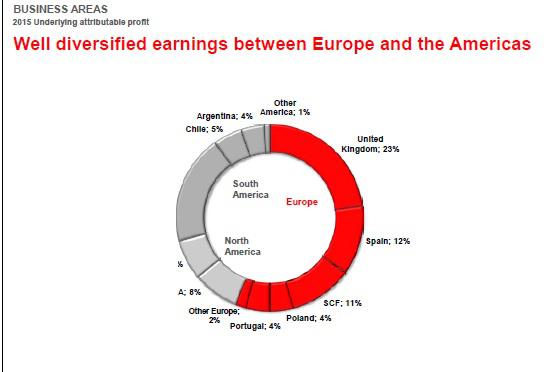 Source: press release
2015 was pretty decent based on the most common metrics for a financial institution, as both Santander's loan and funds increased by single-digit percentages (the loan growth was 6.4%, fueled by a 7.5% increase in the company's funds inflow, allowing the company to maintain a healthy balance between loans and deposits). Due to these relatively strong results, Santander was able to pay a total dividend of 0.20 EUR ($0.22) per share, of which 80% was paid in cash with the remaining 20% paid in shares.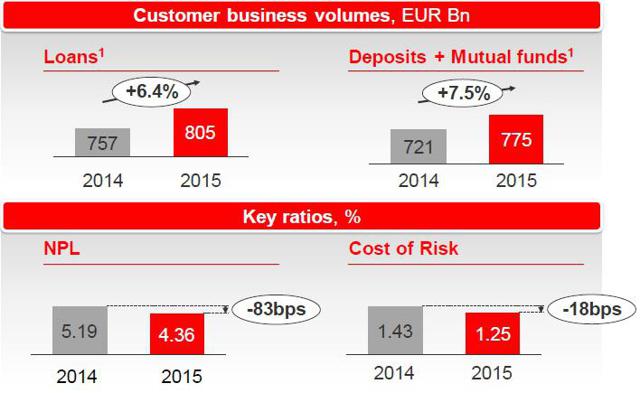 Click to enlarge
Source: company presentation
All these headlines sound pretty good, but the fourth quarter was indeed quite a bit weaker compared to last year, and definitely weaker than my expectations as well, so let's now take a minute to dig a bit deeper into these Q4 results.
Source: financial results
And, well, to be honest, the fourth quarter results don't look very appealing. The net interest income fell by 1.2% to 7.89B ($8.68B) EUR whilst the gross income fell by a more outspoken 3.7%. However, a large part of this fall in the gross income is due to the currency exchange rate, as the gross income reduction would have remained limited to 1.7%. That's better, but still a lower (and thus a worse) result.
Unfortunately this trend continued when moving further down the financial results. The operating expenses increased (with a 3% increase in the company's personnel costs) resulting in the net operating income to decrease by 8.4% (6.1% excluding the forex fluctuations). The loan loss provisions increased by 3.2% whilst the impairment losses on other assets more than doubled, resulting the pre-tax result to fall by almost 22% and the attributable net profit to fall by 13.1% to 1.46B EUR $1.6B). And no, that's not something Banco Santander could nor should be proud of.
How should one interpret the full-year results? And is Santander 'cheap' after its recent share price slide?
Despite the weak fourth quarter, the full-year results of Banco Santander were actually pretty strong. The net interest income increased by 8.9% and despite a 16% lower gain on financial transactions, the gross income increased by 6.2% in 2015 compared to the 2014 results, towards in excess if 45B EUR. Of course, the trend of higher operating expenses also continued here and this resulted in the net operating income to increase by 'just' 5% (which, let's be honest, is still a very respectable percentage).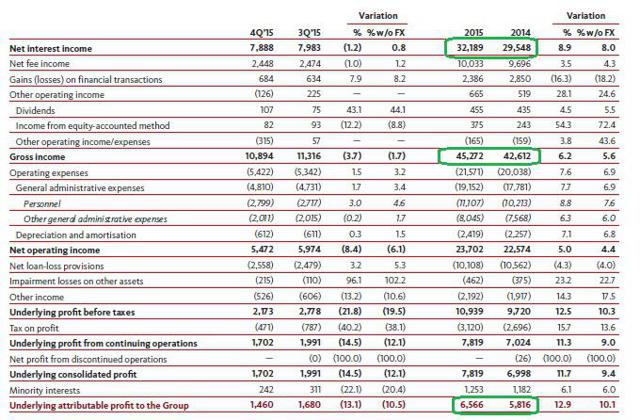 Click to enlarge
Source: financial results
And despite the 3.2% increase in the loan loss provisions in the fourth quarter of the year, the full year amount of provisions actually fell by 4.3% to 10.1B EUR ($11.2B), and this had a positive impact on Santander's bottom line as well. The pre-tax profit increased by 12.5% to 10.9B EUR ($12B) whilst the after-tax attributable profit also increased by almost 13% to almost 6.6B EUR ($7.3B). And of course, this is the headline Santander likes to show off with, but let's not forget that approximately 77.7% of the attributable net profit was generated in the first nine months of the financial year, and the fourth quarter was actually a drag on the financial results.
The market seemed to have anticipated this sub-par financial results in the fourth quarter, as Santander's share price is currently trading at less than $4 per share, whereas the bank's share price was in excess of $7 at the same period last year, so obviously something is being priced into the share price right now. I will have another closer, much closer, look at the performance of the sub-divisions to find out which countries have had a positive/negative impact on the results of the consolidated entity, but it's now pretty clear the company's share price is lower than the tangible NAV/share (which was approximately $4.55/share, versus the most recent closing price of $3.86/share)
Investment thesis
Banco Santander remains one of the main financial money centers with a world wide exposure. The company took some heat in the fourth quarter of last year which was a drag on the full-year performance, but it remains one of the most important and interesting banks to benefit from a potential turnaround at some weaker-performing countries like Brazil (whose economy is in severe distress).
Even if you'd use the Q4 result and extrapolate this to a full-year result, Santander is trading at a single-digit P/E ratio (of less than 9), and if you'd take the full-year result into consideration, Santander's P/E level has fallen to just 8 and that's indeed quite low. Taking this into consideration as well as the fact the company is trading at a 15% discount to its tangible NAV/share, it will be interesting to see how Banco Santander behaves in the next few weeks and months as despite the weak Q4 results, the bank still looks promising after seeing its share price slide.
Of course, we shouldn't be too optimistic neither, and I'll be looking forward to see the results of the first quarter of 2016 to find out if the situation is either improving or getting worse again.
Disclosure: I am/we are long SAN.
I wrote this article myself, and it expresses my own opinions. I am not receiving compensation for it (other than from Seeking Alpha). I have no business relationship with any company whose stock is mentioned in this article.