Fourth-quarter Overview
LyondellBasell Industries (NYSE:LYB) reported 4Q15 and FY2015 results yesterday. I would characterize the quarter's results as mixed in a difficult operating environment. Clearly, low oil prices and the recent global macroeconomic uncertainty continue to weigh on the company's performance.
LyondellBasell recorded 4Q15 adjusted earnings of $2.20 per share exceeding the Street's consensus estimate of $2.14. 4Q15 sales and operating revenue were $7.1bn, a 15.2% decline y/y from $8.3bn, and well below consensus estimates of $7.6bn. LYB generated adjusted 4Q15 EBITDA of $1.68bn after excluding adjustments for LCM (lower of cost or market) differences which slightly surpassed consensus estimates of $1.65bn. Results were boosted by Olefins and Polyolefins in both segments as global polyolefin demand remained strong during the quarter. Intermediate & Derivatives results came in a little light due to an extended turnaround at its LaPorte facility while Refinery experienced a sharp decline year-over-year.
On a positive note, the company continues to return cash to shareholders, which supports my buy recommendation. Share repurchases and dividends totaled $1.6bn during the quarter as LyondellBasell bought 12.7 million shares, approximately 3% of the shares outstanding on October 1, 2015. Management also reaffirmed their commitment to share buybacks on the earnings conference call and alluded to marginally increasing leverage if necessary. Total debt/EBITDA measured 1.05x and free cash flow for the year was in excess of $4.4bn so the company certainly has the financial flexibility to continue repurchasing stock while maintaining a strong balance sheet.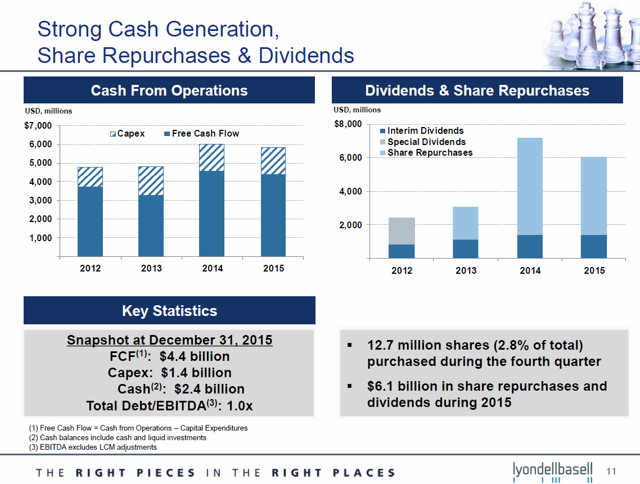 Segment Results
Olefins and Polyolefins - Americas (O&P - Americas)
Sales and other revenue declined from $3.38bn to $2.22bn. Adjusted EBITDA of $834mm was down sharply from $1.27bn in the period ended December 31, 2014. While ethylene margins declined substantially from a year ago, increased polyethylene (NYSE:PE) and polypropylene (PP) spreads helped to partially offset the weakness. The segment also benefited from an almost 9% increase in PE volume.
Olefins and Polyolefins - Europe, Asia, International (O&P - EAI)
O&P-EAI posted sales of $2.67bn, a decrease of 20.5% from 4Q15. Adjusted EBITDA was $451mm, down from $555mm a year earlier. Lower margins had approximately $120mm negative impact on olefin results.
Intermediates and Derivatives
I&D 4Q15 sales declined 28% y/y to $1.66bn. Adjusted EBITDA decreased $78mm from 4Q14 to $286mm. Favorable propylene oxide (PO) and PO derivatives had a $35mm impact. Chemicals were weaker as lower methanol margins and acetyl volumes drove acetyl results $60mm lower.
Refining
Sales were $1.16bn in the quarter, a drop of nearly 55% from the same period a year earlier. Despite lower throughput of 60k bpd at the Houston refinery, adjusted EBITDA rose $35mm from 4Q14 to $68mm as the Maya 2-1-1 crack spread increased $0.83/bbl compared to 4Q14.

(Source Company Earnings Release)
Conclusion
I continue to view LyondellBasell as an attractive investment with upside potential. While the operating environment will remain challenging due to volatility in oil and the uncertain global macroeconomic picture, the dividend yield of 4.13% compares favorably with other large cap companies such as Caterpillar 4.91%, IBM 4.17%, ExxonMobil 3.83% and Wal-Mart 2.9%. (Source: barchart). Management has reiterated its commitment to additional share repurchases in 2016 which should provide support for the company's stock price. Furthermore, based on the company's FY16 consensus estimate of $9.67 per share and a 9.7x forward multiple results in a 12-month target price of $94, which implies approximately 25% upside potential from today's closing price of $75.48.
Disclosure: I/we have no positions in any stocks mentioned, and no plans to initiate any positions within the next 72 hours.
I wrote this article myself, and it expresses my own opinions. I am not receiving compensation for it (other than from Seeking Alpha). I have no business relationship with any company whose stock is mentioned in this article.