Deere & Company (DE) is a well-known American manufacturer of agricultural machinery. The company's success dates back to 1837 when John Deere introduced the cast-steel plow from his workshop in Grand Detour, Illinois. It has grown to be the biggest player in the agricultural machinery industry world-wide with products on offer that include tractors, harvesters, balers, planters, sprayers, diesel engines, drive trains, lawn mowers, and snow throwers. The company also provides financial and other related services.
DE is of course cyclical in nature, so if you believe the global economy is in for a tough time in the coming years, you will want to stay away. But the world's population needs to eat, and as new members rapidly enter the global middle class pool, the demand for quality and quantity of agricultural products will increase. DE has been growing its business in developing countries at a decent rate, and that trend is unlikely to reverse any time soon.
DE invests more in R&D than its competitors holding it in good stead to maintain its dominant position globally moving forward. It has long had a reputation for quality and management places significant importance on maintaining that reputation.
DE has grown its EPS at a compounded rate of 26% over the past 10 years. This is an impressive growth rate for such a large company. It should be pointed out though that EPS has grown at a more modest 13% over the past 5 years - as with all cyclical companies the GFC hit earnings of DE hard. DE's dividend per share has grown at a 15% clip over the past 10 years. It is currently offering a 2% yield.
We like to see companies generate about as much Free Cash Flow as net earnings over a period of time. Over the last 10 years DE has generated $8.3B of Free Cash Flow versus almost $15B of total net earnings over that same period. Over the past 4 years DE has generated $2.6B in Free Cash Flow versus total net earnings over that same period of $7.6B. That is a concern. Delving deeper - Cash from Operations over the last 10 years has totaled over $18B and the figures have been reasonably consistent from year to year, which is great to see. So DE has been spending a large amount on capital expenditures each year - funding the expansion into developing markets and keeping its manufacturing equipment up to date. There is only one thing worse than a company spending lots of cash on capital expenditures - and that's a company not spending enough on capital expenditures - deferring the expenditures until finally they have been deferred for too long. DE is a great generator of cash from operations, but it happens to have a rather large capital expenditure burden.
DE's net debt-to-equity ratio is too high. Over the past 10 years it has averaged almost 300% and it currently sits at 337%. The company is spending a large amount of money on share repurchases - a total of $7.6B over the past 10 years. This has 2 implications - it is not using that cash to pay down debt, and it is keeping the equity base low. Shareholder equity in 2002 was $3.2B and in October 2011 it stood at $6.8B, so though EPS has grown at a great rate, shareholder equity has been kept low. The major contributor to the high net debt to equity is the financing division of DE, which operates like many other financing organizations - with high amounts of debt. The company has operated under high amounts of debt for a while so perhaps it is sustainable? But its interest expense is over 23% of operating income, which we view as too high. We would like to see net debt be reduced in the coming years.
Quality Rating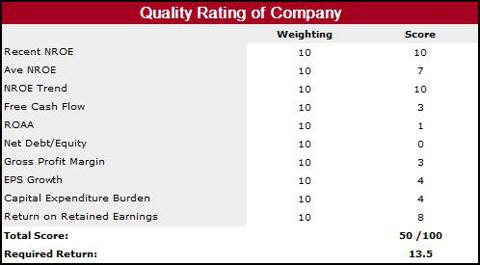 DE scores a rather sobering 50 / 100 for its Quality Rating. Its Free Cash Flow as mentioned above is not great, its net debt to equity is too high (albeit on an equity base that is kept low), and though its EPS growth over a 10-year period has been great, it has been inconsistent over that time, resulting in a low score. DE's capital expenditure burden as mentioned above is significant, and one that needs to be looked at.
Intrinsic Value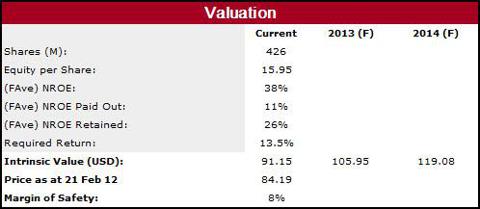 Intrinsic Value is forecast to rise meaningfully in the coming few years. This is based on the assumption that we will not enter a global recession as a result of the European situation or any other trigger.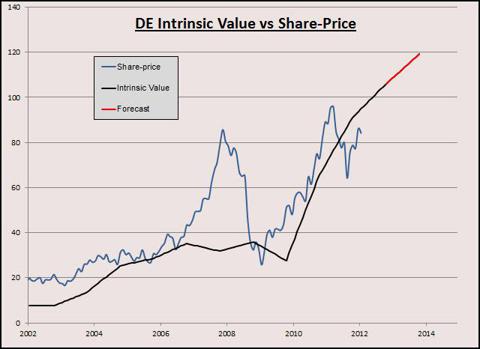 Looking at the graph - the share-price of DE is quite volatile as can be expected of a cyclical stock. But even amidst the volatility, buying opportunities have been rare.
Investment Grade Table

DE comes in at number 135 on the Investment Grade Table with a low Investment Grade Score of 4. To put that in perspective, the companies that inhabit the upper echelons of the Investment Grade Table have an Investment Grade Score of over 60.
Conclusion
There is a lot to like about DE - it has an undeniable brand and has positioned itself well to capitalize on growing demand from developing countries. As such, some investors may see an opportunity at current prices - DE is now in value. But some of DE's metrics are concerning - the company has a significant capital expenditure burden that it needs to get back under control, its net debt to equity (and subsequently its interest expense) is too high, and it is a deeply cyclical business. Management may well have these items under control, but even so they can make for some restless nights' sleep for some investors. DE is offering a small Margin of Safety at the moment, and its Intrinsic Value is forecast to rise in the coming years. But given the concerns, investors may prefer to wait to see a much larger Margin of Safety prior to an investment. In the meantime there are a number of more attractive opportunities available in the market.