Company introduction
Renren Inc. (NYSE:RENN) operates China's largest real-name social networking service ("SNS") with approximately 140mm activated users and 38mm monthly unique log-in users. It monetizes its user base primarily through online advertising, social and web games, other value-added services, and its group buying platform, Nuomi. Since pricing its IPO on May 4, 2011 at $14/share and trading as high as $24/share, the stock has fallen to $5.43/share mainly due to concerns over mounting competition from Sina Weibo (NASDAQ:SINA) and Tencent Pengyou (OTCPK:TCEHY), along with overall poor investor sentiment towards U.S.-listed Chinese ADRs.
Investment thesis
Current valuation presents a compelling turnaround and potential takeover opportunity in China's consumer internet sector with asymmetric risk/reward profile
Enterprise value has dropped 78% from $4.3bn at IPO pricing to $915mm today, implying 2014 EV/EBIT of 17x under our base case estimates, vs. ~17x for Sina and ~13x for Tencent, while exhibiting much faster growth, with 2012-14 revenue CAGR of 42% vs. 24% for Sina and 19% for Tencent.
Street consensus expects Renren's long-term market share and active user base to erode significantly due to intense competition, resulting in slowing top-line and ARPU growth, with minimal margin expansion through operating leverage. We believe the street's view to be overly pessimistic. To justify current enterprise value under DCF valuation, active user growth would have to be flat to negative from 2011-20, which is highly unlikely given that: 1) Renren's active users grew by 58% YoY in 3Q11, and 2) China SNS users as a whole are projected to grow at approximately 13% 2011-20 CAGR.
A closer competitive analysis at the underlying features and user base of each major China SNS reveals that Renren offers a unique value proposition and social graph that should continue to attract new users and enjoy high user retention rates, leading to accelerating top-line growth and ARPU with significant margin expansion from operating leverage, to levels far above what the street is pricing in.
Our base case DCF valuation yields a fair value of $6.31/share, assuming 13% 2011-20 CAGR in monthly unique log-in users, 5% 2011-20 ARPU CAGR, and operating margins normalizing to 55% by 2020. Note that this set of assumptions conservatively assumes only 60% of China SNS users will have accounts on Renren by 2020, up from 53% today.
Furthermore, at current valuations, Renren is an attractive takeover candidate for Sina and Tencent, as the acquirer would be able to realize significant synergies from combining Renren's large and highly engaged user base with its own user base, as the value of a social network increases exponentially as the number of users increase. Other large and cash rich China internet players such as Baidu (NASDAQ:BIDU), Alibaba (OTC:ALBCF), Netease (NASDAQ:NTES) and Sohu (NASDAQ:SOHU) could also acquire Renren to gain immediate market presence in the SNS space. Foreign SNS players such as Facebook (NASDAQ:FB) could also contemplate an acquisition as a way to quickly build a SNS user base in China.
Renren is the leading real-name SNS in China with a highly defensible market position supported by powerful network effects, as evidenced by accelerating active user growth and leading user engagement metrics:
Strong positive feedback loop and virtuous cycle driven by China's largest real-name-based social graph based on real-life friends and connections
High user switching costs due to large numbers of user-generated content (UGC) uploaded and large numbers of friendship connections established
Value of SNS grows exponentially in the number of users, with decreasing customer acquisition costs via word-of-mouth and viral marketing among trusted friends
Recent acceleration in active user growth
- Activated users +33% YoY in 3Q11, vs. +28% YoY in 2Q11
- Monthly unique log-in users +58% YoY in 3Q11, vs. +36% YoY in 2Q11
Broader reach and higher total page views vs. Tencent Pengyou and Kaixin001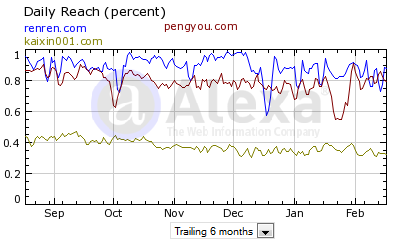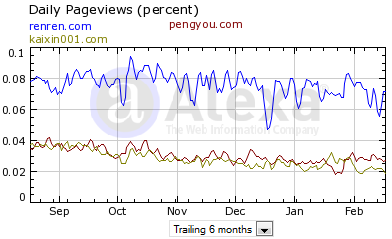 Source: Alexa
Highest user engagement among real-name SNS in China, with daily time spent per user of 12:60 minutes vs. 5:31 minutes for Tencent Pengyou and 8:34 minutes for Kaixin001 and page views per user of 8.8 vs. 3.8 for Tencent Pengyou and 7.4 for Kaixin001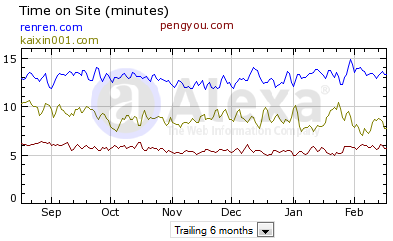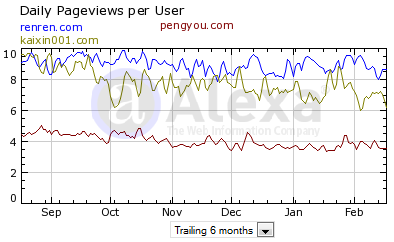 Source: Alexa
Renren is the only publicly traded pure-play SNS in China sitting at the intersection of the largest secular growth opportunities in the China internet sector, with significant synergies to leverage large and trusted user community and positioning as a social utility to enter new online market spaces and verticals that are strategically complementary.
Continued robust growth in China internet users and SNS penetration acts as a powerful tailwind in driving Renren's long-term user growth and activity
- China internet penetration still only 38% vs. ~80% in mature markets
- China SNS users increased 20x from 2006-2011, while SNS penetration is still only ~50% vs. ~80% in the U.S.
Well positioned to capture massive shift in ad spend from traditional media to online media as advertisers continue to better align ad budget allocation with user media consumption patterns
- Renren's deep penetration into local micro-communities offer advertisers unique reach, precise targeting, and superior ROI vs. other forms of online advertising
- Online ad revenue grew by 92% YoY in 3Q11, vs. 78% for Baidu, 47% for Sohu and 25% for Sina
- Acquisition of 56.com, China's #3 independent online video site, for $80mm in Sep. 2011, should boost user traffic and significantly improve UGC video library
Primary beneficiary of fundamental shift in online gaming from desktop-based to browser-based
- Dominant first-mover advantage in browser-based gaming through open platform for social and web games, the largest among China SNS
- High margin business for Renren since it acts as a distribution and hosting platform for game developers and doesn't have to incur any development costs for most games
Significant opportunities in China's B2C e-commerce market
- Nuomi is a long-term call option on the large and fast-growing China B2C e-commerce market, despite near-term drag on profitability, as it enjoys strong synergies with the Renren SNS platform: 1) merchants want to advertise on Nuomi to enjoy word-of-mouth and targeted marketing on Renren SNS platform, and 2) approx. 60% of Nuomi users are referred from Renren SNS platform, helping it to achieve significantly lower user acquisition costs of about RMB30/user vs. RMB50-100 for most other group-buying services
- Renren could leverage high user traffic to launch a B2C shopping mall, similar to Taobao's highly successful Tmall
Strong mobile SNS offering and presence make Renren well positioned to capture upcoming boom in mobile Internet and smartphone usage in China
- Mobile will be key access point for SNS and group buying platforms in the future, and Renren has developed sophisticated location-based services (LBS) functionality with check-in features to allow users to check-in to their current locations and find friends nearby, which also creates synergies with Nuomi group-buying service
- Renren is expanding mobile presence by partnering with handset makers such as Nokia (NYSE:NOK) and HTC to pre-install and integrate Renren SNS platform on handset models
- Added potentially unique mobile asset and barrier to entry by leading $30mm Series C funding in Nov. 2011 of Mapbar, the leading digital map service provider in China with strong LBS and mobile e-commerce technologies
- Currently 35%+ of Renren users visit the SNS platform via mobile devices
Has begun to leverage large and trusted user community to enter into complementary verticals
- Launched Renren Recruiting to enter into online job search market, with strong synergies for on-campus and entry-level jobs given its large college user base
- Formed JV in June 2011 with Recruit, Japan's largest HR/classifieds media group to launch online social wedding service platform that integrates online wedding-related social content and offline media such as magazine and wedding exhibitions
DCF valuation
Given the lack of comparables in the China Internet sector at a similar stage of growth and profitability, DCF is the preferred valuation method for Renren. In deriving the value of a SNS, the single most important key driver of value is its number of active users., which drives the overall value proposition of the company's products and services and the defensibility of its long-term market position. While the valuation will also be sensitive to other key inputs such as ARPU, margins, discount rate, and perpetual growth, they remain secondary to the number of active users in deriving the value of a SNS.
Thus, a sensitivity analysis has been performed based on 1) number of monthly unique log-in users in 2014, and 2) 2014-2020 CAGR in monthly unique log-in users, while using fairly conservative assumptions of 5% 2011-20 ARPU CAGR, 15% discount rate, 5% perpetual growth of unlevered FCFs in the terminal value, and projecting the explicit forecast period out to 2020. Our base case assumptions of 73mm monthly unique log-in users in 2014 with 8% 2014-20 CAGR yields a fair value of $6.31, 17% above current market value.
Fair value per ADS

(US$)

2014 monthly unique log-in users (mm)

43

53

63

73

83

93

103

2014-2020 CAGR in monthly unique log-in users

5.0%

4.72

5.11

5.49

5.88

6.27

6.65

7.04

6.0%

4.80

5.20

5.61

6.01

6.42

6.82

7.22

7.0%

4.88

5.30

5.72

6.15

6.57

6.99

7.41

8.0%

4.96

5.41

5.85

6.31

6.73

7.17

7.62

9.0%

5.05

5.51

5.98

6.44

6.90

7.36

7.83

10.0%

5.14

5.63

6.11

6.60

7.08

7.56

8.05

11.0%

5.24

5.75

6.25

6.76

7.27

7.77

8.28
Comparables valuation
Given that Renren is the only publicly traded pure-play SNS in the China Internet sector, we settle on using Sina and Tencent as primary comparables, given that they both have SNS and compete directly in online advertising, social and web gaming, and to a lesser extent, group-buying. However, there exists a large gap in growth, profitability and operating history, with Renren's top-line expected to grow much faster at ~32% 2012-14 revenue CAGR vs. ~19% for Tencent and ~24% for Sina, along with significantly faster operating margin expansion.
Our preferred comparables valuation methodology EV/EBIT. We prefer EV/EBIT over non-GAAP P/E because 1) share-based compensation is a recurring expense that should be factored into the valuation, and 2) Renren's high cash position as % of market cap and high level of interest income significantly distorts its P/E valuation.
2012-14E
Revenue
CAGR

EV/EBIT

EBIT margin

Market
Cap

Enterprise
Value

(US$mm)

2012E

2013E

2014E

2012E

2013E

2014E

Renren

N/A

58.4x

16.5x

32%

-1%

11%

19%

2,113

915

Primary

Tencent (OTCPK:TCEHY)

20.5x

16.4x

13.1x

19%

43%

45%

48%

47,500

47,137

Sina (SINA)

46.2x

21.8x

16.9x

24%

13%

20%

23%

4,185

3,445

Mean

33.3x

19.1x

15.0x

21%

28%

33%

36%

Median

33.3x

19.1x

15.0x

21%

28%

33%

36%

Secondary

Baidu (BIDU)

23.9x

15.8x

10.9x

44%

55%

57%

58%

47,782

46,659

Netease.com (NTES)

7.9x

6.4x

5.2x

16%

46%

49%

52%

6,220

4,447

Sohu (SOHU)

3.3x

2.8x

2.4x

15%

33%

34%

34%

1,913

1,104

Youku (NYSE:YOKU)

N/A

50.2x

24.5x

56%

-3%

9%

13%

2,449

1,851

Mean

11.7x

18.8x

10.8x

33%

33%

37%

39%

Median

7.9x

11.1x

8.0x

30%

40%

41%

43%

U.S Social media

Groupon (NASDAQ:GRPN)

85.7x

19.7x

14.8x

26%

7%

22%

24%

12,922

12,678

LinkedIn (NYSE:LNKD)

285.8x

95.3x

63.5x

32%

5%

10%

12%

9,078

8,690

Mean

185.8x

57.5x

39.2x

29%

6%

16%

18%

Median

185.8x

57.5x

39.2x

29%

6%

16%

18%
Source: Author estimates.
Given that the value of a SNS relies almost entirely on its number of users, another relevant metric to benchmark Renren against is EV/Active user, which shows that Renren is trading at a substantial discount to all other SNS:
Enterprise
value

Active
users (mm)

EV/Active
user

(US$mm)

Renren

915

38

23.8x

Sina Weibo

3,445

50

68.9x

Tencent

47,137

461

102.3x

LinkedIn

8,690

116

75.0x

Facebook (estimated)

100,000

800

125.0x

Twitter (estimated)

8,000

100

80.0x
Source: Author estimates, company filings.
Sum-of-the-parts valuation
Using a sum-of-the-parts valuation to value the Renren SNS platform, Nuomi, 56.com separately, we arrive at an equity value of $2.0bn, 30% above current market price
Renren SNS platform is benchmarked against Sina and Tencent using 2014 EV/EBIT
Nuomi is benchmarked against Lashou and Groupon (GRPN) using 2013 EV/Revenue. A 70% discount was applied to Lashou's implied valuation of $1.1bn from Series C financing given its recent IPO attempt was pulled due to accounting issues, while a 50% discount is applied to Groupon's multiple to account for its significantly larger scale and market share, higher brand value, and lower emerging market risk
For 56.com, we benchmark it against Tudou using 2013 EV/Sales. Tudou is a better comp than Youku given that it also focuses on user-generated content rather than professionally-produced content
(US$mm)

Valuation
method

Valuation
multiple

Metric

Value

Reference
comparables

Renren SNS platform

2014 EV/EBIT

12.9x

55.3

714

Sina, Tencent

Nuomi

2013 EV/Revenue

2.6x

19.7

50

Lashou, Groupon

56.com

2013 EV/Revenue

1.3x

24.6

32

Tudou

Enterprise value

797

Net debt

(1,198)

Equity value

1,995
Source: Author estimates, company filings.
Potential catalysts
Higher-than-expected growth in activated users and monthly unique log-in users
Rebound in ARPU for online games, which had declined from $1.43 in 2010 to $1.29 in 2011
Better-than-expected profitability by Nuomi resulting in operating margin expansion
Smooth integration of 56.com's users, UGC library, and online video technologies into core Renren SNS platform
Self-serve ad platform resonates with local SMEs resulting in further acceleration in online ad revenue growth
New strategic partnership announcements and product launches that expand user base, improve user engagement, and/or create new revenue streams
Potential takeover target by large China or foreign Internet player seeking to rapidly acquire market share in China SNS market
Key risks
User base attrition and market share erosion due to intensifying competition from other SNS, in particular from Sina Weibo and Facebook (FB)
- If Sina Weibo successfully transitions to a full-scale real-name SNS, it could cause existing and potential Renren users to use only Sina Weibo for their SNS needs
- Possibility of Facebook re-entering China in near future through partnerships with Baidu or other large established China Internet players and capturing significant market share in short period of time
Macro headwinds from China economy will result in lower-than-expected online ad spending, but Renren's online gaming business is defensive during macros slowdowns and should help partially offset negative impact on revenues
Potential negative reports/rumors on accounting, corporate governance or VIE structure issues and continued poor investor sentiment towards Chinese ADRs due to these concerns
Stricter content censorship requirements from PRC government over UGC posted on SNS, microblogs and other Internet platforms, and other regulatory risks that may adversely affect user experience and engagement on SNS
Competitive analysis
Sina Weibo
Despite recent efforts to add a broader range of SNS features, users continue to use Weibo for a fundamentally different use case and associate the Weibo brand as primarily a microblogging platform. Microblogging satisfies a fundamentally different user need vs. SNS in that its primary use is to follow "celebrities", rather than interact with friends and share UGC. User communication is largely one-way from "celebrities" to followers, rather than two-way between friends.
Although user engagement in terms of page views and time spent is higher than Renren, most Weibo users register using virtual alias rather than real-names, which reduces user trust and the formation of trusted online communities, leading to weaker network effects and viral marketing power among trusted friends.
With recent government announcement requiring real-name ID checks for all microblogs in China, microblog posts by "celebrities" could decrease significantly, especially those with controversial content. This could lead to significantly lower user engagement and overall activity on Sina Weibo, with users spending more time on SNS such as Renren. Renren also benefits from this announcement in that its user experience will be less affected than competitors given that most of its users are already comfortable using real names to post UGC.
Social and web game offerings significantly lag Renren given its open platform was just launched in second half of 2011.
Tencent Pengyou
Launched in Dec 2010 quickly acquired large user base through referral and ads from Tencent's other online properties such as Qzone, QQ.com and QQ IM
User engagement notably lower vs. Renren as user attention is cannibalized across Tencent's various online properties
User base is younger, less educated, less affluent, and from lower tier cities vs. Renren
Number of apps in open platform is about 1/4 of Renren, with Tencent taking 70-80% of revenues from third party developers, vs. 36-52% for Renren
Kaixin001
Pioneer in China social gaming that rose to popularity in 2009 on the back of viral marketing, but traffic has since declined exponentially as the bulk of its peak user base was seeded by social game players. These users tend to leave Kaixin001 for good after getting bored of playing social games, rather than use Kaixin001 as a long-term social utility
Social games have short product lifecycles and have been commoditized by competitors
Facebook
Announced potential partnership with Baidu in April 2011 to setup joint SNS in China, but government approval process and timing still highly uncertain
China-based Facebook likely to be separated from Facebook's global platform, which could greatly reduce network effects and slow user base growth
Group-buying competitors
Renren's Nuomi group-buying service faces intense competition in China's highly fragmented group-buying market, with large well-funded standalone competitors such as Lashou and Meituan, group buying sites launched by leading portals (e.g. Alibaba (OTC:ALBCF), Tencent, Dianping), and thousands of smaller independent group buying sites.
China's group buying industry will likely face significant consolidation in 2012-13, with Nuomi likely emerging as one of few remaining long-term winners given its strong synergies with Renren SNS platform in lowering user acquisition costs and delivering cross-marketing opportunities for local merchants.
Disclosure: I am long RENN.