Microvision (NASDAQ:MVIS) is a company that designs tiny projectors for consumer use. Their technology powers Sony (NYSE:SNE) and Celluon hand-size projectors. While the technology appears to be nice, there are some fundamental flaws with Microvision. These flaws make it a compelling short opportunity.
(Note: All information supporting the thesis of this article is taken from SEC filings. Outside information is linked to the source. SEC filings forms include 10-Ks, 10-Qs and 8-Ks, among others.)
Financial Summary
Microvision went public in 1996, but has not seen any profits since its IPO. For the past few years, independent auditors have expressed doubt that Microvision can continue as a going concern. The main reason for the auditor's concern is not only the fact that Microvision has never generated profits, but also the rate at which it burns cash. The latest auditor warning came in March 2015, which can be found in Note 1 of Microvision's annual report (Form 10-K). In 2013, Microvision changed its auditors from PricewaterhouseCoopers to Moss Adams LLP. Both auditors have expressed concerns about Microvision's ability to continue as a going concern.
Microvision does not have enough capital to continue their operations in the long term. The survival of Microvision depends on their ability to raise capital, either through debt or equity offerings. After receiving an upfront payment (from Sony) for licensing fees, Microvision has enough capital to operate for the next six months. Beyond that point, it is likely that they would need to use their ATM facility to sell more stock.
The cash burn of the company has been decreasing over the past several years. That is because there is less cash to burn. The amount of capital that Microvision has been able to raise is decreasing year after year. All the capital raised pertains to both equity and warrants issuance because Microvision does not raise debt capital. The two graphs below show the rate of cash burn and the rate of capital raises.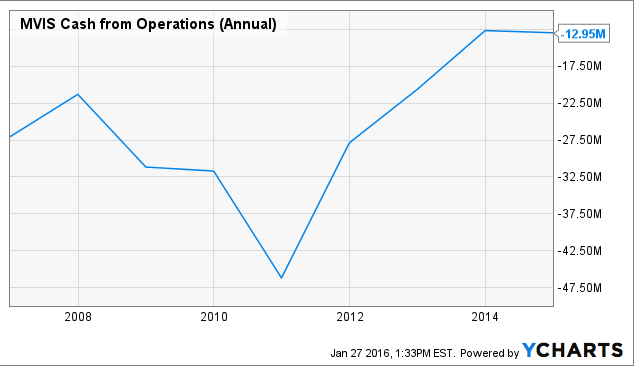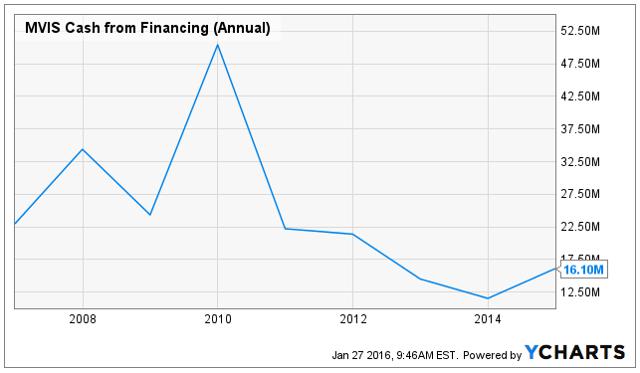 Microvision completed a 1-for-8 reverse stock split in 2012, which sent a negative signal to the market. According to a long-term study completed by academics (from NYU, Emory University and University of Florida) the return performance of companies that employ a reverse stock split tends to be poor. The study reviewed more than 1,600 companies over a 40-year period. Perhaps the most interesting part of the study is that these companies also show poor operating performance. Microvision price performance (split-adjusted) has been pretty bad since 2012.
Examining the bull case - the product perspective
Microvision relies on its PicoP technology to generate product, licensing and royalties revenues from its cutting-edge technology. PicoP is a tiny projector technology that allows for laser focused projection on any surface. Microvision focuses on developing technology for automotive heads-up display (HUD) systems and consumer electronics. Microvision has been selling PicoP technology since it developed the Show WX early in the decade. However, the Show WX product was discontinued due to the unexpected low demand.
The most prominent bull case is based on the premise that Microvision has recently acquired three big customers: Sony, Sharp and Celluon. The customers rely on the PicoP technology to provide hand size projectors to consumers. These customers would be paying licensing and royalties fees to use Microvision's technology. On top of that, Microvision would sell the chip technology to them (the chip is about the size of a dime).
The products of Sony and Celluon are pretty similar. Sharp's product idea is very different.
Celluon offers the PicoPro, a pocket size projector. Celluon also offers some variations of the PicoPro.
Sony offers the MPCL1, a pocket size projector. Both the PicoPro and MPCL1 sell at the same price.
Sharp's product is the RoboHon, which is a revolutionary smartphone idea.
A challenge to the bull case - the product perspective
There are two aspects about the bull case that can be challenged:
The automotive HUD display has already failed twice. Also, the advent of self-driving cars will eliminate the need for HUD displays.
The consumer electronics market for Microvision is small. The micro projectors on smartphones have already failed with the Samsung Galaxy Beam. Both the Sony MPCL1 and the PicoPro are undifferentiated products. Both products are challenged by lower-cost competitors.
The first challenge to the bull case is the use of HUD in automobiles. In my opinion, it is pretty obvious to dismiss this product. The advent of self-driving cars will render this technology useless. If cars drive themselves, then there is no need for a HUD in the windshield of a car.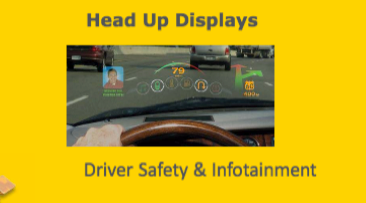 There is one key piece of evidence that challenges the bull case about HUD. That evidence is the failure of two former Microvision customers to pursue HUD. Back in 2007, Microvision used to derive over 60% of its revenues from the US military, which was interested in HUD technology. The idea was that this technology was going to help the military in eyewear displays and HUD. Unfortunately, for Microvision, the ties with the government ended around 2011 when the technology did not prove successful. In addition to the ties with the US government, Microvision had agreements with Pioneer Electronics to pursue a HUD display for cars. After a few years of development, the project was once again dismissed. Pioneer ceased to be a customer.
The second challenge to the bull case is that the smartphone projection idea has already failed. Consider the Samsung Galaxy Beam, a smartphone developed by Samsung with the projecting capabilities that Microvision advocates. Although the Galaxy Beam uses Texas Instruments' (NASDAQ:TXN) technology, the idea that the phone can be used to project a smartphone screen in any surface is Microvision's core vision.
The Samsung Galaxy Beam was not nearly as well received as other Samsung smartphones. The Beam's popularity quickly faded away with time. Since the launch of the Samsung Galaxy Beam 2, there were no new upgrades featuring projector capabilities. The phone is no longer stocked in Samsung's Amazon store. See the Google Trends popularity of the phone.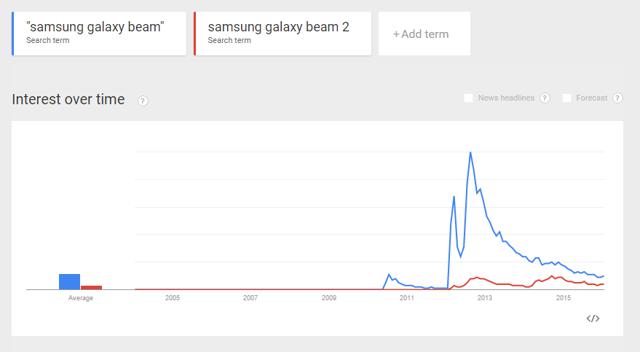 Given the evidence, it is unlikely that the idea of a phone with a projector will hit, otherwise it would have already been mainstream since its launch in 2012.
As far as a separate mini projector is concerned, there is evidence that the market for this product is not very popular. A mini projector is a hand size device that can project the screen of a mobile device onto any surface. Two of Microvision's powered products are of this type. Generally speaking, the peripherals market for smartphones and tablets is very limited. Other than headphones and speakers, there isn't much excitement about other peripherals.
There is one piece of evidence that leads me to think that the projector market is not very large. General Electric (NYSE:GE) released a version of its pico projector for the iPhone 4. Neither the projector nor the app that makes it work were upgraded to fit the iPhone 5 or newer versions. I suspect that there was not enough public interest for GE to continue making it. GE discontinued their projector idea, although customers can still find it on Amazon at fire sale prices.
In addition to the small market, Microvision faces stiff competition from established companies such as Texas Instruments, Aaxa Technologies, Syndiant Inc. and Acer Inc., among others. The amount of competition is not the only threat. The additional threat is the pricing of Microvision's powered products. Currently, the prices of Microvision's powered products are not competitive in the market. Microvision's powered products retail for $350, whereas some of the competitor's product retail for as little as $115.
There is something to be said about brand image and the ability to charge a premium for products. However, pico projectors (aka hand-size projectors) are products with little or no differentiation. Both professional projectors and large screens are perfect substitutes for pico projectors. For a product with little or no differentiation, price matters. In the current market, Microvision is losing the price war.
Reviews of products render one of the applications of pico projectors useless
After going through some reviews on Amazon, there have been both good and bad comments about Microvision's powered projectors. I'm not necessarily focused on the 1-star comments, as they are probably grumpy customers that had a very bad experience. I'm focused on high ratings with useful feedback. Many of the high raters mention that the pico projectors are only useful in the dark. That renders the "project anything anywhere" functionality useless. That functionality lies at the heart of Microvision's marketing, which is the idea to project any image anywhere.



If the product is not bright under the lights, it means that it can't be used anywhere. It can only be used in the right setting: Dark rooms and dim lights.
According to the marketing of both Microvision and Celluon, this is supposed to be a device that can be used in the office, but good reviewers disagree. In addition to consumer reviews on Amazon, a professional reviewer validates the point that the product cannot replace professional projectors.
The market for pico projectors was expected to increase, but Microvision's revenue has not seen the same trend
According to research from HK ASTRI (Hong Kong Applied Science and Technology Research Institute), the pico projector market should be exploding right now. In 2009, HK ASTRI estimated that there would be approximately 75 million units sold by 2015. However, Microvision's trend in revenues went the opposite way in the same time period.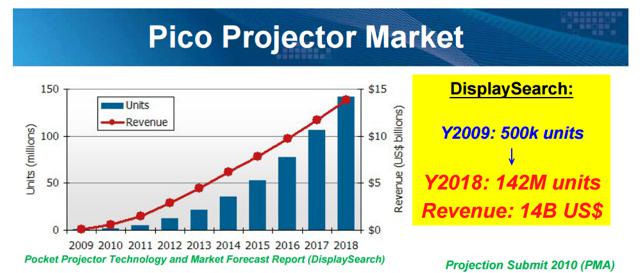 Source: Hong Kong ASTRI
Here's what happened with Microvision's revenues from 2010 to 2015.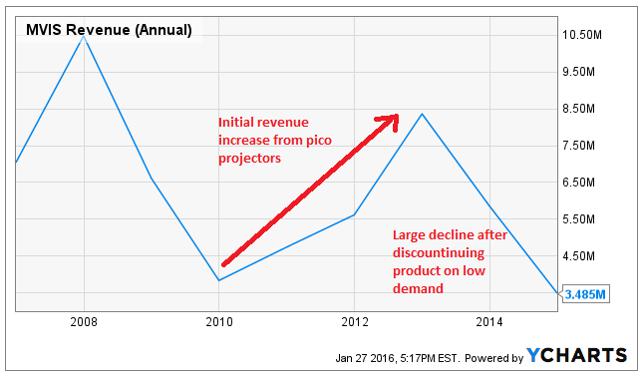 The stock exploded in value in 2009 and early 2010. After 2012, the stock retreated to very low valuations. Since 2012, the company has been raising equity capital and diluting shareholders on the promise that pico projectors will sell big. Notice that Microvision's revenue increases in 2012 were only up to $8.5 MM, in a market that was expected to sell ~$3 BN.
However, the recent developments with Sony, Celluon and Sharp led to a new spike in revenues. As of Q3 2015, revenues were $7.3 MM. Microvision has a backlog of approximately $13.5 MM, which should take revenue higher in 2016.
However, I believe that this growth is not sustainable because the market is not as big as expected. In fact, according to new research, the market size was overestimated in 2009. A consulting firm named Markets and Markets now estimates the screen-less display market to be approximately $6 BN by 2020, but a large portion of that is going to be virtual reality and holographic projectors. More than half of the market is expected to be holographic projections alone.
According to Grand View Research, the screen-less display market will be smaller than $6 BN. They estimate that the market will be approximately $3 BN by 2020, from $800 MM in 2013. Once again, the portion that relates to visual image is expected to be dominated by holographic technology and virtual reality. Pico projectors are not mentioned.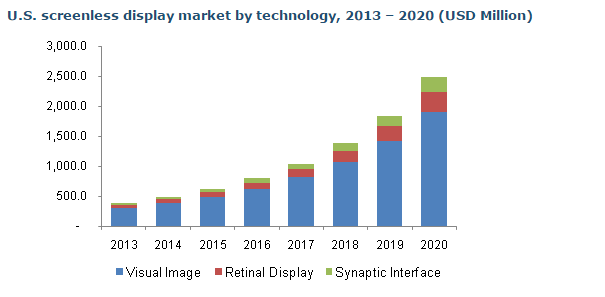 Source: Grand View Research
A little about holographic and how it threatens pico projectors
Holographic projections are mind blowing and similar to 3D printing. Holographic projects an image in 3D. A little UK company called Musion is doing some cool things with it. An Israeli company called Real View is using holography for medical imaging. Holography is a real threat to the viability of pico projectors. According to Grand View analysts, holography technology is mature. If holographic technology becomes mainstream, then there might be no need for pico projectors.
An analogy that comes to mind is the CD-ROM and the USB drive. Because USB drives are far more efficient and better than CDs, there is no need for CDs to transfer information from one computer to another. Also, there is even less need for USB drives because of cloud computing. It is much simpler to use Dropbox or something similar instead of an USB drive.
Microvision has been facing problems with suppliers
Microvision is currently defending a lawsuit against Asia Optical Co., which was a former supplier. Microvision does not manufacture their products, as they contract manufacturers to do so. The lawsuit is due to the failure to take delivery of the products from the supplier. Microvision entered in an agreement with Asia Optical in 2008. The complaint was filed by Asia Optical in March 2014. (See note 11 of most recent annual report.)
The lawsuit is not financially big, at worst it is going to cost ~$4MM if Microvision loses. However, the lawsuit speaks about Microvision's relationship with suppliers. Asia Optical Co. was the supplier of Microvision's first pico projector product (the Show WX), which was discontinued due to unexpectedly low demand.
In addition to the lawsuit, management explained in the most recent earnings call that the company went through unexpected supplier issues. Management was not willing to disclose details, but they assured shareholders that the issues were fixed. Nonetheless, the constant problems with suppliers is a concern for a company that relies on them for product manufacturing.
A little something about Microvision's revenue backlog
One thing that surprises me about the $13.5MM in revenue backlog is that management refuses to provide unit figures. In fact, management refused to provide unit figures in the latest earnings call after an analyst asked. For a company whose only product is the pico projector chip, is it not strange that they do not provide unit count? As far as one can guess, the backlog order could consist of 10 million units, or 1 million. Who knows?
However, it is known that most of the backlog pertains to Sony orders. It also is known that there are approximately 350,000 unit orders from Sharp. Since most of the backlog is tied to Sony, I suspect that the unit count of Sony order is closer to 10 million rather than 1 million.
More importantly, the refusal of providing shareholders with unit count gives very little visibility to the company's long-term prospects. I find that very strange because the pico projector is the one and only product that Microvision offers.
The bear case is supported by the overvaluation of the stock
Despite the very low market capitalization of ~$130 MM, the stock is overvalued. The stock is trading at nosebleed valuations of 40x price/book and 16x price/sales. Other metrics are irrelevant as the company is highly unprofitable. Even if sales triple from the levels seen as of Q3 2015, which is not certain given their historical performance, the company would still trade at roughly 6x price/sales. 6x sales is pretty expensive for a tech company that does not generate profits, bleeds cash and has an unproven product.
Recall that GoPro (NASDAQ:GPRO) traded at 6x sales before it collapsed. Also, Tesla (NASDAQ:TSLA) currently trades at that range. Both GoPro and Tesla are completely different companies in the tech spectrum, and they have proven products. Nonetheless, both GoPro and Tesla might still be considered overvalued.
Microvision has slashed its staff by about two thirds since 2010. Reducing the headcount was essential since the company was losing revenues and was burning cash at a rate of ~$30 MM per year. Currently, Microvision employs around 66 people, needing approximately $15 MM in cash per year to run the company's payroll. The revenue backlog is $13.5 MM, so it does not cover the necessary expenses to make the company cash flow positive.
Given the history of Microvision, the intensity of the competition in the pico projector, and the acceptability of the products, it is not certain that Microvision will generate revenues past the current backlog. For one thing, Microvision has a long history of taking money from shareholders and burning it without profits. As of this writing, roughly $450 MM has been raised from equity investors throughout 20 years. There have never been any profits or dividends. On the other hand, Microvision has gone through cycles of revenue booms and busts for a long time. Both Microvision's contract with the US Government and the ties with Pioneer are previous examples. Given the fact that a pico projector product already failed to take off, it is unlikely that the current revenue growth rate is sustainable.
Microvision can be a good company, but it appears to be mismanaged. It is not likely that Microvision is going to sustain revenues over $30 MM with the current product line, which is about what they need to be a break-even business.
Microvision is not worth the current $130 MM in market capitalization. At best, if Microvision generates ~$30 MM in sustainable revenues (which is more than double their current backlog), then the company should be worth around $60-90MM trading at a generous price/sales of 2x. This implies a target price of ~$1.70 per share, a downside of ~35%.
The risks of shorting Microvision
The largest risk is that the market might have more hype for the stock. The stock rallied in March of 2015 when the upfront payment from Sony was disclosed to the market. As soon as the stock caught some momentum, the short interest doubled from 4 million shares to 8 million shares. As usual, the stock can catch a momentum rally due to y/y increases in revenues, and y/y revenues increases are pretty much certain. However, it is not a question of if but rather when the stock will return to realistic valuations. Nonetheless, the market can remain irrational for a long time, which appears to be the biggest risk in a short position of Microvision.
Investor Takeaways
The overwhelming conclusion is that a long-term short position in Microvision is likely to pay off. The short position is based on:
Overestimated market size
Expensive products as compared to competitors
Undifferentiated products
Long history of shareholder dilution and lack of profits
Going concern warnings from the independent auditor
Overvaluation of the underlying business of the stock
Unsustainable growth rates
Unproven success in the smartphone market
Disclosure: I/we have no positions in any stocks mentioned, and no plans to initiate any positions within the next 72 hours.
I wrote this article myself, and it expresses my own opinions. I am not receiving compensation for it (other than from Seeking Alpha). I have no business relationship with any company whose stock is mentioned in this article.