Just in case you've been out of the markets for the beginning of the year, the world is in a bit of a mess. Equity markets around the world are down historic amounts, oil has lead commodities down to incredibly low levels, deflation is on the lips of many central bankers and economists around the world, already skimpy returns on US bonds are dropping like a rock, negative interest bonds have become a $5.5 trillion market, and the dollar is on shaky footing with speculation on a Fed rate hike. It's a scary world and there a lot of headlines suggesting cash is the best right now. I disagree, the way I see it, all the signals suggest one thing: buy gold.
The Fed and US Interest Rates
There is a lot of speculation around the Fed, what it has done, and what it will do. What's done is done. They raised rates in December based on fundamental factors that suggested the American economy was growing, strong, and robust enough to withstand the onslaught of negative economic data from around the world. There's still a case to be made that they're right and that they will stay on pace to raise interest rates every quarter this year.
It's also been argued that the Fed will only raise rate a few times this year, or that they should reverse course and go negative like Japan, Switzerland, and Sweden. I am of the opinion that the latter option is off the table, as it were. I think at this point a majority of investors agree that the world economy is in a bit of turmoil and on aggregate is not poised for a strong 2016.
Despite this, the U.S. remains to be a bastion of strength in such an environment; albeit 'bastion' might be a little brash, as the situation is tentative at best. The point is, a majority of decision makers and influential people at the Fed feel that the US economy is strong enough to pull through and will probably continue to normalize interest rates.
The pace and vernacular the Fed uses to normalize rates will undoubtedly cause volatility in the markets, and if this past month is any indication, further Fed hikes will drive equities downward.
Bonds: I sense a lot of negativity here
The bond market in particular is uniquely sensitive to interest rate decisions, as we all know. This week has been exceptionally active for bonds, as fear in the market has driven investors out of equities and into bonds, causing a quasi-collapse of interest rates with the 10-year yield falling to 1.79%, its lowest level in a year. Lower bond yields also led to a weaker dollar during yesterday's trading. I expect these trends to continue: investors fleeing equities pile into bonds, driving yields and the dollar down.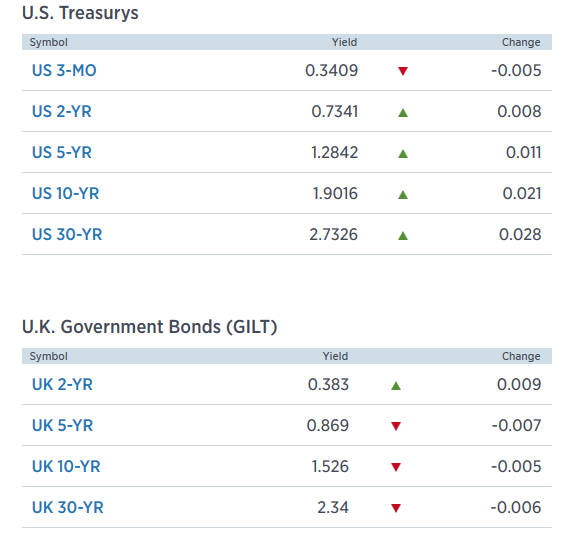 On a global perspective, bond yields aren't especially promising elsewhere. Japanese government bond yields are negative on the 3-month, 2-year, and 3-year notes. UK 5-, 10-, and 30- year yields are also experiencing an increase in demand, further reducing yields. With either extremely low or negative yields in government bonds around the world, and volatility driving investors out of equity markets, there are few places to earn anything resembling a return so far this year; meanwhile the risk of recession looms ever larger.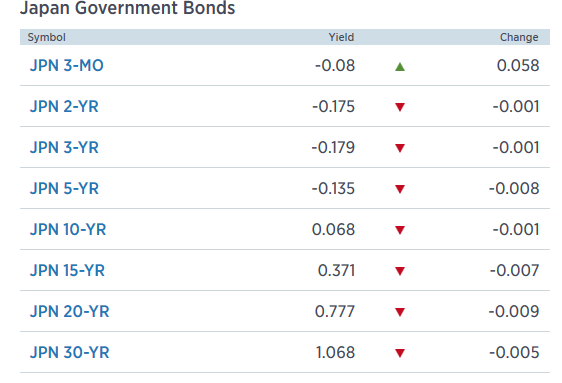 Earnings Season… or at least that's what they say
One of the many reasons investors are fleeing equities is that earnings season has been a collection of disappointing announcements. From weak demand, to a strong dollar, corporate earnings are down all over the place. For multinationals like Microsoft and Apple that receive more than half of their revenue in non-USD currencies, 2015 has been a tough year, given the strength of the US dollar. The dollar has hurt corporate profits as companies have been unable to adequately hedge against a strong dollar, and abnormal currency fluctuations over the past year; further reducing their profits after repatriation.
The chart, courtesy of MarketWatch, displays earnings by sector of the S&P 500 over the past three quarters. While most of us would have expected low oil and commodity prices to cause energy and materials firms to miss their expected earnings, consumer staples, utilities, industrials, and IT firms also missed earnings targets over the past several quarters. The question is: how much of this is already priced in to stocks?
And this is a serious question, for which the answer could very well drive the stock market into one of its darkest years.
Be Safe, Buy Gold
With all this negativity in the markets, it is hard to see how and why the Fed is so positive. Perhaps they're drinking a different Kool-Aid. But for those of us stuck in reality, one thing is clear: fear is the only market force now. And while things were good last year, one precious yellow metal fell close to $1,000 an ounce. During the first part of this year, it has quietly regained some of last years' losses, trading around $1,140 today; and with all the fear and negativity in the markets, gold just might be the best place to put your money until things calm down.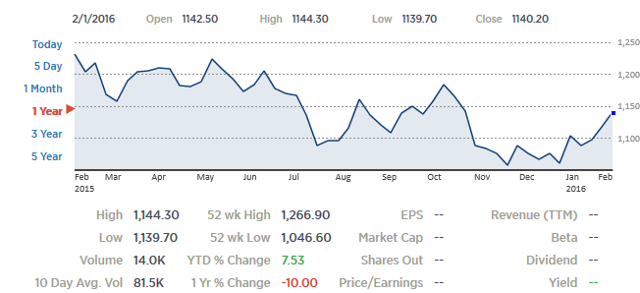 Click to enlarge
(Source: CNBC)
As we've covered, the outlook for equities isn't great as missed earnings, the Fed, and event-driven fear continue to push global markets ever lower. Safe havens such as US treasuries and other foreign bonds are in such high demand their yields have collapsed, with Japan's yields being negative in part to the recent BoJ decision. Investors have few placed to put money without assuming significant amounts of risk, in times like these gold is the best option.
Disclosure: I/we have no positions in any stocks mentioned, but may initiate a long position in GLD over the next 72 hours.
I wrote this article myself, and it expresses my own opinions. I am not receiving compensation for it (other than from Seeking Alpha). I have no business relationship with any company whose stock is mentioned in this article.