Today's article is a follow up on a recent one I published on Seeking Alpha on December 22, 2015, where I made a strong case for master limited partnerships (MLPs), and I predicted a bottom in prices, advising readers and subscribers to start slowly building positions. Refer to my report: Oil And Gas Master Limited Partnerships (MLPs): Finally, Time To Go Long!
Since then, more evidence of strong bullish signs emerged for investing in "oil and gas master limited partnerships ." The prices of MLPs did not only decouple from WTI crude price, but also have clearly trended higher, ignoring the price declines in the oil commodity.
Strong Historical Price Correlation Between WTI and MLPs
The historical price correlation between WTI crude and MLPs is undoubtedly a strong one, as they have moved together following similar trends in 2014 and 2015. If we compare prices of oil and gas master limited partnerships tracked by the ALPS Alerian MLP ETF (NYSEARCA:AMLP) with crude oil prices tracked by the iPath S&P Crude Oil Total Return Index ETN (NYSEARCA:OIL) from July 2014 until December 2015, we can see that the price correlation was roughly a 1% drop in AMLP for each 2% drop in crude prices. The following chart depicts the price movement from July 1st, 2014, until December 31, 2015, for the two securities: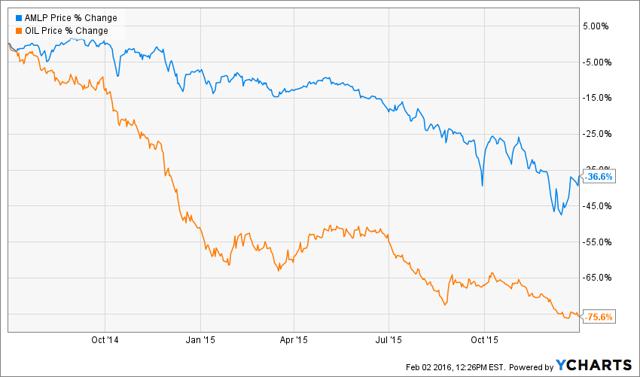 The Alerian MLP Infrastructure Index tracks some of the largest MLPs and currently yields 9.9%. Some of its largest holdings include Enterprise Products Partners LP (NYSE:EPD), Magellan Midstream Partners (NYSE:MMP), MPLX LP (NYSE:MPLX), Plains All American Pipeline LP (NYSE:PAA), Buckeye Partners (NYSE:BPL), Energy Transfer Partners (NYSE:ETP), ONEOK Partners (NYSE:OKS), EQT Midstream Partners (NYSE:EQM), Sunoco Logistics Partners (NYSE:SXL), and Enbridge Energy Partners (NYSE:EEP).
Clear decoupling of MLPs from the price of oil since January 15, 2016
Prices of MLPs started to show clear signs of decoupling from crude prices since January 15, 2016. During this period, crude oil was down by 14.5% while the AMLP index was down only 2.8%. This translates into only 1% drop in AMLP versus a 5% drop in crude prices, which is noticeably much lower than the long historical trends of 1% drop in AMLP for each 2% drop in crude prices.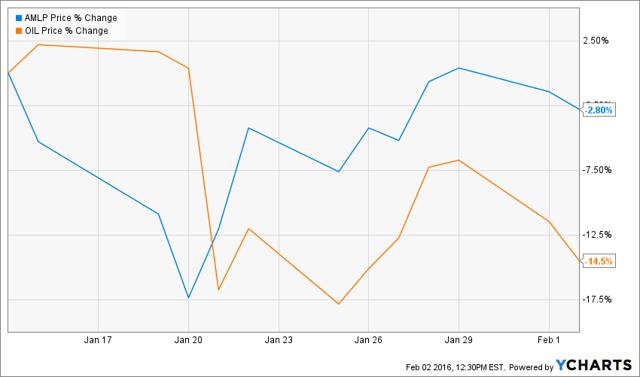 Prices going in opposite directions since January 21, 2016
Staring January 21, 2016, prices of master limited partnerships started showing very bullish signs, gaining over 16.6%, largely ignoring continued declines in the crude prices by 14% for the same period. This translated into a gain of 1.1% for AMLP for each percentage loss of 1% for crude oil.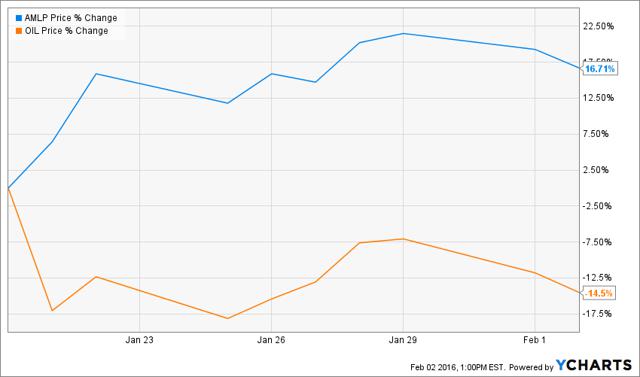 Performance of master limited partnerships vs. the S&P 500 index
Since February 21, 2016, the AMLP index has greatly outperformed the S&P index tracked by the SPDR S&P 500 Trust ETF (NYSEARCA:SPY). In fact, the AMLP index gained 16.5% while SPY only gained 2.7% for the period. So investors would have been much better off by going long oil and gas master limited partnerships than going long the S&P 500 index. This is another bullish sign.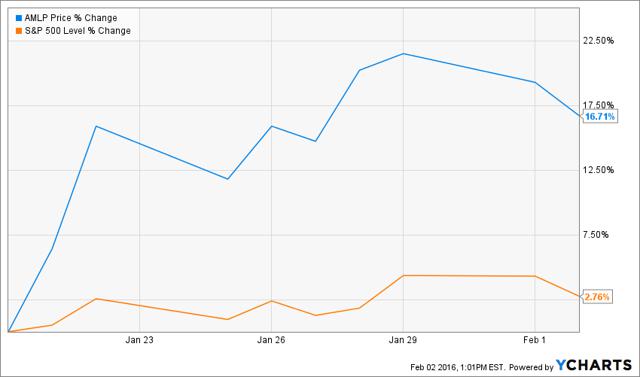 The main reason for the current strength in MLPs is that the outlook for 2016 is much brighter, with WTI crude price widely expected to reach $40-50 a barrel by year-end. Check my recent article Why The Birth Of A 'New Oil Bull Market' Is Imminent? Investors are looking beyond short-term declines in crude and focusing on the larger, brighter picture of a strong oil price recovery. The are however other reasons for the renewed price strength in MLPs:
Many MLPs have taken unjustified beatings since the start of the oil price decline in 2014 as many investors viewed the energy space as a sector they did not want to be invested in. MLPs got thrown in the bucket with the rest of the energy world. While midstream MLPs are in the energy business, they are much less exposed to the commodity price than upstream producers as their revenues are also driven by volumes transported and stored. Furthermore, upstream businesses are highly capital intensive, because, once the company extracts a barrel of oil from the ground, it has depleted its asset base, so to be able to maintain cash flow, they need to replace that barrel and reinvest money. With midstream MLPs, especially pipeline operators, while it is expensive for them to build a pipeline, once the pipeline is built, the maintenance required each year is low, typically a single-digit percentage of their overall revenues, leading them to generate excess cash flow that they can distribute to unitholders. Despite the above, the AMLP index since mid-2014 declined by 47%, more than the Energy Select Sector SPDR ETF (NYSEARCA:XLE) which lost 44% of its value for the same period. The declines in MLP prices were excessive and largely unjustified.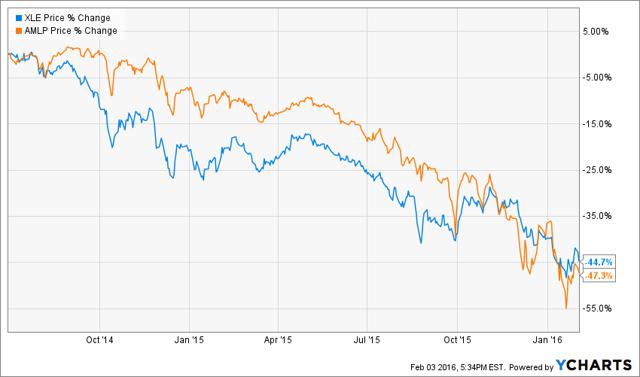 Click to enlarge
MLPs' long-term fundamentals remain strong, with some of the largest operators still able to grow their distributable cash despite low oil prices. Enterprise Products for example just reported its Q4 2015 results, showing distributable cash flow 2.4% higher than it reported in Q4 2014.
The recent pullback and overselling in the MLP space has created a healthy entry point, resulting in bargain hunting by income investors and fund managers. Today, they have an appealing risk-return profile with much higher yields than other investment strategies. For savvy income investors, MLP dividends are very attractive with AMLP currently yielding 9.9% when compared to the 10-year treasuries yielding only 1.8%.
Increased demand for oil will greatly benefit MLPs. The year 2015 saw one of the highest volume increases in oil demand this century, mainly fueled by lower oil prices according to the Energy Information and Administration (EIA), the top energy watchdog. Demand in 2016 is expected to continue higher as the EIA projects 2016 crude consumption to increase by 1.4 mb/d, up by 1.5%. The increase in oil demand results in higher volumes transported by MLPs, meaning more profits.
MLP companies are becoming more creative in raising needed cash to expand their operations and to reduce debt such as selling business segments that are not essential to their operations. These moves are viewed very positively by investors. For example, NGL Energy Partners' (NYSE:NGL) decision to sell one of its assets, TransMontaigne GP, and use the proceeds to reduce its debt sent its stock roaring 45% in a single day.
Will the uptrend in MLP prices continue, and what is the upside potential?
The current uptrend of MLP prices is already discounting a certain recovery in the price of crude. As we get closer to reach a balance in the crude supply/demand equation later in 2016, oil prices are expected to significantly go higher with a consensus target price of $40-50 a barrel. If we follow historical price trends from July 2014 to December 2015, a crude price recovery to $40 (33% higher) will translate into a further 17% gains in the MLP sector tracked by its AMLP ETF. At $50 a barrel, AMLP has an upside of 33% from here, in addition to its 9.9% dividend.
Bottom Line
Investing in master limited partnerships looks more attractive than ever. It is not too late for savvy dividend investors to long the sector (yield close to 10%) or long individual MLP companies; however, I advise to buy on pullbacks due to the recent price increases.
"Retire with High Dividends" Portfolio
AMLP is currently rated "BUY" at Retire with High Dividends. Subscribers to the service have greatly benefited from my recent recommendation to add AMLP to their portfolio, in addition to many other new securities with juicy yields. For those who did not subscribe yet, the service includes my exclusive research aimed to uncover undervalued high-yield stocks and ETFs, and to lock their dividends for the "long haul". Retire with High Dividends portfolio currently yields 9.6%.
To learn more about my premium subscription service, please click on the following link: Retire with High Dividends
I look forward to your comments, discussion and questions about master limited partnerships, and don't forget to follow me for future new high-dividend ideas!
Related tickers: WPZ, ETE, TLL, GEL, SEP, WES, SHLX, NS, TCP, DCM, ENLK, AMLP, AMJ, KYN, MLPL, TYG, SRV, KYE, CEM, MLPI,NML, FEN, NTG,MLPA, KMF, EMLP, FMO, MLPN, SRF, FEI, JMF, CBA,MLPX, GMZ, EMO, TTP, CTR, AMU, CEN, GER, AMZA, SMM, MIE, DSE, ENFR, FPL, ATMP, JMLP, MLPW, USO, DWT, UWTI, UNL, UCO, DBO, SCO, USL, DTO, SZO, OLO, OLEM, DIG, DNO, IEO, PXE, GUSH, DRIP, CRAK, SOP, UOP, UNG, UGAZ, DGAZ, BOIL, KOLD, GAZ, DCNG, KMI.
Disclosure: I am/we are long AMLP.
I wrote this article myself, and it expresses my own opinions. I am not receiving compensation for it (other than from Seeking Alpha). I have no business relationship with any company whose stock is mentioned in this article.