One of the catalysts Saudi Arabia has mentioned consistently in regard to support for the price of oil has been an increase in demand going forward.
Data in relationship to the U.S. and China, the two largest global consumers of oil, suggest the outlook by Saudi Arabia and others has been too optimistic, as both economic powerhouses are expected to have demand much more subdued than originally thought.
The only remaining visible catalyst would be a reduction in supply from U.S. shale producers, which while likely to come, won't come close to offsetting the increase in supply from OPEC countries, led primarily by Iran, which recently had sanctions removed, opening the door to a significant increase in exports.
Russia also continues to pump oil at top capacity, as it set a post-Soviet production record in January, adding to global oversupply and oil price challenges.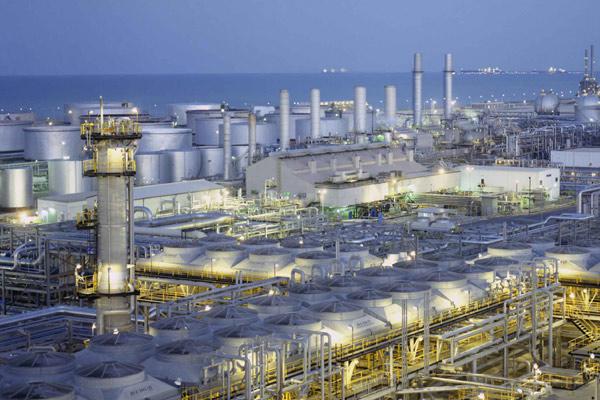 Source: tradearabia
U.S. oil demand
In 2015, U.S. oil consumption climbed by a little under 300,000 bpd, according to the International Energy Agency (IEA), cited by Reuters. The outlook for 2016 is for oil demand in the U.S. to climb by only 110,000 bpd.
The growth in fuel consumption in the U.S. made up between 16 percent to 17 percent of the increase in oil demand in 2015. America was second behind China in oil demand growth.
As for fuel consumption going forward, on the consumer side, gasoline consumption was strong throughout most of 2015, although it started to slow down in the latter couple of months and January 2016.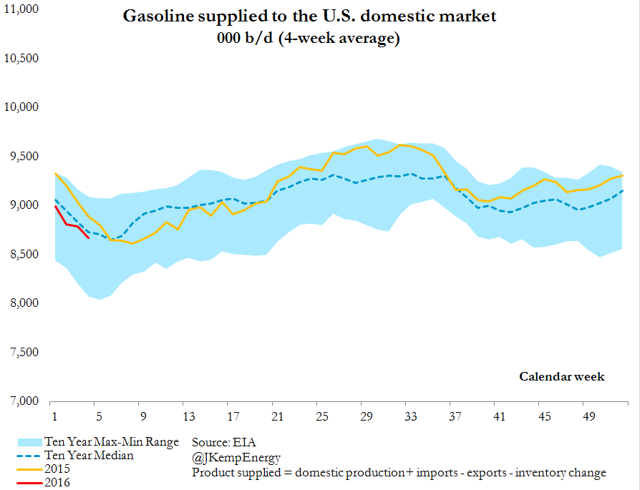 Click to enlarge
Source: EIA
The U.S. Bureau of Transportation Statistics said consumption in the transportation sector, which includes pipeline, air, road, rail and barge, has been moving lower since the latter part of 2014.
The EIA projects total consumption for all liquids in the U.S. will climb by 160,000 barrels per day in 2016, far below the pace of 270,000 barrels per day in 2015. Gasoline consumption estimates are to drop to an increase of 70,000 barrels per day, far below the 240,000 barrels per day increase in 2015.
These types of reports are notorious for being revised, but there seems to be no doubt the trend for consumer consumption and transportation consumption is declining in the U.S. That will have an impact on global oil demand in 2016.
Chinese oil demand
China easily led oil demand in 2015, adding 600,000 barrels per day. Outside the U.S., other major oil consuming countries or regions were India with an increase of 220,000 barrels per day, and Europe the same.
In 2016, the IEA sees China oil demand up by 350,000 barrels per day, far below the 600,000 barrels per day in 2015. This is the result of its slowing economic growth.
As with everything concerning China, its official estimates and estimates from those outside the country can be very different. China says its demand for 2016 will grow by 4.3 percent, bringing its consumption total to over 11 million barrels per day. Last year demand was up 4.8 percent.
Platts sees growth more subdued than that, with its oil demand estimate for China in 2016 at about 2.4 percent, half of China's estimate.
What's most important for investors, because the oil demand reality for China may be much different than estimates, is to know whatever the eventual demand is, there is definitely a downward trend in demand, and that will have an impact on the market going forward.
Russian supply
A lot has been made by the press recently about an alleged desire by Russia and OPEC to come to an agreement on supporting the price of oil.
I don't see that happening, as Russia is continuing production at very high levels, with it ending January at a post-Soviet record.
A case could be made that Russia is doing this in order to bring OPEC and Saudi Arabia to the table, but I don't think that's what's happening. With energy accounting for about 50 percent of its revenue, Russia isn't going to step aside and share the market with its competitors. That's especially true in my view as Saudi Arabia in particular, is starting to be more aggressive in taking away market share from Russia in Europe.
The other thing, which is most important, is even if there was an agreement made, as the price of oil moved up in response to it, other competitors would boost supply and put a ceiling on the price of oil. All that would happen is OPEC and Russia would lose market share, and we'd be right back to where we are today.
Conclusion
Over the next 12 months or so, there are no visible catalysts I see that could justify the assertions from Saudi Arabia growing demand for oil will rebalance the market in the near future. In the years ahead, that will probably be how it plays out, but it's nowhere near being at that level today.
Another factor is the assumptions shale oil producers will be forced to significantly cut production isn't a certainty to me. It's probable, but the industry has shown it can respond competitively in the low-price oil environment we're now in, and it's now tapping into some of its best wells, which should offset some of the effects of the price of oil.
I believe there will be some production cuts from U.S. shale companies, but it remains to be seen how deep they'll be.
So OPEC will add supply this year, Russia continues to boost supply as well, U.S. shale producers will cut production some, and demand from the largest oil consuming countries is slowing down. This is the scenario we face in 2016, and that will keep the price of oil down through the year.
With nothing left to support oil in the near term, we'll continue to hear about the alleged deal between Russia and OPEC, which tends to move the price of oil up for a day or two, and after the market realizes it's another rumor, it quickly drops to the level it was at before the news reports.
After several of these reports, the market has responded predictably, but I think if this continues to happen, it'll for the most part, be ignored, as it should be.
The bottom line on rebalancing is it's a long way off, and oil investors should make decisions accordingly.
Disclosure: I/we have no positions in any stocks mentioned, and no plans to initiate any positions within the next 72 hours.
I wrote this article myself, and it expresses my own opinions. I am not receiving compensation for it (other than from Seeking Alpha). I have no business relationship with any company whose stock is mentioned in this article.