PDL BioPharma (NASDAQ:PDLI) has been on a path to a seemingly inevitable dividend cut for some time now. Last night, it finally happened as the company cut its quarterly dividend from $0.15 all the way down to $0.05. The thesis behind the dividend cut is that the company has been generating most of its revenue from the royalties generated from Queen et al. patent portfolio (88% to be exact for the first nine months of 2015). Followers of PDL know that the royalty stream from those patents is set to expire in Q1 2016 and the company has yet to find a good way to replace it.
This fact has been well documented so it seems an appropriate time to try to determine how to value the company and the stock going forward without the Queen patent income. The company issued an update on its total portfolio of assets at the end of Q3 2015 and it looks like this.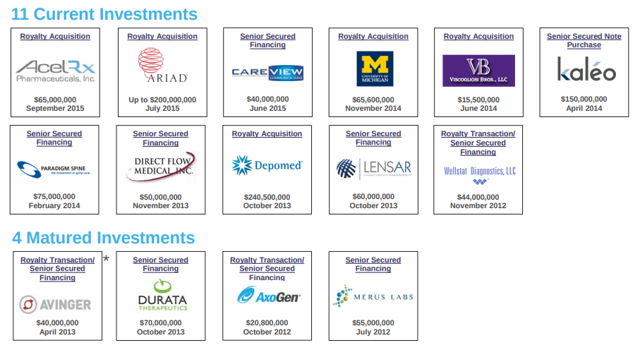 Click to enlarge
According to the company, it has a total of $919M deployed with over $1B committed to date. PDL had about $185M in deals expire in 2015 while committing around $300M in new capital. A year ago at this time, PDL had roughly $780M committed so the portfolio and, in theory, the revenue stream coming from the non-Queen portfolio should be expanding.
Calculating PDL's current valuation metrics
So let's do a step by step back of the envelope calculation.
Using PDL's four matured investments as a benchmark, the company earned nearly a 20% internal rate of return on a 1.7 year average holding period. That computes to a roughly 11-12% annualized rate of return.

PDL also said that it had $919M in deployed capital with over $1B committed. For the sake of using a round number and considering that PDL may add another small investment, let's use $1B as the amount invested. With $1B invested at an 11-12% annual return, that produces about $110M to $120M in revenue for the year assuming that the remainder of the portfolio produces a similar rate of return.

PDL in its most recent report stated it had around 160M shares outstanding. Using the low end of the expected revenue range, that would result in a revenue per share figure of about $0.69.

At its recent share price of $2.66, that translates into a price/sales ratio of a little under 4.
A price/sales ratio of 4 is far lower than where it's been trading in the recent past but is still far above its longer term price/sales ratio.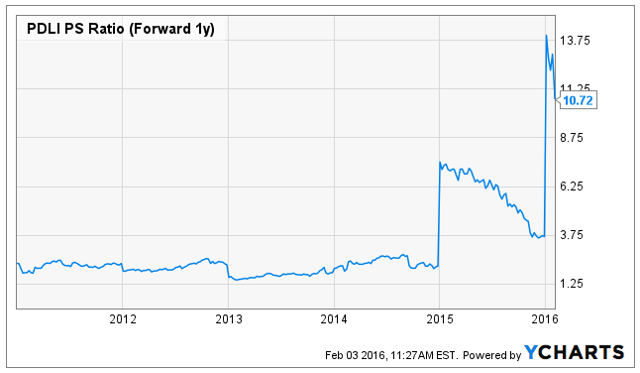 Click to enlarge
The inputs used in my calculation are almost certainly subject to some variation but a price/sales ratio of 4 is still almost double where it's been over the long term implying that the stock would need to drop an additional 50% to bring it back into the range of historical norms.
Issues with the quality of the underlying portfolio
Given PDL's current asset portfolio, my revenue estimate may still be too high. Consider some of the issues that PDL is having actually collecting income from its assets.
Wellstat Diagnostics - PDL has commenced legal proceedings against Wellstat for failure to pay what it owes and to recoup roughly $1M in compensation related costs.

Valeant Pharmaceuticals (NYSE:VRX) - Valeant failed to pay contractual royalties on Glumetza in the third quarter. Valeant reported $53M in Glumetza sales in the quarter but failed to deliver monthly reports or make any kind of payment until late October.

Lensar - Lensar was looking like it may have been at default risk as well but was acquired by Alphaeon who has assumed the company's outstanding obligations. This asset should be in a good position to pay out for the time being.

Paradigm Spine - PDL and Paradigm amended their credit agreement in October with PDL providing an additional $4M to Paradigm for "general corporate purposes" with an option for $3M more in 2016. Sounds like PDL is handing them cash to stay afloat. Not a good sign.
PDL has 11 current investments and nearly half of them have some sort of issue that could affect their ability to pay royalties on time. PDL income over the next couple of years could easily come in well under $110M if some of these investments begin defaulting. Reuters estimates for PDL's revenue in 2017 are for $74M. It's possible that this number may not end up being that far off.
Conclusion
Investors may be tempted to dip their toes in the water on PDL considering how far the stock has dropped since the end of 2014 but I'd advise against it. The company's ability to generate revenue continues to shrink and even in more optimistic scenarios the stock could still be overvalued by as much as 100%.
PDL's portfolio quality issues also contribute to the downside risk making PDL stock an even riskier bet. I continue to rate PDL BioPharma a sell with the risk of the stock dropping to close to $1.
Disclosure: I am/we are short PDLI.
I wrote this article myself, and it expresses my own opinions. I am not receiving compensation for it (other than from Seeking Alpha). I have no business relationship with any company whose stock is mentioned in this article.