Introduction
Royal Gold's (NASDAQ:RGLD) share price has been slammed in the past few months and quarters as the investment community started to worry about the sustainability of Royal Gold's cash flows. It does look like the company has started to prove Mr. Market wrong as the most recent quarterly update looks pretty good to me!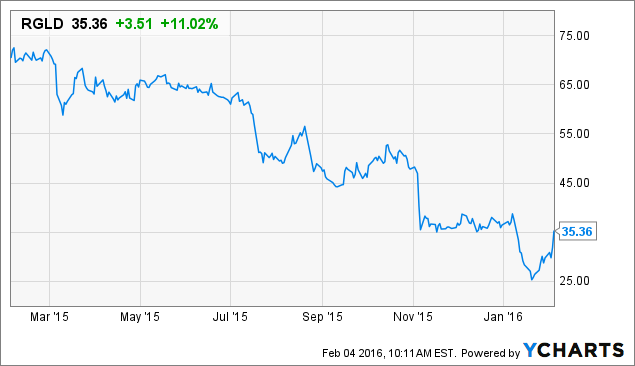 RGLD data by YCharts
The operating cash flow was boosted in Q2 FY 2016
Royal Gold's financial years are different from the calendar years, and the company's financial year ends in June 2016. This means Royal Gold is already able to report on its first semester, and I was specifically interested to find out how the company has performed in Q2 FY 2016, as some major changes would have a huge impact on its bottom line.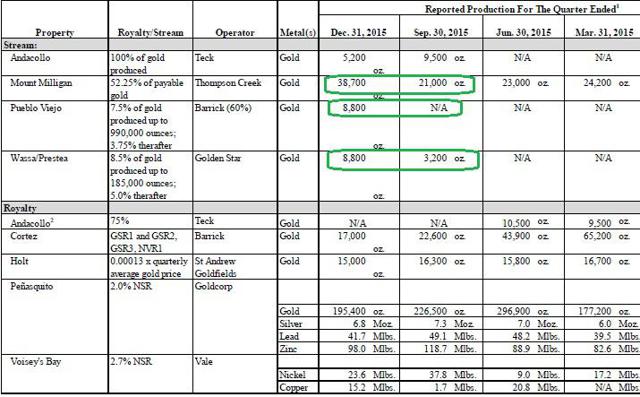 Click to enlarge
Source: press release
And indeed, Royal Gold announced a record gold-equivalent output of almost 89,000 ounces, which is a stunning 74% increase compared to the same quarter in the previous financial year. If you'd look at the company's breakdown of where exactly the gold has been coming from, you'll immediately notice the newly added 8,800 ounces of gold from the Pueblo Viejo gold mine in the Dominican Republic and the sharply higher gold production at Mt. Milligan (38,700 oz vs. 21,000 oz) are the real drivers behind the strong Q2 performance.
Indeed, Royal Gold's revenue sharply increased to $98M, resulting in an operating income of $27.2M. As the company increased the amount of debt on its balance sheet, its interest expenses obviously also increased, but this remained acceptable, resulting in a net income of almost $14M. That's good, that's great, but don't forget the company's income statement is impacted by a very high non-cash depreciation and depletion charge. As the acquired streams effectively are a sunk cost, looking at a net income statement isn't the best way to judge Royal Gold's performance, and I'd prefer to have a closer look at the cash flow statements to get a better idea of what's really going on.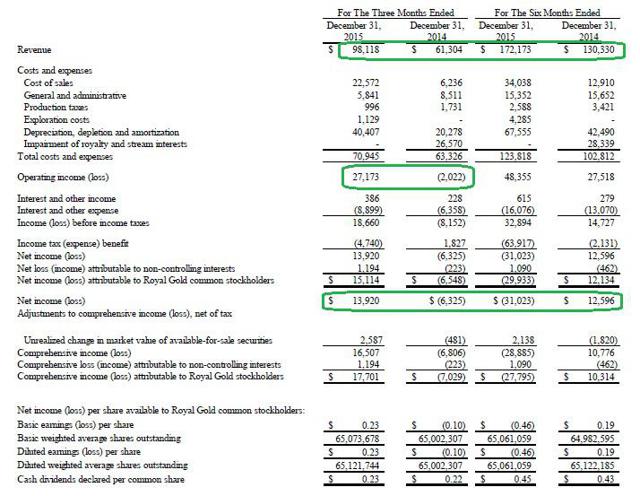 Click to enlarge
Source: financial statements
It wasn't just the gold-equivalent output and the revenue that reached new record levels, the operating cash flow also increased by approximately 70% to $52M. However, this does include changes in the company's working capital and as Royal Gold hasn't sold all of the gold it was due (the inventory levels on the balance sheet have increased), I think it's a good idea to isolate these WC changes from the cash flows and calculate the adjusted operating cash flow.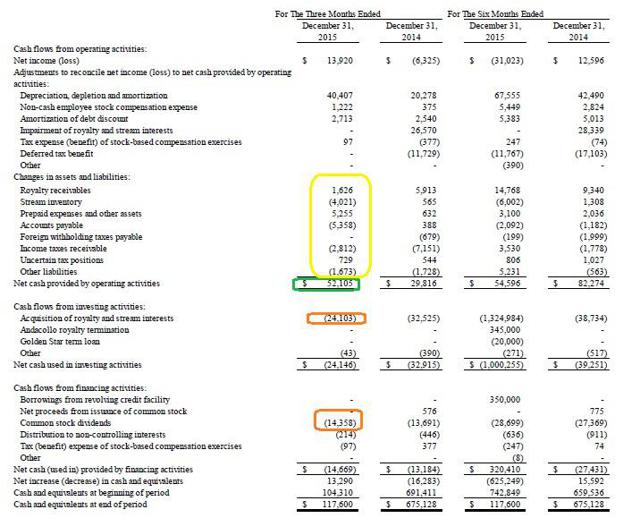 Click to enlarge
Source: financial statements
Once you do that, the calculation will reveal the adjusted operating cash flow in the second quarter of this year was pretty high at $58.4M, and that's definitely something I'm quite happy about, as this was most definitely sufficient to cover the $14M dividend payment as well as $24.1M investment of which the majority was spent on the amended gold stream at the Wassa and Prestea mines operated by Golden Star Resources (NYSEMKT:GSS).
Mount Milligan is the driving force behind the good results - but will this continue?
It's pretty clear the huge production increase at Mt. Milligan has had a huge impact on the company's financial performance, but the big elephant in the room is the question for how long Thompson Creek Metals (TC) will be able to continue to operate the mine. As you might know, the company's financial situation is pretty bad, and two high-yield bonds will have to be refinanced in the next few years.
This doesn't necessarily worry me as Mt. Milligan is Thompson's only cash cow, and even its lenders will very likely want to keep the mine open considering the mine will produce 60 million pounds of copper at a unit cash cost of $0.25-0.7/lbs. So even at a copper price of $2/lbs, Mt. Milligan should generate a positive cash flow of $90M, and an operating free cash flow of $38M. This will barely be sufficient to cover the interest expenses on the bonds, but it's pretty clear it's in everybody's best interests to keep the mine going, as it's the only way to generate at least some cash flow.

Click to enlarge
Source: Thompson Creek presentation
Thompson Creek has also provided a gold production guidance, and the company now expects Mt. Milligan to produce 240,000-270,000 ounces of gold, and if I'd use the mid-point of this range and a 52.25% of the production to be delivered to Royal Gold, RGLD's attributable gold production from Mt. Milligan in 2016 will be 133,000 ounces per year (or 34,000 ounces per quarter). That's indeed lower than the Q2 production rate of in excess of 38,000 ounces, but keep in mind the contribution from for instance Pueblo Viejo should increase, which should compensate for the lower production rate at Mt. Milligan.
Investment thesis
Royal Gold has proven the naysayers wrong after posting a very impressive result. The adjusted operating cash flow in the second quarter was almost $60M, increasing the working capital position to $142M, paving the way to more (smaller?) acquisitions of gold streams and/or royalties.
The company is in a better shape than the market seems to be realizing, but keeping Mt. Milligan online will be the most important driver to create more shareholder value.
Disclosure: I am/we are long RGLD.
I wrote this article myself, and it expresses my own opinions. I am not receiving compensation for it (other than from Seeking Alpha). I have no business relationship with any company whose stock is mentioned in this article.