In the last few months the phrase "Netflix and Chill" quickly became popular and blown up on the Internet with priceless memes, Vines and other hilarious reactions. The slang is a euphemism for hooking up and is very widely used on Tinder and other online dating platforms that are owned by Match Group (NASDAQ:MTCH). And while phrases like this are going mainstream and media is picking up the hype, investors could be thinking that Match is a cyclical company that follows the trend and doesn't offer anything new to the table. And that's not entirely correct.
It's true that Match Group has a number of popular dating platforms in its portfolio. However, it also has two big online education services - The Princeton Review and Tutor.com - that will play an important role in the company's future success and be the leaders of the tutoring market for the next few years.
Market Overview
In its latest earnings report, the company said that 2015 was a year when it made some additional technological enhancements for its educational ecosystem and that 2016 will be a year when its e-learning platforms will take off. With more than 4,000 teachers around the world, The Princeton Review website offers a test preparation and college admission services for people that want to increase their grades or scores in different standardized tests and have the opportunity to apply for the best schools of their specialty. Tutor.com on the other hand offers on-demand and schedule tutoring services to students in grades 4 through 12 and college. In 2014 the platform was selected by the United States Department of Defense to help the Advanced Distributed Learning Initiative (ADL) develop strategies to improve training programs at the DoD.
While building its dating ecosystem, Match Group made some important steps to replicate the same dating model for its educational platforms in a market that has been steadily rising over the years and proved to be recession proof. According to IBIS Capital, e-learning is one of the fastest-growing sectors in the world. It's expected to grow 23 percent from 2012 to 2017: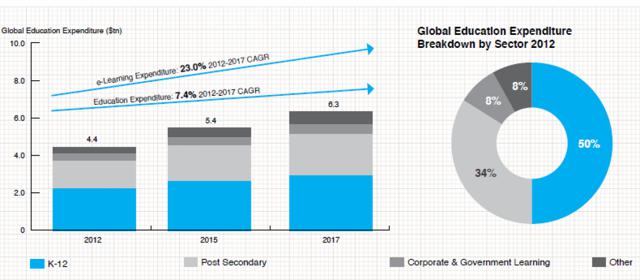 Click to enlarge
(Source: OTC:IBIS)
And the same can be said about the tutoring market that has seen dramatic growth in the last few years worldwide as more people want to secure a better life for themselves and their families by increasing their professional skills via education.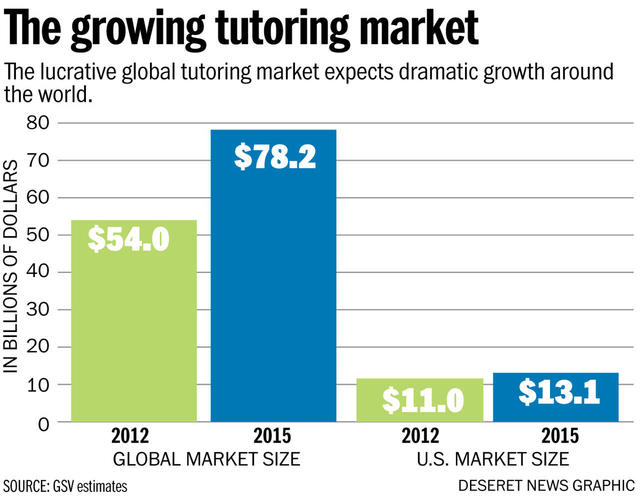 (SOURCE: GSV)
But the most important thing in all of this is that Match Group can make money from it. According to the same earnings report, revenues from the educational platforms were $26.1 million. And while analysts expected slightly better results, the company made a bet on improving the service that increased the costs for the period.
In the long term, I believe that its e-learning services will take off and increase its revenue and user base for the years to come. As the cost of education is only rising, people will be looking for the professional tutoring services at an affordable price, and Match Group platforms will be the main destination for such services. Thanks to the strong portfolio of apps and a sophisticated ecosystem, it can beat its competitors and create shareholder value without using the excess amount of resources to fight.
Disclosure: I/we have no positions in any stocks mentioned, and no plans to initiate any positions within the next 72 hours.
I wrote this article myself, and it expresses my own opinions. I am not receiving compensation for it (other than from Seeking Alpha). I have no business relationship with any company whose stock is mentioned in this article.