Infosys (NASDAQ:INFY) was among the first to take advantage of India's IT outsourcing growth story. The company was run by a great management and clocked high double digit growth rates with fat operating margins prior to 2011. Infosys was a pioneer in establishing India as a hub of IT services outsourcing and was followed by a number of other home grown companies such as Wipro (NYSE:WIT), TCS, Cognizant (NASDAQ:CTSH) and others. The Indian IT industry is now worth more than $150 billion, most of which comes from exports to USA and Europe. However in the last few years, Infosys's growth rate has faltered as other companies such as TCS and CTSH have outpaced its performance. The retirement of top management such as Narayan Murthy in 2011 was a key reason behind the lackadaisical performance of Infosys. It was only after Narayan Murthy returned to the helm in 2013 that a radical restructuring took place in Infosys. A number of top executives were asked to leave, as they were apparently not adding much value to the organization.
Though a deviation from the usual organization policy, a CEO was brought from outside to bring in new thinking. Vishal Sikka, who was a top executive in SAP, was made the CEO of Infosys in 2014. In the last couple of years, Infosys has shown a tremendous turnaround and has also beaten analyst expectation on growth in the last few quarters. Infosys also showed better competitiveness, by beating top competitors such as Wipro and TCS in the growth rates. Cognizant is another one of the best technology stocks in the USA listed markets. Given the new management and higher growth rates, I think Infosys should also be a part of an IT investors' portfolio.
Why Infosys is a buy again
1) Great Management under CEO Vishal Sikka - Vishal Sikka has been a great CEO for Infosys, taking the company to higher-than-industry growth rates. The company under his leadership has started to show increased revenues and net profits, driven by its focus on automation and operational efficiency. The company has also started focusing on artificial intelligence and other digital technology under Sikka's leadership. The CEO has also curbed high attrition rates in the company by taking various steps to make the company a more desirable place to work in.
"The overall climate looks good, we are comfortable with what our Q4 looks like and it will set us up with a nice ability to execute the year ahead of us. We have earlier said we are confident of industry-leading growth in next financial year... We are on track for that," Infosys CEO and Managing Director Vishal Sikka said.
2) Better Employee Morale - The attrition rates have started to improve. It decreased from 21.3% in December 2014 to 13.4% in the most recent quarter. Sikka undertook various measures to improve the attrition, such as giving 5000 promotions within the first week at his job and increasing employee engagement. The company also executed ten out of more than 2500 ideas generated by employees, under a crowd sourcing program. Many internal processes related to employees have also been made simple. This has made the employees more confident and innovative. The employee utilization levels have improved from 74% in March 2013, to more than 80% in December 2015.
3) Cutting through Red tape and focusing on digital services - At Infosys, employees from anywhere across the globe can chat with their fellow employees whenever they want, without the need of blocking calendars or scheduling meetings. The company is working on a new project called "Zero Distance", which will make communication more easy and convenient, breaking the five layered organizational structure into a two-tiered one. Infosys digital services aim at improving the way customers interact with enterprises. The company was named a brand for digital services in USA, in a report.
"Infosys offers digital technologies to streamline and simplify processes, improve productivity and quality, and deliver a superior experience to business process stakeholders," said Chirajeet Sengupta, VP Everest Group.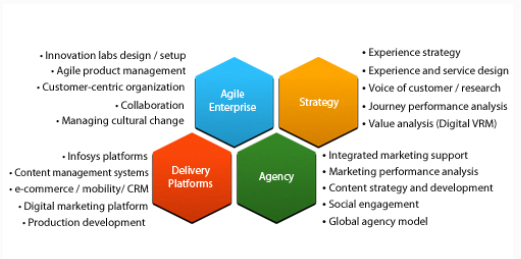 4) Faster growth rate than competitors - INFY continued on its growth track, at a time when peers like TCS have been a bit sluggish. Infosys was successful in retaining 3% sequential business volume growth in the December 2015 quarter, compared to TCS which remained flat. INFY's dollar denominated revenue posted higher growth on a quarterly basis, when compared to TCS. The company showed a revenue increase of 15.2% on a y/y basis and increased FY16 guidance to 16.2%-16.6%. This is faster than guidance given by major Indian outsourcers such as Wipro, TCS and HCL Technologies. Infosys is targeting a $20 billion annual revenue target by 2020, which means a growth of 150% from the current revenue run rate. Given the recent results and strong management focus, this target does not look outlandish.
Data from Infosys PR
Risks
a) Slowdown of the global economy - The weakness in the Chinese economy has already slowed down the entire commodity market. There is a big secondary effect on other economies too, which depend heavily on China for their exports. Infosys has not been adversely affected till now as most of its export earnings come from USA and UK, which have been relatively resilient. However if the global economy slows down further, then growth from USA and UK will also fall.
b) Threat from cloud computing - All IT service companies are facing threat from cloud computing, in which software is delivered through the Internet. This frees up companys' resources, as they do not have to maintain expensive hardware and software in-house. It is thus a big threat to IT servicing companies, which depend on software and hardware maintenance revenues.
Valuation is not expensive given its better growth prospects
The stock is currently trading at more than $17 and has returned ~6% YTD (Feb 2016), which has been better than peers. The company has a market capitalization of ~$40 billion, with a P/E of ~21x. In contrast, Cognizant has a P/E of more than 23x.

Click to enlarge
Source: Google Finance
Conclusion
Infosys was a bad stock to own in the last few years, as other competitors such as TCS, HCL Technologies and Cognizant outperformed it both operationally and financially. Their stock returns had also been much better than Infosys. The main factor behind the lagging performance in the past was its top management, which was not dynamic enough. However, the new CEO has infused new dynamism into the company and results are already showing up. Infosys has again become a good IT stock to keep in one's portfolio, in my view. The valuations are not challenging, given the high growth trajectory being projected.
Disclosure: I/we have no positions in any stocks mentioned, and no plans to initiate any positions within the next 72 hours.
I wrote this article myself, and it expresses my own opinions. I am not receiving compensation for it (other than from Seeking Alpha). I have no business relationship with any company whose stock is mentioned in this article.