We think Sirius XM (NASDAQ:SIRI) has now eclipsed the notion of being a speculative stock and should join the ranks of the stable stocks in media and technology, including such blue chip companies such as Disney (NYSE:DIS), Viacom (NYSE:VIA), Apple (NASDAQ:AAPL) and IBM (NYSE:IBM). Now before the Bears get all riled, we are saying "join the ranks" not "equal to."
SIRI has proven itself to be a stable revenue grower and strong cash flow generator. Further upside to the shares, which has run 20% over the past six months, should be driven by consistent sub growth supported by stable OEM conversion rates and self pay churn of 2%, share repurchases, upside from the used car market, and margin improvement. Those dynamics taken together should drive the shares towards $3 by the end of 2012, barring a macro contraction due to Greece and Europe, rising oil prices, and events out of Middle East.
Our Rationale: Management and Street Are Underestimating Financials
Low-Ball Sub Guidance. We think management is sandbagging the 2012 subscriber net additions guidance of 1.3 million. We think SIRI does 1. 6 million sub net additions. On the 4Q10 call, management provided guidance of 1.4 million subs net adds for 2011. They did 1.7 million sub net adds in 2011. On the 4Q09 call, management provided guidance of 500K subs net adds for 2010. They did 1.4 million sub net adds in 2010. The sub net additions will come from a strong SAAR number in 2012, which should drive strong gross adds in addition to strong gross adds from reinstall or use cars. Churn should hold tightly within 2% for the year. We are not seeing a Netflix situation here, and our bet is that subscribers will absorb the price increases.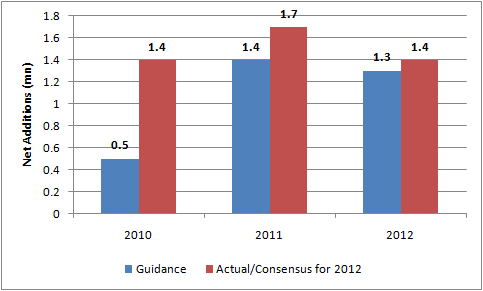 Source: Company reports.
Low-Ball Revenues, EBITDA, and Free Cash Flow Estimates. Management guided for 2012 revenues of $3.3 billion, and consensus is largely in-line with $3.4 billion in revenues. We think actual revenues will be closer to $3.6 billion. Management guided for Adjusted EBITDA of $875 million, and consensus is at $930 million.
Given our more aggressive net additions, driven by higher expectations for gross adds, our EBITDA estimate of $950 million is not materially above consensus. However, the above consensus subscriber estimates for 2012 pays off in 2013, with adjusted EBITDA we estimate jumping 37% to $1.3 billion, a full $200 million above the consensus. That will matter most for valuation purposes, which we show two paragraphs down.
On free cash flow, our estimates are $750 million in 2012, above management guidance of $700 million and growing to $1.1 billion in 2013, up 47% year-over-year, for a EBITDA-to-Free cash flow conversion of 85% versus 79% in 2012 and 56% in 2011. The higher conversion in 2013 is due to higher net income and working capital efficiency.
Which takes us to valuation and our $3 per share estimate. We get there by applying a 15x multiple to 2013 Adjusted EBITDA of $1.3 billion, make adjustments for cash, debt, preferreds, and the present value of NOLs and we get to the $3 value for the shares for year-end 2012, up 40%. The 15x multiple is the current 2012 trading multiple, and is at a significant discount to the 37% growth rate in EBITDA for 2013. Hence, our multiple is conservative relative the projected growth rates.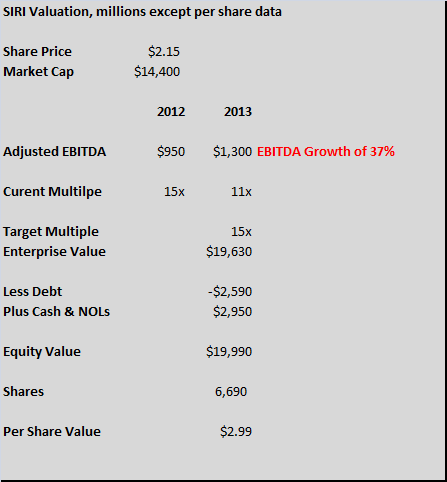 Spliting the stock, revisited. We think 2012 will be the year management and the board take up the issue of splitting the stock. With the business on solid fundamental footing and with revived institutional interest, we think splitting the stock will be given positive consideration. This will be a late-2012 consideration, with a split taking place in 2013. Management has been against splitting the stock to avoid giving fodder to the shorts. With the business operating better fundamentally, those issues are becoming less of a concern.
Disclosure: I have no positions in any stocks mentioned, and no plans to initiate any positions within the next 72 hours.