The current year started roughly for the broad equity market, and some companies got hit pretty hard. Netflix (NASDAQ:NFLX) is one of these companies. It lost ~25% of its market value in the past month. There are reasons why the market punished Netflix badly, including earnings and concerns about the competition. This article focuses on two key aspects of Netflix: its debt and risks.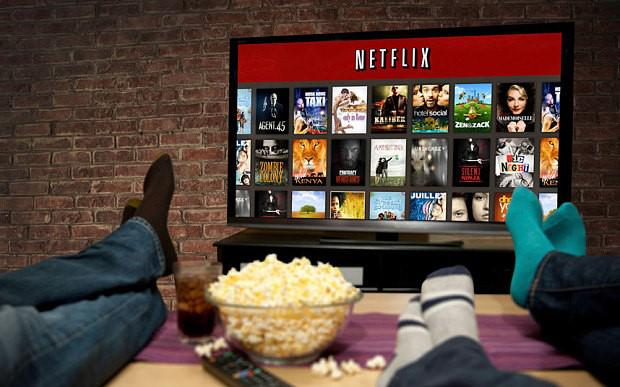 Negative free cash flow leads to future capital raises
Despite having over $1.8 billion of cash on its balance sheet, Netflix management has stated that they are likely to tap the capital markets in the next 12 to 18 months. As Netflix ramps up global expansion and content production, Netflix burns cash operating the business. Cash burn in FY 2015 was approximately $920 million. Cash burn is not expected to slow down in 2016. However, this cash burn represents investments that will pay off in the future, according to management.
Because of the strength of its product, raising capital shouldn't be a problem for Netflix. There is plenty of capital out there, and hungry investors. Despite the recent interest rate hike, the current monetary policy of the Fed is still pretty loose. With the strength of the dollar, I wouldn't be surprised that even international capital flows to the US markets. Whether or not Netflix can raise capital is not the concern.
The important thing is the method that Netflix chooses to raise capital because it can give clues to the market, particularly about what management thinks of its stock valuation.
Raising debt (bonds) versus equity capital
For one thing, if management decides to raise debt capital, the initial clue would be that the shares are not overvalued. In other words, it is a better deal to issue bonds than stock. On the other hand, if management does a secondary offering of its common stock it signals that shares might be trading above intrinsic value. That is because at higher price, management can raise the needed capital without issuing as many shares. At a higher stock price, the cost of raising equity capital is lower. That's one of the reasons why some companies use stocks in acquisitions.
The choice of raising capital through bonds or stock is more complex than that. Despite the valuation of the stock, management should decide to raise capital at the cheapest cost. The cost of capital is essential for any company because it sets the hurdle rate. If Netflix can make a return on invested capital above the cost of capital, then it is adding value to shareholders. See below for a review of Netflix capital structure.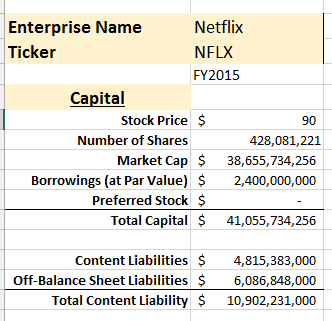 Source: Netflix Annual Report
There is one important thing to notice on Netflix's capital structure is the large amount of off-balance sheet content liability. These items are not shown in the balance sheet because they do not qualify as an asset under US GAAP accounting. When considering all the true financial obligations (debt + content + off-balance sheet content), Netflix is actually more levered than it appears at a glance.
| | | |
| --- | --- | --- |
| | Include Content & Off-balance sheet | Exclude Content |
| Debt to Total Capital | 26% | 5.8% |
| Debt to Equity | 34% | 6.2% |
Source: Netflix Annual Report
With the growing debt obligations of Netflix, the decision to raise debt or equity capital is going to become a very important signal for shareholders. Since Netflix bondholders are protected by certain debt covenants, there is a limit to the amount of debt Netflix can raise. Netflix bonds carry a "B" rating, but their cost of debt is relatively cheap at 5.64% (based on weighted average interest rates). A "B" rating means that the bond is speculative by nature.
The business risks of international expansion
Netflix is not only the leader of Internet TV with more than 75 million users, but also it is the first mover in the era of internet TV. The idea of Netflix is well-planted in the consumer's mind, particularly in the US, which is Netflix's biggest market at the moment. The most important business risk Netflix faces is the failure to succeed internationally, particularly because of the cultural differences among different markets. The failure to develop the Netflix brand is the biggest threat to the business. Currently the majority of Netflix customers are located in the US, but the international customers are growing at a fast pace. Although roughly 9% of all international memberships are not paid (probably because they are in the trial period), only 2% of all US memberships are not paid.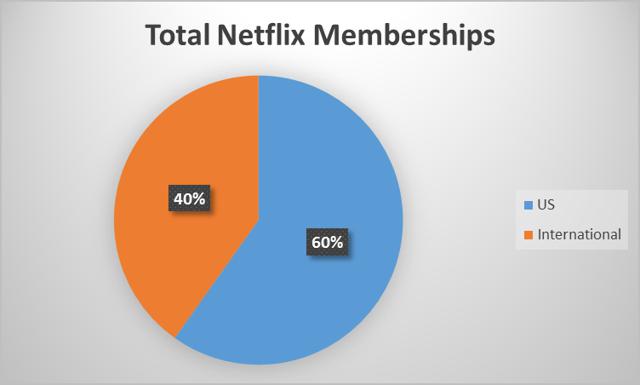 Click to enlargeSource: Netflix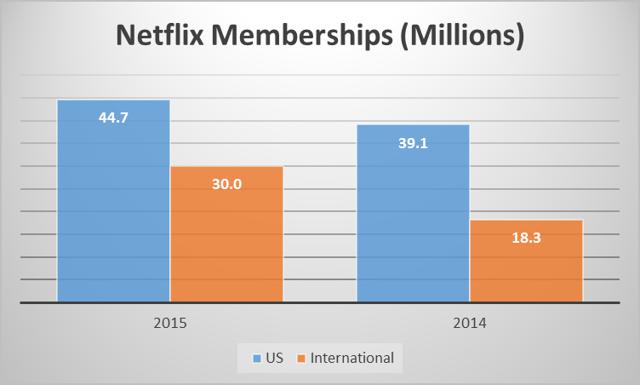 Click to enlargeSource: Netflix
In my opinion, the risks of business expansion are attractive compared to the rewards. The world opens Netflix to a potential market of more than 400 million customers. Netflix has only locked in 75 million of them. Given the y/y increase in international customers, there is evidence of a growing acceptance of Netflix internationally. The total international members increased faster than US members. However, the risks of expanding successfully into Asia are probably higher than the rest of the world. I believe that Asia is a tougher market for Netflix because of the larger cultural differences with the western culture. In fact, management has stated that Netflix is still studying the Chinese market.
The growing Netflix original content appears to be attractive to both international and local customers. It is widely known that Netflix's strategy is to create exclusive content. The launch of Narcos, Daredevil, and Master of None have been widely successful as they were rated as some of the best 10 shows by the Huffington Post. The Narcos story appeals to both US and Latin American audience because is based on a Colombian story. To complement Narcos, Netflix acquired the rights of three other shows and documentaries that expand the story, which are all in Spanish. The launch of the 10-part documentary Making a Murderer appeals to any audience that is mildly interested in the justice system. The first Netflix original movie Beasts of No Nation also has an international appeal because it presents the story of African child soldiers. The list goes on …
Investor Takeaways
The intention to continue expanding its exclusive content will require Netflix to make large upfront cash investments, which will probably lead to a capital raise. The method of raising capital is going to send a key signal to shareholders. Raising equity capital will only make sense if it leads to a cheaper cost of capital. If Netflix decides to raise equity capital, shareholders will face dilution. If Netflix raises debt capital, the risks of common stockholders will increase because of the added financial leverage.
On the other hand, the business risk of Netflix appears to be manageable. Their content creation has paid off in terms of member's growth, but it has not yet paid off in terms of generating free cash flow. The international expansion is going very well, but it does not generate cash profits. Cash profits are expected later in the investment cycle.
For those two reasons, it appears that the risks of owning NFLX are increasing. Although Netflix is a great company and offers a great service, the common stock remains highly priced compared to both free cash flows and the amount of financial leverage (including off-balance sheet). Despite continuing growth potential for Netflix, the stock still trades at high price multiples. Netflix is a stock to be cautious at current prices. As with any high growth stock, I expect wild swings in NFLX stock price. NFLX is a high risk, high reward stock. It suits investors with a high risk appetite.
Disclosure: I/we have no positions in any stocks mentioned, and no plans to initiate any positions within the next 72 hours.
I wrote this article myself, and it expresses my own opinions. I am not receiving compensation for it (other than from Seeking Alpha). I have no business relationship with any company whose stock is mentioned in this article.