I have already published a couple of bullish articles on Mobile TeleSystems (NYSE:MBT) - How About A Sustainable Dividend Yield Over 10%? and I Disagree With The Bear Thesis - Mobile TeleSystems Is A Tremendous Opportunity. MBT has gone up quite a bit since then, but it's still cheap as I'll show in this article. This time, I approach MBT from yet another angle - by comparing MBT with another comparable mobile telecom operator in another emerging market.
Currency can sometimes lead us astray. I believe Mobile TeleSystems is an example of one such event. To show how this is so, I've tried to find a company that was roughly comparable to Mobile TeleSystems, but acting in a different country which, while a lot poorer than Russia, hadn't seen its currency implode in recent times (to the same extent as the Ruble).
I found such a company in PT Telekomunikasi Indonesia (OTCPK:TLKMF). Regarding TLKMF:
Indonesia's largest telecom, with a 45-50% share of the mobile telecom market. It also has a fixed-line component, as well as several associated businesses. The mobile telecom business represents 70% of its revenues (brought by 148.6 million customers).
The IDR (Indonesian Rupiah) rate, while pressured like most other emerging currencies, has only depreciated ~14% since 2 years ago, versus more than 100% for the RUB (Russian Ruble).
Data, like with other mobile telecoms I've written on lately, is bringing upside to TLKMF.
At the present USD/IDR rate, its shares are worth ~$0.25, though the ADR actually trades (when it trades) at ~$0.23. At $0.25 TLKMF has a market capitalization of ~$25 billion.
At $25 billion, it trades at 22.1x price/earnings; 3.4x price/sales; 3.4x EV/sales and 7.0x EV/EBITDA
How does this compare to MBT? As follows: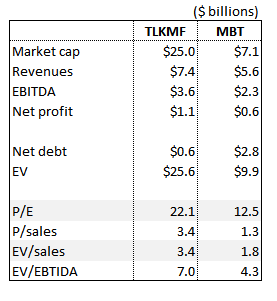 As we can see, MBT is cheaper on every count, ever after putting up a significant rally during the last month. I can also add that TLKMF trades at $172 per mobile subscriber, whereas MBT trades at $95 per mobile subscriber.
Currency
The most amazing thing, though, is that MBT is cheap even while using the present Indonesian Rupiah and Russian Ruble currency exchange rates. Think about this for a while. MBT is the mobile leader in Russia and has ~104 million subscribers overall, while TLKMF is the mobile leader in Indonesia with 148.6 million subscribers. Russia is a country with ~144 million inhabitants and Indonesia has ~250 million inhabitants. Up to here, all fine as TLKMF could seem to be a bit larger and have a little more potential.
But the thing is, Russia is to Indonesia as the US is to China. Russia's (2013) GDP per capita was ~$14,600 while Indonesia's was ~$3,480. Russia is simply a much richer country than Indonesia. For instance, it had ~260 cars per 1000 pop (2011), whereas Indonesia had ~69.
Yet, as we saw, each of those richer Russian/Eastern European subscribers is actually evaluated at a lower value when it comes to MBT ($95) than when it comes to TLKMF ($172). Sure, a part comes from the fact that not all of MBT's mobile subscriber base is Russian (Ukraine, MBT's second largest market, is barely richer than Indonesia), but still MBT's subscribers are "cheaper" than TLKMF's while on average living in much, much richer countries.
This won't last forever. There will be a point, as long as both companies remain market leaders, where each MBT subscriber will be worth significantly more than each TLKMF subscriber. And most of the difference will come from currency movement.
I will add that currencies carry with them an interesting effect for foreign investors. Let's say, for instance, that tomorrow we wake up to USD/RUB at 38.5 instead of 77 (not going to happen, this is just for illustration purposes). MBT would then double overnight. Yet, its valuation metrics described above wouldn't even change! After doubling, it would remain every bit as cheap as it was before doubling. Indeed, if anything it would be cheaper still, on account of debt translation effects.
That's how powerful currency is. And that's also the reason why MBT is not just undervalued in relative terms versus TLKMF using valuation multiples, but it's also further undervalued because presently the RUB is at an irrationally low level both versus the Indonesian Rupiah and versus the USD.
Conclusion
Comparing MBT to a "similar" company in another emerging market reveals just how undervalued it remains. And most amazingly, this undervaluation results not just from a straight comparison of valuation multiples, but also from the fact that the market is valuing the significantly richer subscribers at lower levels than the poorer ones - mostly because of currency effects.
These currency effects will not remain forever, MBT will go up both because its valuation multiples are low and because its business activity is denominated in undervalued Rubles.
A result of this possibility MBT stock can even go up without its valuation multiples changing, and thus, without the stock becoming more expensive as a result of going up in price.
Disclosure: I am/we are long MBT.
I wrote this article myself, and it expresses my own opinions. I am not receiving compensation for it (other than from Seeking Alpha). I have no business relationship with any company whose stock is mentioned in this article.
Editor's Note: This article covers one or more stocks trading at less than $1 per share and/or with less than a $100 million market cap. Please be aware of the risks associated with these stocks.