Oil companies for sure have not been winners this earnings season, but few investors, if any, expected them to be. Low oil prices have had a terrible impact on energy companies last year, and the fourth quarter was no different. Exxon Mobil Corporation (NYSE:XOM), the world's largest oil and gas company, said this week that it continues to feel the pain from a low oil price environment with revenues, earnings and free cash flow plummeting in the last quarter, but it can always get worse. And BP (NYSE:BP) just proved that point.
Frankly, I wasn't looking forward to BP's Q4 earnings release. Oil prices below $50/barrel usually don't make for a good earnings picture. And since other oil companies including Exxon Mobil and Chevron Corporation (NYSE:CVX) already reported sub-par Q4 earnings, it was to be expected that BP would also bomb.
And that was what happened on Tuesday.
BP's Q4 underlying business replacement cost profit before interest and tax, the energy company's proxy for earnings, slumped 94% (!) year-over-year from $3.3 billion in Q4-14 to $0.2 billion in Q4-15. BP's upstream profits in particular were nothing but a disaster in Q4: They crashed from $2.2 billion a year ago to $(0.7) billion in the last year quarter. You read that right: BP reported a loss of $728 million in its upstream segment. Not good.
The loss in BP's upstream business was partly offset by BP's downstream profits, but even those profits flatlined year-over-year. In both Q4-14 and Q4-15, BP raked in ~$1.2 billion in earnings from its downstream operations.
Challenging near-term outlook
Without the crude oil supply glut easing substantially in the first half of 2016, there is little hope for higher energy prices over the short haul, and that is what will remain a drag on BP's shares. The organization of petroleum exporting countries, a.k.a. OPEC, has so far resisted calls to cut its production, and it has had its intended effect: To hurt U.S. shale.
One way to save money: Reduce investment spending. BP expects to spend $17-19 billion on its investments this year. In its press release, the energy company said that it expects capital spending "to be at the lower end of that range in 2016". Further investment spending cuts may be in the cards if oil remains in the $30/barrel price range for a longer period of time.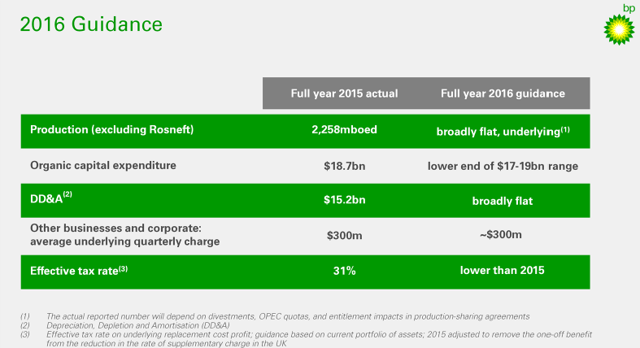 Click to enlarge
Source: BP
Besides cost cuts and capex alignments, BP is going to sell off some assets to ease the pressure that stems from low oil prices. For 2016 BP expects to generate $3-5 billion from asset sales, and another $2-3 billion in 2017 and beyond.
With prices being as low as they are today, oil companies like BP can do little but attack their cost base, cut payroll, and reduce capital spending. In other words: 2016 will be another year of restructuring for petroleum companies, including BP.
Your Takeaway
BP is not in an enviable position. BP's fourth quarter results were among the worst this earnings season, and the loss in its upstream business is troublesome. Importantly, since WTI crude oil now sits at around ~$32/barrel, BP's first quarter 2016 results are not going to be much better than its fourth quarter results, and that will continue to have an effect on BP's short-term share prospects.
BP has turned to cost and capital spending cuts to withstand the pressure that comes with lower price realizations. Asset sales are another means for the company to support its cash flow. 2016 will be a challenging year for the energy industry, and especially for BP.
Disclosure: I am/we are long BP, XOM.
I wrote this article myself, and it expresses my own opinions. I am not receiving compensation for it (other than from Seeking Alpha). I have no business relationship with any company whose stock is mentioned in this article.