With gas prices in a decline over the past couple years, producers and investors alike are looking for signs when the market may turn around. Prices were at $4.70 in June of 2014 have since plummeted to $1.93 in December of 2015. While the EIA is forecasting a rise in consumption over this year and the following, where can investors place their money in the arena of natural gas, looking to ride the forecasted increases in prices and still be sheltered from the low prices should the EIA report not come to fruition and prices remain suppressed?
Spectra Energy (NYSE:SE) owns and operates a diverse portfolio of natural gas-related assets and is a best-in-class midstream natural gas company in North America. Segments that Spectra Energy operates in include Western Canada, Union Gas, and field services via its 50% stake DCP Midstream Partners (NYSE:DPM).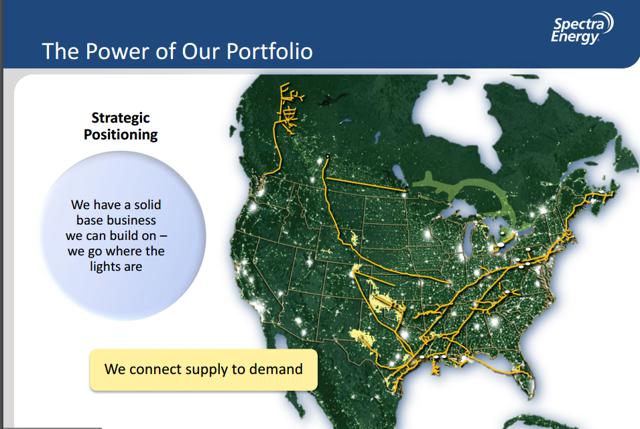 Click to enlarge
Before I go any further into this article, I want to clarify that Spectra Energy is not to be confused with Spectra Energy Partners (NYSE:SEP), its subsidiary partnership, which handles the U.S. transmission business as well as liquids. Spectra Energy requires no K-1 or tax hassles associated with MLPs, so investors can move in and out of positions without the hassle that would be associated with Spectra Energy Partners, which is an MLP. To shed some light on Spectra Energy and Spectra Energy Partners' relationship as to how one affects the other. Spectra Energy is the general partner of and holds shares of Spectra Energy Partners and passes on the distributions (MLPs have distributions, not dividends) it receives from Spectra Energy Partners to its stockholders in the form of a dividend.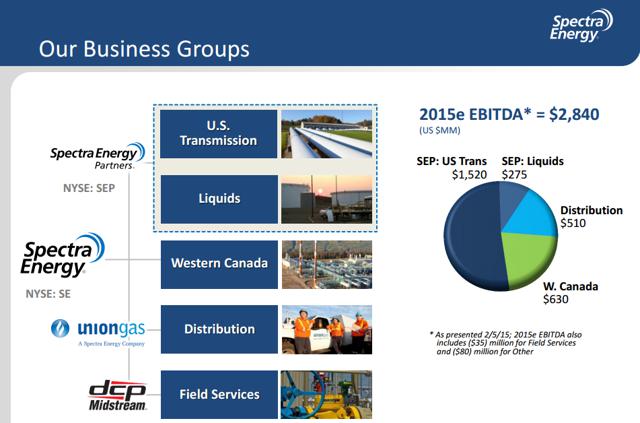 Click to enlarge
Now that we have clarified hopefully any questions you may have had between Spectra Energy and Spectra Energy Partners - let's continue to examine the former and its ability to shield investors from natural gas prices. I would like to first address readers who's first thought is the earnings miss that just occurred where Q4 EPS of $0.28 missed by $0.04 and revenue of $1.32B (-17.5% Y/Y) missed by $220M. Let's first look at the numbers.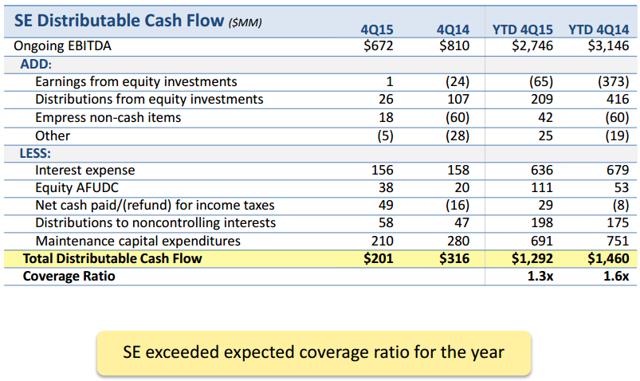 Click to enlarge
Even with the revenue miss, DCF has a favorable coverage ratio of 1.3x and while it is not as comfy as the plush 1.6x a year prior much of the effect on EBITDA and the earnings are coming from the $722 million goodwill impairments along with special write-downs from its 50% equity stake in DCP Midstream Partners in which Spectra Energy is supporting Phillips 66 (NYSE:PSX) in the current commodity markets of distressed gas and oil prices by providing Spectra Energy Partners' Sand Hills and Southern Hills NGL pipelines which will bolster DCP Midstream Partners top line.
Moving forward management has an outlook for the DCF to be right on at 1.0x. While this may seem a bit too close for comfort - keep in mind the company just raised its dividend $0.14 to $0.51 and is now yielding 5.64% based on today's end of market close of $28.41.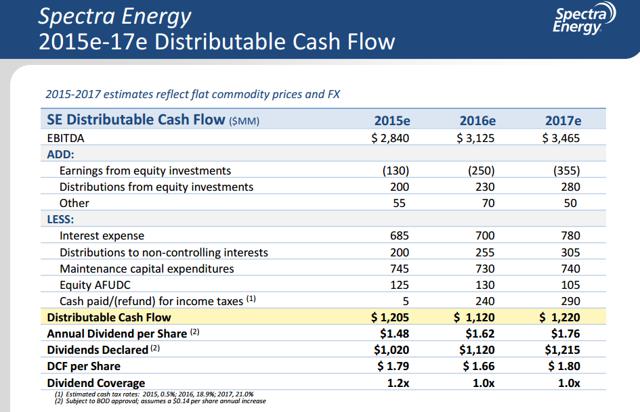 Click to enlarge
In a time where many companies in the energy sector are cutting and are lucky to be just maintaining their dividends (without debt like Conoco (NYSE:COP), who recently cut their debt-funded dividend) Spectra is increasing it and doing so responsibly as they have an investment grade credit rating.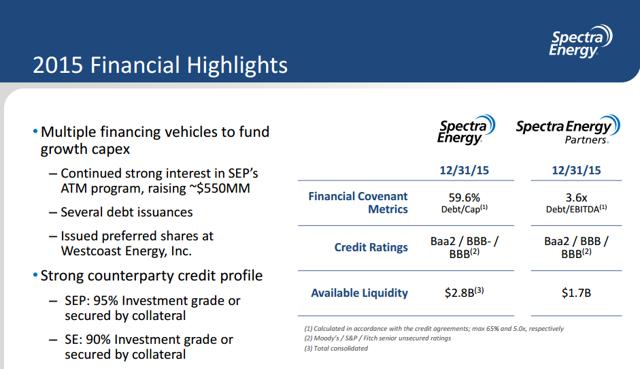 Click to enlarge
Spectra Energy is able to shield itself and its investors from low commodity prices due to the simple fact that all the company's business segments generate 95% or more of revenues from fixed fees with assets focused on movement and distribution, the more favorable demand side of the two-sided equation of supply and demand. They have also shown the ability to execute this business plan and deliver on demand.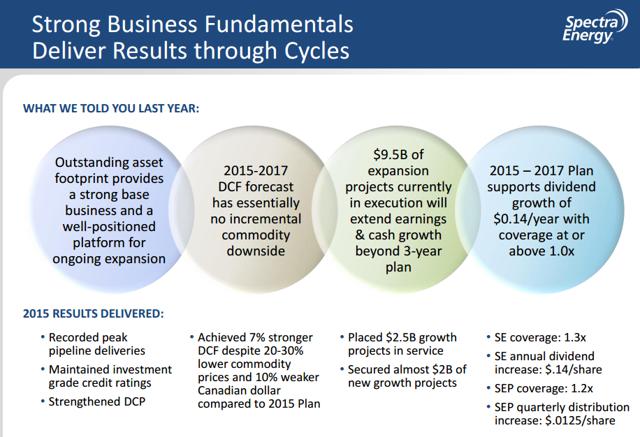 Click to enlarge
Conclusion:
As we can see, Spectra Energy has a solid business model, stable credit ratings, an acceptable DCF in the face of a growing dividend, and the ability to provide future returns in the face of best and worst case scenarios in the energy sector. If you have been looking for high-yielding investment in the energy sector free of K-1s and the constant worry of oil prices this would be a great place to do some additional digging and due diligence of your own.
Disclosure: I/we have no positions in any stocks mentioned, but may initiate a long position in SE over the next 72 hours.
I wrote this article myself, and it expresses my own opinions. I am not receiving compensation for it (other than from Seeking Alpha). I have no business relationship with any company whose stock is mentioned in this article.