As the market continues to grapple with a very mixed bag of economic signals, corporate performance, and commodity price deflation, dividend investors willing to pick through the bargain bin are finding some of the highest blue chip yields in quite some time. With 10-year Treasury yields off nearly 50 basis points in the short month and a half since the Fed's seemingly erroneous rate hike, however, the fixed-income market has been sending a rather sharp warning flare.
10-year Treasury Yield - 5 Years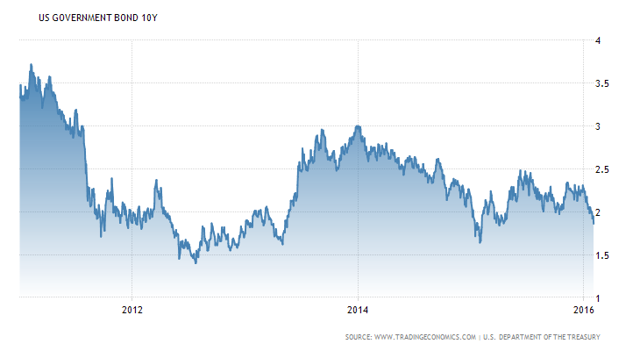 Click to enlarge
Looking past the most recent warning, we've already seen many situations over the past year where seemingly cheap dividend stocks have gotten much cheaper. Many companies, predominantly commodity-based, like Potash Corp. of Saskatchewan (NYSE:POT) and Kinder Morgan (NYSE:KMI), have been forced to slash their payouts. As much as the commodity drubbing has served to put more money in the pocket of John Q. Public, it has created a fallout with seemingly net negative effect on the broader economy. Fears of some sort of cataclysmic domino impact seem to be creeping into the picture. While the shock effects may be felt outside the epicenter of the commodity drubbing, I doubt they will be cataclysmic.
On the flip side to some of the pervasive negativity, it certainly has not been rare to see efficiencies and other organic sales initiatives spur bottom line growth in certain dividend-paying corners. Honeywell (NYSE:HON), one of my favorite dividend stocks, has performed quite well compared to industrial peers. Microsoft (NASDAQ:MSFT), as well, has been a standout in the tech space. And even McDonald's (NYSE:MCD) has seen a spur to life, given expectations for gradual erosion of its business.
The Many Faces Of Dividend Growth
While I've oft opined that a passively inclined DG strategy serves best as the core for a retiree, clearly investors of all ages may be utilizing DG as a primary or ancillary portfolio practice. However, given the variety of personal strategic underpinnings and cash flow/risk preferences, dividend growth shouldn't be viewed as homogeneous or in the same vein by all investors.
The retired DGer may play it safer than most, accepting a slower growth rate in exchange for ownership of companies with investment-grade balance sheets, historically reliable dividend growth, or the perception of more durable recurring cash flow. I would lump stocks like Realty Income (NYSE:O) and Procter & Gamble (NYSE:PG) into this grouping. Quality over quantity would probably be somewhat of a mantra here.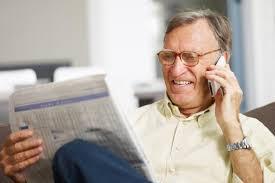 The younger dividend growth investor may like the dependability of a dividend, but may opt for companies with lower yields, higher anticipated rates of growth, and probably lower payout ratios. Stocks like aforementioned Honeywell, Disney (NYSE:DIS), and one of my favored REITs, Store Capital (NYSE:STOR), would fit into this camp. The focus is in finding companies that are more aggressive in looking for organic avenues to grow their bottom line.
They might even gravitate to higher-yielding names. Although by and large, that seems to have been a foolish decision over the near term.
Looking outside the large-cap realm, a low fee, small-cap ETF might also be an interesting option for the dividend investor not disinclined by lower yield. The iShares Core S&P Small-Cap ETF (NYSEARCA:IJR) has appreciated over 40% over the past 5 years, with the dividend moving from $.73 in 2010 to about $1.63 per share last year - a 128% improvement. Last year alone, the dividend went up 17% YOY. While today's TTM yield is certainly not eye-popping at 1.62%, you can expect a much better than average DG rate and better total return here, all things considered, in my opinion.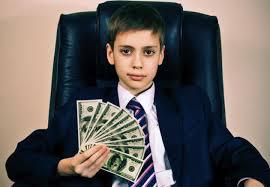 I would suspect that most dividend growth investors will end up with a portfolio variably mixed with higher dividend yield-low growth and low dividend-higher growth. This might represent a prime strategy for the mid-life investor or others predisposed to building a portfolio with highly diversified attributes in terms of both qualitative and quantitative factors.
Maintain Conservative And Reasonable Expectations
While historical data can certainly bring color to the discussion of where a company and, consequently, its dividend are headed, past performance is just that - past. If you are investing in Gilead (NASDAQ:GILD) and Apple (NASDAQ:AAPL) today expecting total return of the nature seen in the not-too-distant rear-view mirror, you are kidding yourself. Frankly, there seem to be just as many people calling for the gradual decline of Harvoni and iPhone as there are those calling for incremental growth. Don't pretend you know more than anyone else does.
A much more reasonable expectation is that both will be able to raise their dividend in the 10% range over the next several years. The same might be said for Cisco (NASDAQ:CSCO) and Honeywell, which possess payout ratios much lower than your typically more established dividend companies that have been paying for decades. Both have stated their commitment to raising the dividend. But looking at the glass as half empty, so did Kinder Morgan.
Many investors seem to be overly concerned with what amounts to about a 10% sell-off in the market over the past 6 months. In reality this is a run-of-the-mill correction. Sure, some stocks have been lashed behind the barn, but remember that the DJIA sank lower than 7000 during the financial crisis. Since then, it added 11,000 points, and has only given back 2000. Again, nothing drastic, and, I would argue, fairly run of the mill.
Combine today's still-salty valuations with economic uncertainty, and it would be very unrealistic to think that the market, on a wholesale level, will rise over the next 5-7 years as much as the previous 5-7 year clip. What may be more likely is that we revisit the relative malaise that occurred in the broader stock market following the tech bubble at the turn of the century.
What Might That Mean For Dividend Growth Investors?
The beauty of dividend growth is that price appreciation is not necessary to reap the ongoing rewards. When push comes to shove, a company with a low payout ratio, flush with cash, could raise its dividend at a rapid pace for many years without any bottom line growth. Of course, that is a generally unsustainable situation the longer it occurs.
Looking back, most healthy companies during the "lost decade" were able to boost their payouts by meaningful amounts despite a lack of price growth. Today, investors dependent on a rising income stream should probably view positions in a somewhat different light than those that are more focused on total return. Neither camp, however, should neglect the broader macroeconomic backdrop that will impact individual security and overall market performance.
Still, the rising income investor might be able to turn more of a blind eye to valuation than a more total return-necessitated dividend investor.
For the multiple of ways the dividend investor might view equity, take Realty Income (NYSE:O), for example. The company is now trading at $57 a share, with a funds flow valuation higher than a 20 multiple and with barely a 4% yield. Despite the price, the pure income investor might be able to justify a purchase or add at current valuation. The yield is double the 10-year Treasury, the balance sheet is investment-grade, the underlying lease-revenue stream is solid, and there's a good likelihood of 3-5% dividend growth over the near term.
The total return dividend investor would have a tough time justifying a purchase of O here, unless there's a thesis that calls for Treasury yields to sink substantially lower. The trade-off for the company's investment-grade clientele and high payout rate are somewhat lower cap and growth rates. If Treasuries perk up once again or growth slows to a standstill, Realty Income's price could drop like a rock, since it trades at twice the multiple and half the yield of other publicly traded REITs.
The conservative rising dividend investor could also look at something like Honeywell. While the yield is significantly lower than O's, the dividend growth rate is at least double. A buy here yields 2.35%, but over several years, assuming a 10-15% CADGR, HON's yield on cost could surpass 4% in just 5 years - a scenario I see as fairly likely. Expected to grow EPS by about 10% this year, Honeywell trades at a much lower multiple than Realty Income.
While I continue to have a skeptical view of future growth, IBM Corp. (NYSE:IBM) at a 4.25% yield, <10 EPS multiple, 40% payout ratio, and probably at worst FCF-neutral is an attractive idea for the pure income investor. Even if things continue to flat-line - maybe not an unlikely scenario - if IBM raised its payout to 55%, yield on cost could rise to 6 percent.
Via that mentality, however, it might make better sense to invest in another bottom line flatliner, REIT Lexington Properties (NYSE:LXP), which yields 9.35%, with a payout in the 65% range.
As you can see, in terms of mindset and dividend capture, there are many ways for the income investor to strategize and ultimately, proceed. I think it's difficult to necessarily denigrate any of those mindsets, although I might argue that concentrating in any one way would necessarily be riskier than diversifying.
Beware Opportunity Cost, Forever Stocks, And Success Of Others
Given the much longer life expectancy Americans enjoy today versus several decades ago, a retirement happily lasts much longer, but it logically costs more as well. For those without the resources or preparation to deal with longer-than-expected life expectancy, this can prove challenging or even depressing. Dividend growth, while perhaps the winner of the "slow and steady wins the race" contest, would be a laggard in the "rapid race for riches" contest.
While there are many writers who equate personal success with a dividend growth or blue chip mindset, and clearly there are many, I would opine that it is not the slam dunk at times it is made out to be. The handful of most beloved dividend growth stocks that are typically viewed as a holy grail for SWAN investing probably should not be viewed as a holy grail for someone who needs to grow capital (or income) on a more aggressive basis.
In many cases, buying an index fund may have been a more lucrative idea (on a total return level) than holding one of the popular consumer products companies over the past 20 years. I wouldn't expect that trend to change over the next two decades, either.
It's very easy for someone with several million of investment capital to say dividend growth works or has worked for them as a sole investment strategy. Someone in that situation can afford to deal with stagnant capital, subordinate total return, or even below-average dividend growth rates.
The vast majority of you are not in that situation, however. Which means passive dividend growth may not be a holy grail. You may need to have a higher slugging percentage, because singles won't be enough. You may not need to swing for the fences, but you can't assume you can sit back and necessarily rest your laurels on old reliables like Procter & Gamble, which have become somewhat less reliable over the near term.
Conclusion
The most important part of any investment strategy or specific security is to maintain reasonable expectations as to what kind of returns and performance you might reasonably see. To buy Coke (NYSE:KO) today expecting to see Apple or Facebook (NASDAQ:FB) returns is just as erroneous as to buy Amazon (NASDAQ:AMZN) and not realize the potential for some Chipotle (NYSE:CMG)-type price downside, given the hefty valuation and already built-in expectations.
Dividend growth is a reasonable strategy for any life stage. Whether it is an appropriate core strategy for you or not rests on your being able to understand what kind of investment results it can, or conversely, won't bring to your portfolio.
Disclosure: I am/we are long AAPL, LXP, CSCO, HON, DIS, IJR, MSFT, STOR.
I wrote this article myself, and it expresses my own opinions. I am not receiving compensation for it (other than from Seeking Alpha). I have no business relationship with any company whose stock is mentioned in this article.
Additional disclosure: Disclaimer: The above should not be considered or construed as individualized or specific investment advice. Do your own research and consult a professional, if necessary, before making investment decisions.